View current page
...more recent posts
making the rounds on twitter.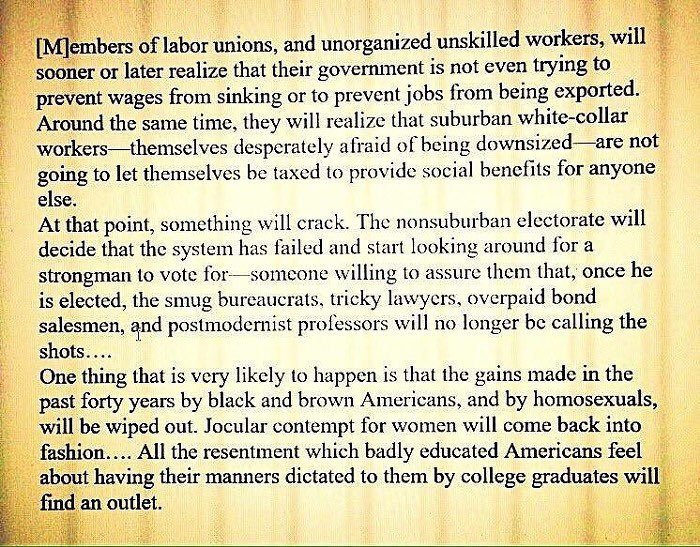 richard rorty - achieving our country (1998)
not good.
That's what's really important in a marriage: Trust. pic.twitter.com/QZFvacEX2s

— Billmon (@billmon1) November 8, 2016
hard to wrap your head around glenn beck displaying signs of human decency.
halcyon daze: a renewed crisis of liberalism.
the most quixotic campaign of this election season.
One hour into this debate and the 10 million vapers are waiting to hear who will stand against prohibition.

— Grover Norquist (@GroverNorquist) October 20, 2016
good ol' billmon straps on the pessimism feedbag in this trump/alt-right thread. click below the picture (by the likes & retweets) to see it unspool.
Piece by @sarahposner & @DavidNeiwert advances story on "alt-right" & Donald Trump. Also draws on earlier reporting.https://t.co/St0um5LpKB

— Billmon (@billmon1) October 15, 2016
Howard Dean should retract comment that the Donald might be a cokehead. In bad taste. Plus no known drug can make anyone such a dickhead. - Laurence Tribe
you know you are a horrible person when the dalai lama mocks you.