View current page
...more recent posts
one of a series of pictures of dylan looking oh so happy to pose for pictures at a party at sundance for Masked and Anonymous, the movie in which he co-stars.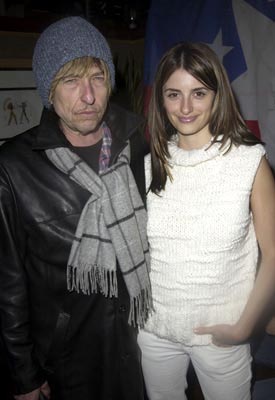 the movie's website
- dave 5-11-2003 8:04 pm [link] [add a comment]


"CINEMANIA is the highly-anticipated documentary about the culture of intense cinephilia in New York City that reveals the impassioned world of five wildly obsessed movie buffs. They spend their waking hours in darkened theaters, and now, these full-time audience members step from their seats onto the big screen in this entertaining new documentary which celebrates their obsessions - from the grandiosity of their aesthetic dreams to the austerity of their domestic realities. In Cinemania, the Silver Screen's biggest fans become the true stars. This is the story of their lives, their memories, their unbending habits and the films they love."


- dave 5-11-2003 7:44 pm [link] [add a comment]


i loved the book and tonight pbs has the first of two parts of the movie.
- linda 5-11-2003 7:30 pm [link] [add a comment]


Super Happy Fun looks like a good place to buy hard to find films on DVD. Like Skidoo, which Steve told me about but I've never seen available before. Browsing seems a bit difficult, but try your luck with the search box. (via memepool)
- jim 5-10-2003 6:36 pm [link] [add a comment]


On May 14, put on a screening of "Dr. Strangelove" - in your living room, at the local theater, on campus, on your laptop, anywhere you can - and say no to unilateral invasions, to endangering our troops for the sake of oil, to flouting international law and the world community in the name of empire. Follow the film with discussions, forums, debates. Keep talking. Keep acting. Let's give new meaning to the old Strategic Air Command motto, "Peace Is Our Profession."