uncle bill's tv jamboree
View current page
...more recent posts
anybody catch the leftovers premiere on hbo last night? a small town in the southwest deals with the aftermath of a world wide rapture-like experience. its full of cult-y weirdoes and latter day messiahs. its a co-adaptation between the author of the source material, tom perotta, and damon lindelof of lost infamy, which is a shadow that the show will fall under. already it seems that the central mystery of what happened will never be answered which is sure to frustrate if that is your expectation.
i wasnt completely smitten but it seems like an interesting enough concept to see where its headed if only to be told later that it is ultimately a family drama riven with symbolic intent.
more importantly i just read that the angsty daughter from the family at the center of the drama is andie mcdowell's daughter. upon verifying this fact i came upon this photo verifying that andie mcdowell's genes are well cared for heading into the future. hopefully whoever delivered the xy chromosome brought along some acting ability to add to the mix.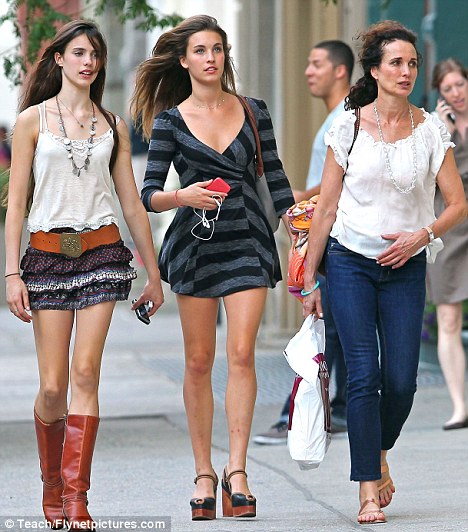 letterman and seinfeld talk comedians, cars & coffee.
game of thrones is relentless in ensuring that no one has a storybook ending.
its the one youve been waiting for, a "star-studded" panel discussion celebrating the 35th anniversary of wkrp. streams live at 1030 est.
alice doesnt live here anymore.
the night cassavetes, falk and gazzara terrorized dick cavett.
last comic standing, don rickles, gets roasted of sorts by some leading lights in comedy. next week on spike tv.
Jicks on Letterman
you kind of knew comedy central and jon stewart wanted to have either a woman or a minority take over the colbert slot so its not too much of a surprise that senior black correspondent larry wilmore got the nod. i thought perhaps they might go with john hodgman but among the daily show stable id say this is a pretty solid selection. still unfortunate about that the john oliver timing as he was best suited for the job.
a reprint of a 1978 profile of martin mull.