View current page
...more recent posts
Tuesday, May 13, 2003
Dr. Paul explains internationalism ...
May 13, 2003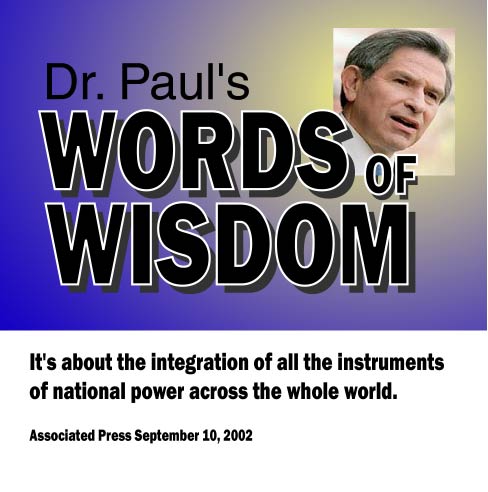 Dr. Paul: So that's why one has to keep emphasizing it's 
          not about one country, it's not about just the use 
          of military force, it's about the integration of all 
          the instruments of national power across the whole 
          world.
From an
interview of Dr. Paul Wolfowitz
with Thelma LeBrecht, Associated Press on September 10, 2002.
This is the conclusion of his response to the final question of the interview, "What about Osama bin Laden?" Wolfowitz does not call upon international networks of law enforcement, does not call to mind key alliances, coalitions and friends around the world, and does not invoke the UN. He gravitates directly to "national power" extended over the "whole world". Keep in mind, these comments were made two days before Bush dropped in at the UN to make a speech ostensibly intended to unite the world. If Wolfowitz's nationalist, unilateralist, our-way-or-the-highway vision is where we're headed, it's going to be a long, lonely century.
To be fair, Wolfowitz did acknowledge the existence of other countries during this interview. When asked about the ISAF in Afghanistan, he did mention a couple of allies. In regard to Iraq, he did mention the credibility of the UN. But to rely exclusively on "national power" to capture bin Laden and dismantle
al Queda
is a rather ignorant position for the good doctor to take.