View current page
...more recent posts
Saturday, May 31, 2003
Trailer News
UPDATE: New links to WMD-related news will be added to the New and Improved Trailers of Mass Desctruction page.
trailers of mass destruction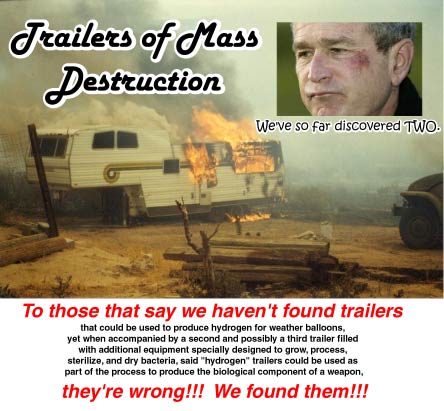 What a Tangled Web We Weave
Whiskey Bar -- May 29, 2003
[Billmon's indispensable WMD quotes.]
Vanishing Agents
Slate -- May 30, 2003
[The story that inspired the _______ of Mass Destruction phototoons].
Bush: 'We Found' Banned Weapons
Washington Post -- May 31, 2003
[Bush goes off script and claims on international television that we found WMD.]
Documentation, News, Analysis
feed the link archive
Blair: I don't know if we'll find WMD
The Independent -- 12 January 2004
By Marie Woolf
Tony Blair admitted yesterday that he did not know whether weapons of mass destruction would be found in Iraq.

Asked on BBC's Breakfast With Frost whether he thought they would be discovered, Mr Blair replied: "I do not know is the answer." The Prime Minister said that on the issue of WMD: "You can't be definitive at the moment about what has happened."

His words mark a stark contrast with his assertion before the war that Saddam Hussein was capable of launching a WMD attack within 45 minutes. He later said claims that Iraq had destroyed all its weapons were "palpably absurd".
Blister Agent Found in Buried Iraq Mortar Shells
Associated Press via Fox News Channel -- January 11, 2004
BAGHDAD, Iraq — Danish and Icelandic troops have uncovered a cache of 36 shells buried in the Iraqi desert, and preliminary tests showed they contained a liquid blister agent, the Danish military said.
Blister agents in Iraq
Daily Kos -- January 10, 2004
Spies, Lies, and Weapons: What Went Wrong
The Atlantic Monthly -- January/February 2004
by Kenneth M. Pollack
Let's start with one truth: last March, when the United States and its coalition partners invaded Iraq, the American public and much of the rest of the world believed that after Saddam Hussein's regime sank, a vast flotsam of weapons of mass destruction would bob to the surface. That, of course, has not been the case. In the words of David Kay, the principal adviser to the Iraq Survey Group (ISG), an organization created late last spring to search for prohibited weaponry, "I think all of us who entered Iraq expected the job of actually discovering deployed weapons to be easier than it has turned out to be." Many people are now asking very reasonable questions about why they were misled.
Bush war advisors: unfound Iraqi weapons matter little
AFP via Yahoo! News -- January 9, 2004
WASHINGTON - Two of President George W. Bush (news - web sites)'s military advisors said that the US inability to find illegal weapons in Iraq (news - web sites) means little.

"I don't think that you can draw any conclusion from the fact that the stockpiles were not found," Pentagon (news - web sites) advisor Richard Perle said at the American Enterprise Institute
Powell defends case for war on Iraq
Associated Press via Atlanta Journal-Constitution -- January 9, 2004
By BARRY SCHWEID
Secretary of State Colin Powell acknowledged Thursday that he had seen no "smoking gun, concrete evidence" of ties between Saddam Hussein and al-Qaida's terror network, but he insisted that Iraq had had dangerous weapons and needed to be disarmed by force.
Secretary Powell's Press Conference
U.S. Department of State -- January 8, 2004
QUESTION: Mr. Secretary, can I try you on something a little less rosy than some of the things you cited? Iraq U.S. inspectors are pulling out. Carnegie, in a report today, says the threat was vastly exaggerated, Iraq posed no immediate danger to the U.S. They have some recommendations that the CIA Director's job be made a career job instead of a political appointee. A lot of probables, a lot of maybes were left out by senior officials in describing what intelligence had uncovered.

Looking ahead, but also looking back, would you -- would you have rephrased your speech to the UN, in light of all of this, if you had another chance?
U.S. Withdraws a Team of Weapons Hunters From Iraq
New York Times -- January 8, 2004
By DOUGLAS JEHL
The Bush administration has quietly withdrawn from Iraq a 400-member military team whose job was to scour the country for military equipment, according to senior government officials.

The step was described by some military officials as a sign that the administration might have lowered its sights and no longer expected to uncover the caches of chemical and biological weapons that the White House cited as a principal reason for going to war last March.

A separate military team that specializes in disposing of chemical and biological weapons remains part of the 1,400-member Iraq Survey Group, which has been searching Iraq for more that seven months at a cost of hundreds of millions of dollars. But that team is "still waiting for something to dispose of," said a survey group member.

Full Text.
WMD in IRAQ: Evidence and Implications
Carnegie Endowment for International Peace -- January 8, 2004
SUMMARY OF KEY FINDINGS
--Iraq WMD Was Not An Immediate Threat
--Inspections Were Working
--Intelligence Failed and Was Misrepresented
--Terrorist Connection Missing
--Post-War WMD Search Ignored Key Resources
--War Was Not the Best-Or Only-Option

PDF of full report
Iraq's Arsenal Was Only on Paper
Since Gulf War, Nonconventional Weapons Never Got Past the Planning Stage
Washington Post -- January 7, 2004
By Barton Gellman
Full Text.
For Vietnam Vet Anthony Zinni, Another War on Shaky Territory
Washington Post -- December 23, 2003
seen at
slacktivist
Click through for additional stories going back several months ...
Read the rest of this post...