---
View current page
...more recent posts
---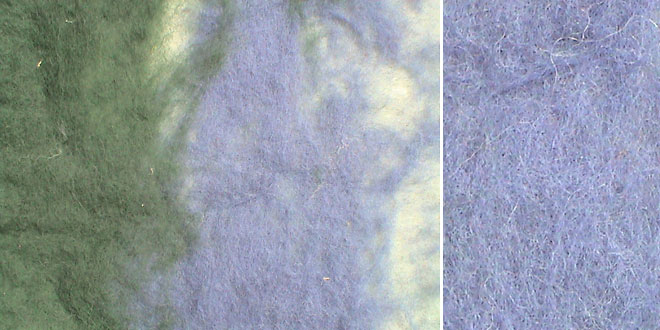 WADE: Michael Caines and Leah Decter,
Everyone in the Pool
(Christie Pitts wading pool)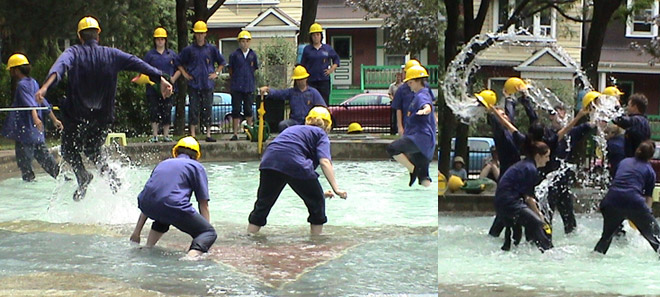 WADE: Nick Tobier and crew (Charles G. Williams wading pool)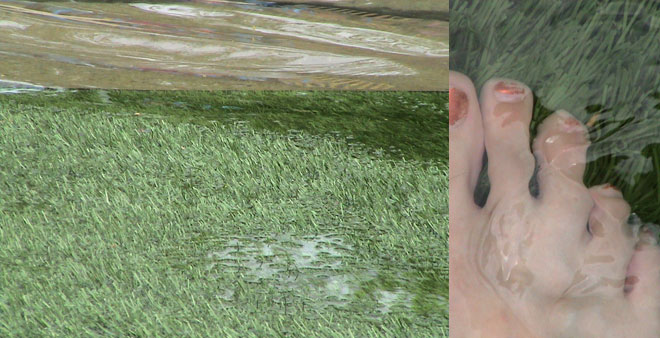 WADE: Sandra Gregson,
True Reflection
(Stanley Park wading pool)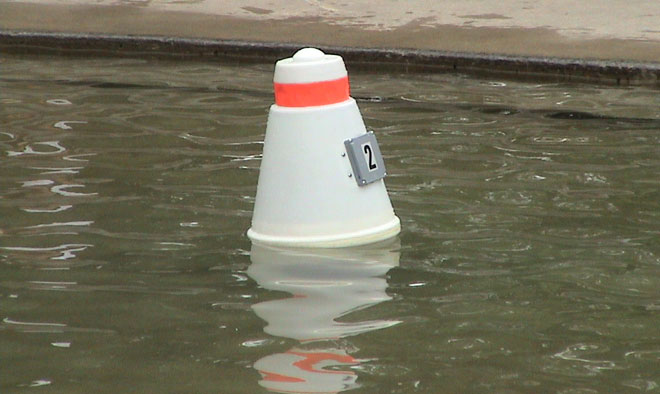 WADE: Shannon McMullen and Fabian Winkler,
Waves
(Trinity Bellwoods wading pool)

WADE: Louis Laberge-Côté performing
Verbal Source
, conceived in collaboration with Peter Chin (Dufferin Grove wading pool)
WADE
was super fun again this year. I took all the pictures above during my bicycle tour on Sunday afternoon. I started with
Michael Caines
and
Leah Decter
's felt making project at Christie Pitts. Unfortunately I missed the bit where everyone got to mush up the felt in the pool, but I did get to pick out a piece to take home, and chose this one cause it looks a bit like Google Earth.
In
Nick Tobier
's dance piece a group of people dressed as city workers mucked around in the pool making waves and patterns and acting out cute little loosely connected scenarios. The picture on the left shows my favourite part, when the very tall man was jumping and splashing, and the two women were following him making smoothing out gestures as if they were calming the water with their hands. I'm not normally a big dance fan but I enjoyed it a lot. All the chaotic clowning around was nicely timed and the whole thing flowed. I must also confess that all the little two-year old audience members and I were on the same wave-length regarding the innate hilariousness of people splashing each other on purpose.
Sandra Gregson
's fake grass might have been my favourite piece of the ones I saw. She rolled out some really classy astro-turf-type lawn along the side of the pool and partway into the water. It was a very low-key transformation, and the very small kids were freakin' out of their minds happy with running and splatting themselves onto the softer surface. The plastic grass felt really good on your feet and the dry areas made a great place to sit — not as visually spectacular as some of the other works, but as a positive pool enhancement it was really successful.
I also really liked the subtle sound buoy by
Shannon McMullen
and
Fabian Winkler
. It just bobbed and warbled in the pool while all the regular kid activated water activities took place around it. I waded out and bonked the thing a few times and it had a nice robust construction, like a sturdy toy. While I was there, a little kid kept running his fire truck into it going "vroom."
The
Peter Chin
/
Louise Laberge-Côté
collaboration was a recipe doomed to fail...only it didn't. Laberge-Côté did an autobiographical dance/monologue in which he evoked the psychological states of his story with movement. Sounds horrid, doesn't it? But in fact his performance was super charismatic, well-paced, brave, and funny. I was very impressed at the courage of the man to put himself on the line in such a strange and intimate performer/audience setting. Again, the kids were totally captivated, shrieking with laughter as his persona flipped in an instant from angelic child to tormented demon and back again.
Unfortunately I did not get pictures of
John Greyson
and
Margaret Moores
'
Roy and Silo's Wedding
, which I attended in the evening. The candle-lit floating balloon penguins in ice-laden water made for a great closing party centre-piece. A dvd was playing in the centre of the pool. Many of us managed to watch it despite the icy chill of the water, by hopping back and forth from one numb foot to the other. There were a lot of penguin references laid on, the footage being an apropriated comedic re-mash of
March of the Penguins
. The story was about the gay penguin marriage in New York City, with jokes about Penguin books re-releasing all their gay literature, and lots of gags with the Penguin logo. Lots of colder-blooded-than-I resilient youngsters spent time in the water encouraging the floating penguins and candles to drift this way or that, and the rest of us stood and sat about the pool chatting in the dark. Every once in a while a balloon penguin would explode when it got to close to a flame.
I know WADE is a big huge ton of work. Many congratulations to curators
Sandra Rechico
and
Christie Pearson
for pulling off this excellent weekend of watery outdoor park art.