---
View current page
...more recent posts
---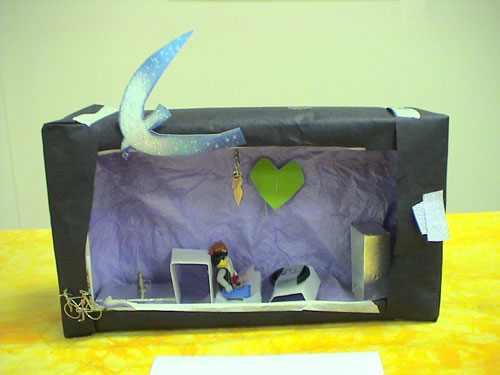 Last year, Von Bark and I were honoured to be involved with the all-ages art event,
The Diorama Extravaganza
, organised out of Landon Library in London Ontario, by Carolyn Doyle and Jean McKay. This weekend we get to do it again and we're highly psyched. The reception and awards ceremony takes place at the library on Saturday.
The 2006 diorama above was created by a young human in a single-digit age group. I believe it was titled "Happiness" and it depicts two small people watching a cardboard television in their home. There is also a very attractive coffee table complete with taped-on film canister lid and other unique elements. During the awards ceremony, Von Bark delivered a short critique on each of the pieces. Each of the entries won top prize in its own category. I can't remember the category for the piece depicted here, but I think it might have been "Most Beautiful," or possibly, "Best Concept."
You can see each of the dioramas from last year here
. Unfortunately, we were too wowed by the incredible quality of the submissions to take proper notes, so the artists' names and titles are unfortunately not included. This year we'll do better.