Schwarz
---
View current page
...more recent posts

In an exclusive Bayoubuzz online interview, U.S. Congressman Richard Baker describes his real estate-mortgage and New Orleans reconstruction plan that he has been proposing since October and which requires the vote of Congress. Many people believe it is the most comprehensive vehicle to deal with the myriad problems facing New Orleans and Louisiana and has been overwhelmingly supported by many editorials. With President Bush visiting New Orleans on Thursday and with the Mayor Nagin's Bring Back New Orleans Commission plan for the city being released today, ironically, the interview comes at a time when President Bush's support and the public backing of the plan is critical. Here is the BayouBuzz.com online interview with U.S. Rep. Richard Baker, R-Baton Rouge.
...........................................................................................................................................................


President Bush is coming to New Orleans for the ninth time since Hurricane Katrina swamped South Louisiana, but Thursday's visit will be the first since he succeeded in getting $2.9 billion for levee repairs.

He will find a community profoundly grateful for the promise of stronger levees. He will find a community in the throes of recovery. He also will find many people still worried about the future.

They worry that the White House isn't committed to protecting the region from the fiercest hurricanes. They worry about whether their neighborhoods will be safe in the long run. They worry about whether they -- and their neighbors -- can afford to rebuild.

His career began in the early sixties with long forgotten bands the Rainmakers, Rockin' Vicars and Opal Butterfly. After being a roadie for guitar legend Jimi Hendrix, Lemmy joined psychedelic rock band Hawkwind in 1971, playing bass and occasionally singing. You can hear him on their 1972 'Silver Machine'.

In 1975 Lemmy was sacked from the band when he got caught in possession of drugs at the Canadian border while on tour. But a year later he had formed Motorhead, named after the last song he ever wrote for Hawkwind (and also British slang at the time for a speed freak), although Lemmy had wanted to call the band Bastard at first!

(New Orleans Has Big Rebuilding Dreams) What the resulting master plan will look like is far from clear. The mayor can accept or reject any of the recommendations, a process that could take weeks. Of course, the plan's final shape will be determined to a large degree by Congress and President Bush, because they hold the purse strings.

The commission devising a blueprint to reconstruct the city will propose on Wednesday a complete reorganization of the troubled school system, the elimination of a 76-mile shipping channel that was a prime cause of flooding after Hurricane Katrina and the creation of a new jazz district downtown.

The commission report, several members said, will also advocate building a 53-mile light-rail system crisscrossing the city, connecting neighborhoods with the airport, downtown and other commercial centers. That system would be in addition to a separate heavy-rail system that would link New Orleans with Baton Rouge and the rest of the Gulf Coast.

The light-rail system, estimated to cost $3 billion, is intended to help spark redevelopment in areas of the city that were flooded.

Toward that end, the plan calls on the city to enlist developers to build at least four communities of 1,000 or more houses at stops along the proposed light-rail lines.
So, you want to build yourself a modern house? No problem, help yourself. Planning officers will fall over themselves to be supportive. On one condition - that no one can actually see the house you build.

For all too many planners, particularly in the fussier London boroughs - where those with the money to build something modern tend to live - new architecture is seen as a sort of contagion that needs to be kept firmly under control. But when the neighbours cannot complain, there is not much they can do, which is why the craftiest modern architects are becoming masters of the invisible house.

The trick is to find a site, almost invariably a backland site behind a house or shop, perhaps a yard or a redundant light industrial building or warehouse, with no outside walls, just a discreet entrance off the street. Buy it, knock down whatever is on the site, and the planners will leave you pretty well alone to build what you want.
" 'I am,' I said, to no one there, and no one heard at all, not even the chair."

A young police detective who spent nearly 500 hours sifting through rubble at Ground Zero has died of a lung disease connected to his cleanup efforts, police union officials said yesterday.

James Zadroga, 34, who died Thursday at his parents' New Jersey home, retired from the NYPD in July 2004 because of his deteriorating health. He is the first emergency worker to die from constant exposure to the Sept. 11 wreckage at the World Trade Center, said Michael Palladino, president of the Detectives' Endowment Association. ......................................................................................................................................................

Health studies indicate that many if not most of the thousands laboring at Ground Zero received neither proper respiratory masks nor warnings about airborne hazards. A survey of exposed iron workers by New York's Mount Sinai Medical Center revealed that in the first week, 74 percent had only disposable dust masks or no protection at all. A survey by New York City Fire Department of 319 firefighters showed that on the day of the disaster, nearly 80 percent had similarly inadequate protection.

While more firefighters obtained proper respiratory gear over the next two weeks, about half said they wore it only rarely. According to environmental scientist Paul Lioy's report on the government's emergency response, Ground Zero workers -- lacking proper training and accurate official safety information --had little incentive to wear the "uncomfortable and unmanageable" respiratory gear.

While city hall frets about politics, though, a new map of New Orleans is already being drawn.

In a sense, it's an old map. The wealthy strip of high ground alongside the Mississippi River that didn't flood -- the French Quarter, the central business district, the Garden District, Uptown -- resembles the footprint of the city circa 1850. They call this strip the Island, and while life there hasn't quite returned to normal, it's close enough for people to spend time devising new post-disaster routes for the upcoming Mardi Gras parades.

Out in what was marshland in 1850, much of the Lower Ninth is ruined. Some houses were swept off their foundations into the streets; others were simply pulverized into jagged piles of debris. Politics or no politics, whatever happens there will have to start with bulldozers.

The real problem lies in the endless city blocks, mile after mile after mile, that were flooded but not erased. You can start on the Island and drive north, toward Lake Pontchartrain, and soon you are in a silent, empty wasteland where all the houses have a visible waterline, sometimes at the windowsills, sometimes all the way up to the eaves. These vast neighborhoods aren't destroyed, but they aren't habitable, either.

The city's official blueprint for redevelopment after Hurricane Katrina, to be released on Wednesday, will recommend that residents be allowed to return and rebuild anywhere they like, no matter how damaged or vulnerable the neighborhood, according to several members of the mayor's rebuilding commission.

The proposal appears to put the city's rebuilding panel on a collision course with its state counterpart, which will control at least some of the flow of federal rebuilding money to the city.

The primary author of the plan, Joseph C. Canizaro, said teams of outside experts would try to help residents of each neighborhood decide whether to rebuild or relocate. Those teams would help increase the odds of success for those residents who decided to return, Mr. Canizaro said.

The commission will propose that the city should discourage homeowners from rebuilding in the hardest hit areas until a plan can be hammered out, but will not forbid them from doing so.

But ultimately, the areas that fail to attract a critical mass of residents in 12 months will probably not survive as residential neighborhoods, Mr. Canizaro said, and are likely to end up as marshland as the city's population declines and its footprint shrinks.

Building on coastal land below sea level, no matter where, is fundamentally a bad idea. Soil subsidence, coupled with rising ocean levels and increased storm activity caused by global climate change, will make existing lowlands even lower and ever more vulnerable to storm-induced flooding in the future.

Building on coastal land subject to hurricanes and severe storm surges, at the mouth of the mighty Mississippi, is a bad idea made worse. Constructing miles of levees at great expense to make low-lying coastal land habitable is yet more absurd. It only compounds our collective foolishness, as does providing flood insurance for properties in chronically flooded areas.
understood, but this guy fails to really address historic preservation and huge social issues in this essay. it makes you wonder if hes ever been down there. also sceptical of how houses on poles would withstand cat 4-5 hurricanes.
An Ithaca College dean is encouraging students to instead think small -- and she's offering a $5,000 prize to do it. The school has invited high school and college students across America to submit a 30-second movie shot entirely with a cell phone.

It may come off like a gimmick, but Dean Dianne Lynch has no doubts about the contest's academic value.

In today's media marketplace -- where cell phones can take pictures, play music and games and connect to Web sites -- it's all about thinking small and mobile.

There are times when Norman Foster looks like two entirely different kinds of architect. Which one you get depends on which side of the Atlantic you happen to be. In London he has become a ubiquitous, monochrome presence, dressing everything from Wembley stadium to the Asprey jewellery store in the uniform of self-confident corporate modernism, like a reliable machine. But in New York, where he still has something to prove, and is operating at the top of his game, he is unbeatable as a brilliant architectural innovator.

In the city that perfected the skyscraper then repeated the formula endlessly, he is the European who has taken on the apparently impossible task of rescuing the high-rise from creative exhaustion. His just-completed new headquarters for the Hearst magazine empire, on Eighth Avenue, close to Central Park, succeeds in doing that, and deservedly is getting astonishingly enthusiastic coverage.

The New Yorker's architecture critic, Paul Goldberger, not normally overawed by Foster, calls him 'the Mozart of Modernism', and describes the tower as the most beautiful high-rise to be built in Manhattan since 1967. Goldberger is putting him in almost the same category as Mies van der Rohe and the Seagram tower, and he is right to do so. He is even more enthusiastic about the interior. He calls the lobby as much of a surprise as the spiral at the heart of Frank Lloyd Wright's Guggenheim Museum.
two columbus circle "recherché" - HM





Shelter Documenting a personal quest for non-toxic housing




everybody's an art critic...
A 76-year-old performance artist was arrested after attacking Marcel Duchamp's "Fountain" _ a porcelain urinal _ with a hammer, police said.

Duchamp's 1917 piece _ an ordinary white, porcelain urinal that's been called one of the most influential works of modern art _ was slightly chipped in the attack at the Pompidou Center in Paris, the museum said Thursday. It was removed from the exhibit for repair.

The suspect, a Provence resident whose identity was not released, already vandalized the work in 1993 _ urinating into the piece when it was on display in Nimes, in southern France, police said.

During questioning, the man claimed his hammer attack on Wednesday was a work of performance art that might have pleased Dada artists. The early 20th-century avant-garde movement was the focus of the exhibit that ends Monday, police said.
from
here
where they refer to more
here
metro shed





Earlier this year John Gusto, a retiree, gave his 1939 house by Richard Neutra in Los Altos, Calif., to that city after nobody else would take it. In Florida, a house by Paul Rudolph was offered with a $50,000 bonus to anyone who would move it. In Quantico, Va., the Marine Corps, as part of a redevelopment of its base, is offering a group of metal Lustron houses from the 1940's for the cost of transporting them.

At a time when furniture by prominent 20th-century designers is selling for hundreds of thousands of dollars, these houses appear to be bargains. But even not-so-old houses come with problems. Moving a house can be costly, because any structure wider than a flatbed truck has to be cut into pieces before it can be transported. And midcentury houses are often tiny by today's standards. Dr. Ho, who is married with two children, said the house was not big enough for his family.
weve been getting traffic from the initials HM form here. they miss him. we are happy with NO.





NEW YORK -- One of the most famous delis in New York City may have served its last corned beef on rye.

The owner of the 2nd Avenue Deli said he closed the restaurant Sunday after a lease dispute with the building's new owners.


"My current rent is $24,000 a month for 2,800 square feet," Jack Lebewohl told The New York Times. "They want $33,000. I can't afford that."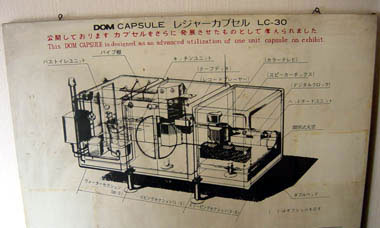 Kisho Kurokawa
Nakagin Capsule Tower
Tokyo, Japan


The Nakagin Capsule Tower was the first capsule architecture design, the capsule as a room inserted into a mega-structure, built for actual use.
The Capsule Tower realizes the ideas of metabolism, exchangeability, recycleablity as the prototype of sustainable architecture.






Even before Hurricane Katrina, Dr. Dawdy had found ways to return to New Orleans. In 2004, she made an intriguing discovery while researching a possible archaeological site under an old French Quarter parking garage slated for demolition. Property records and advertisements from the 1820's said that the site had been the location of a hotel with an enticing name: the Rising Sun Hotel.
This month, workers are dismantling a rare steel house built in Charlestown Township, Pa., in 1946, saving it from being demolished for a subdivision.

The pieces of the three-bedroom, 900-square-foot house will be stored until the Preservation Alliance for Greater Philadelphia, which raised the $20,000 to dismantle the structure, can find a new owner. The house is free to anyone who promises to rebuild it.
The Acropolis in Athens made it, as did Angkor Wat temple in Cambodia, China's Great Wall, the Colosseum in Rome, the Inca temple of Machu Picchu in Peru, Stonehenge and the Moai - the Easter Island statues.

Less immediately obvious choices in a final shortlist of 21 contenders for the New Seven Wonders of the World, announced in Switzerland yesterday, included the Kremlin in Moscow, the Eiffel Tower and the Statue of Liberty.