Schwarz
---
View current page
...more recent posts
more carnival posters here

via adman
[link] [add a comment]


more singing dogs backstory here here


[link] [add a comment]


Pocket Universe: Virtual Sky Astronomy 3.4

in case dr wilson isnt around but the stars are
[link] [add a comment]


the history of drive-in theaters


[link] [1 comment]


woods hole study not so bright outlook

science news has multiple news stories
[link] [add a comment]


A new study finds oil spilled into the Gulf of Mexico from a ruptured BP well degraded at a rate that was "much faster than anticipated," thanks to the interaction of a newly-found and unclassified species of microbes with the oil particles.
The findings of the report appeared in the journal Science last Thursday.
de maderas y sombras – shimuraya bar





Bourriaud claims that the new relational models are principled responses to real social misery and alienation. But he acknowledges that the artists he writes about are not concerned with changing the system of social relations – capitalism, in our language. Relational artists tend to accept what Bourriaud calls "the existing real" and are happy to play with "the social bond" within the constraining frame of the given. Bourriaud tries to put the best face on this kind of practice, characterizing it as "learning to inhabit the world in a better way." (p. 13) But in spite of his approving allusions to Marx, there is no mistaking that this is a form of artistic interpretation of the world that does not aim to overcome the system of organized exploitation and domination. At most, relational art attempts to model the bandaging of social damage and to "patiently re-stitch the social fabric": "Through little services rendered, the artists fill in the cracks in the social bond." (p.36)
on the origins of reality tv:
ancient travel literature < travel journalism < adventure novel < travelogue documentary < road rules
The idea of a trip around the world within a set period had clear external origins and was popular before Verne published his book in 1872. Even the title Around the World in Eighty Days is not original to Verne. About six sources[5] have been suggested as the origins of the story, as follows:

Greek traveller Pausanias (c. 100 AD) wrote a work that was translated into French in 1797 as Voyage autour du monde ("Aro/aund the World"). Verne's friend, Jacques Arago, had written a very popular Voyage autour du monde in 1853. However in 1869/70 the idea of travelling around the world reached critical popular attention when three geographical breakthroughs occurred: the completion of the First Transcontinental Railroad in America (1869), the linking of the Indian railways across the sub-continent (1870), and the opening of the Suez Canal (1869). In 1871 appeared Around the World by Steam, via Pacific Railway, published by the Union Pacific Railroad Company, and an Around the World in A Hundred and Twenty Days by Edmond Planchut. Between 1869 and 1871, an American William Perry Fogg went around the world describing his tour in a series of letters to the Cleveland Leader, titled Round the World: Letters from Japan, China, India, and Egypt (1872). Additionally, in early 1870, the Erie Railway Company published a statement of routes, times, and distances detailing a trip around the globe of 23,739 miles in seventy-seven days and twenty-one hours.[6]

In 1872 Thomas Cook organised the first around the world tourist trip, leaving on 20 September 1872 and returning seven months later. The journey was described in a series of letters that were later published in 1873 as Letter from the Sea and from Foreign Lands, Descriptive of a tour Round the World. Scholars have pointed out similarities between Verne's account and Cook's letters, although some argue that Cook's trip happened too late to influence Verne.[5] Verne, according to a second-hand 1898 account, refers to a Thomas Cook advertisement as a source for the idea of his book.[5] In interviews in 1894 and 1904, Verne says the source was "through reading one day in a Paris cafe" and "due merely to a tourist advertisement seen by chance in the columns of a newspaper."[5] Around the World itself says the origins were a newspaper article. All of these point to Cook's advert as being a probable spark for the idea of the book.[5]

Further, the periodical Le Tour du monde (3 October 1869) contained a short piece entitled "Around the World in Eighty Days", which refers to "140 miles" of railway not yet completed between Allahabad and Bombay, a central point in Verne's work.[5] But even the Le Tour de monde article was not entirely original; it cites in its bibliography the Nouvelles Annales des Voyages, de la Géographie, de l'Histoire et de l'Archéologie (August, 1869), which also contains the title Around the World in Eighty Days in its contents page.[5] The Nouvelles Annales were written by Conrad Malte-Brun (1775—1826) and his son Victor Adolphe Malte-Brun (1816—1889).[5] Scholars believe Verne was aware of either the Le Tour de monde article, or the Nouvelles Annales (or both), and consulted it — the 'Le Tour du monde even included a trip schedule very similar to Verne's final version.[5]

A possible inspiration was the traveller George Francis Train, who made four trips around the world, including one in 80 days in 1870. Similarities include the hiring of a private train and his being imprisoned. Train later claimed "Verne stole my thunder. I'm Phileas Fogg."[5]
One of the great stories surrounding MoMA's 1965 exhibition "The Responsive Eye" is how collector/garmento Larry Aldrich turned several Op paintings he owned into fabrics, and then into dresses, which fed into the Op Art Trend that was apparently swirling around New York. Of course, it's a great story if you're not named Bridget Riley.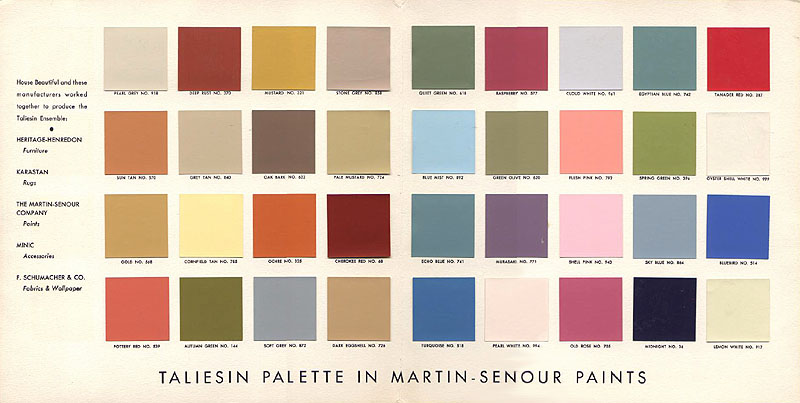 It's the "Taliesin Palette" of colors that Wright designed in collaboration with Martin-Senour Paints, with production beginning in 1955. In searching the net further I discovered a reference to Martin-Senour producing the same palette as recently as 1997. I placed a call to Martin-Senour and found out that their agreement with the Foundation ended around 10 years ago - so it's no longer in production. I asked if they would/could do something similar to what Pittsburgh Paints had done (i.e. - tell me how to get equivalent paint chips to their FLW palette, even though they were no longer licenced to produce it). The woman at Martin-Senour was very helpful and eventually faxed me a list that showed the comparable colors from the Taliesin Palette to those in Martin-Senour paints. There were 36 colors in the 1955 palette that somehow had morphed into 40 by 1997. She said there was one possible problem, though, in trying to match the FLW palette to Martin-Senour colors: beginning in 2007, the company had begun a change-over of their entire color palette and no longer would be producing paint chip-equivalents of the the Taliesin Line. Her suggestion to me was to call my local Martin-Senour paint store rep and ask if they had any fan-chips (multiple chips in one strip) left over from their previous palette - the Designer's Palette. I called - and they did. I drove over and with the help of the store rep was successful in matching up about 85- 90% of the entire palette with what was still available from the Designer's Palette chips.
the Rodale Institute





Spanning Time: America's Covered Bridges

njn2



dh air guitar (PDF Warning)





"Photography Not Art" Naturalism according to P.H. Emerson (1886-1895)





the rolling stones genuine black box bootleg 6 cd set





baby the rain must fall





The first thing we talked about was that NOAA report. Steiner said it was obviously full of guesswork -- and bad guesswork at that. "They shouldn't have even tried to issue these numbers right now," he said. "I smell politics all over it. The only plausible explanation is they were in a rush to hang the 'Mission Accomplished' banner."

And Steiner suspects the 10 percent recovery rate for BP is actually overstated. The report based its conclusions on operational reports showing that 11.1 million gallons of oil were burned and 34.7 million gallons of oily water were recovered through skimming.

But Steiner said the actual amount of oil recovered could be about half what the report claims. The oil-water mix, which officials evidently assumed was 20 percent oil, could well have been closer to 10 percent, he said. As for the burned oil figures, "they are simply coming from the BP contractors out there and then put into the Incident Command reports as gospel. As far as I know, there was no independent observation or estimation of those numbers."
Housing will eventually recover from its great swoon. But many real estate experts now believe that home ownership will never again yield rewards like those enjoyed in the second half of the 20th century, when houses not only provided shelter but also a plump nest egg.
anal
ysis