Schwarz
---
View current page
...more recent posts

Billy Wright was a purveyor of the style of rhythm and blues that reached it's ultimate crystallization with the rise to stardom of Little Richard via the earth shattering sides issued by Specialty starting with Tutti Frutti 1955. Wright was gay and flamboyant, he had worked the tent shows in drag, a great southern, show biz tradition in itself and an important influence on rock'n'roll--hence the term "tent show queen". He sang the repertoire of said tradition, many of the same tunes Little Richard would clean up and take to the bank-- Tutti Frutti ( original lyrics-- "Tutti Frutti/Good bootie/if it don't fit/don't force it/just grease it/make it easy"), Busy Bootin' aka Keep A Knockin', Don't You Want A Man Like Me, etc. Other well known recording artists that came out what was a true underground movement of it's time included Frankie "Half Pint" Jackson, who recorded with Tampa Red in the 1930's, Esquerita, who taught Little Richard his piano style, Larry Darnell, and of course Little Richard, himself a protege of Billy Wright's back in Atlanta at the start of his career. A career that began with Richard performing in drag, balancing a chair on his chin while he sang.
Billy Wright is mostly forgotten today, if he's remembered at all it's because of his influence on Little Richard who has never been shy about recognizing Wright's importance, but in the years 1949-51 he had four top ten R&B hits, he was a good draw in nearly every city with a significant black population, and was a sizable star in his hometown of Atlanta.
-the hound
teddy boys






The web site of Branislav Kropilak now features larger scale images of the beautiful parking garages series, and the stunning billboards series of photographs.

via things mag and yeah thats how they talk over there




It's always a little risky to see in one headline about the architecture business, or in the fate of a single firm, a parable for the profession as a whole. But news that the prefab specialist Michelle Kaufmann has suddenly closed her Oakland office and laid off all 17 of her employees does seem to have Larger Symbolism written all over it.

Kaufmann's is hardly the only prefab firm to face trouble in recent months. Empyrean International, the company that built houses for Dwell magazine's prefab arm, abruptly shut down last fall. Marmol Radziner, the Los Angeles firm known for smartly designed Neomodern houses, has mothballed its prefab factory in Vernon in what it says is a temporary move.
It took just one-and-a-half days for eight workers to build the frame from 11› tons of steel. The walls were made from prefabricated panels, and the windows were of a type usually used in factories. The staircase was ordered from a marine supplies catalog. The cost? Just $1 per square foot.

That was back in 1949, and the bill didn't include the labor of the owners, who'd designed the house, or their employees. Even so, $1 was remarkably cheap, especially when compared with the $11.50 it then cost to build a square foot — that's roughly a tenth of a square meter — of a typical American home. It seems even cheaper if you consider that the end result was occupied by its owner-designers, Charles and Ray Eames, for nearly 40 years. The Eameses went on to become America's most famous industrial designers, and their new home was to be one of the most influential — and beloved — houses of the 20th century.
rago and perrault home





bau-bike

via justin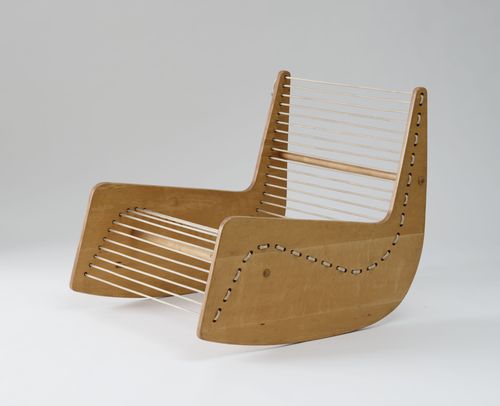 alexey brodivitch - floor chair (model 1211-c)
what was good design? at moma





loud fast jews





another cool buildings list. this one compiled for short list dot com by chris wilkinson, who designed gateshead millennium bridge





Architects who see one of their buildings demolished in their own lifetime can now seek solace in a new online support group.

The Rubble Club has been set up to highlight the number of buildings being torn down, as it believes, unnecessarily.

Members so far include Reiach & Hall, who designed the Forth Road Bridge toll booths, and Steven Anderson, part of the design team behind the Chungwha factory in Lanarkshire, which was built for £10m in 1996 and pulled down within a decade.

To qualify for membership, architects must be alive and not party to the destruction of the building in question. The building must have been intended as a permanent structure and its destruction must have been deliberate.
conversely, shouldnt there be the same for artist members of passe movements?
wheres my cell phone dot com

via dave



the order of myths

via vz



museum of british folklore

via things mag



hobo's bindle
beggerman's rigadoo





house in kamakura japan by suppose design office

justin found this one



vertical farm concept





vito acconci closing design studio





the secret science club at bell house bkln

via vz



The three Charles Ray installations at Matthew Marks right now, all brilliant examples of post-minimalist/conceptual sculpture, each created in the late eighties and new to New York, rattled my perceptions, jangled my faculties, and made me go "Wow!" They exemplify a drug-addled view of the world. Ray's sculptures, part of a long tradition of minimal installations, are also forerunners to much of the theatrical Festivalism of recent times (e.g., Maurizio Cattelan and Olafur Eliasson). Each piece is nearly invisible and formally economical. Yet each is outrageously labor-intensive. Ink Line, the best and showiest of the three works, is a sculpture/drawing/fountain consisting of a stream of jet-black ink pouring from a dime-size hole in the ceiling into a dime-size hole in the floor. Initially Ink Line looks like a strand of yarn strung the height of the gallery, a pulsating Fred Sandback sculpture, a free-floating Barnett Newman zip, or a disembodied Sol LeWitt. Get close and you'll realize the line is liquid, glimmering, the consistency of syrup, moving fairly fast, fluctuating slightly, and thinner at the bottom than at the top. The ink forms a weird climatological aura around itself, slightly changing the humidity of the room. I was blown away when I was allowed to see the elaborate apparatus that makes this simple effect possible. There was a large, noisy electric motor in the showroom beneath this gallery, all sorts of wiring, and plastic tubes that go under the floor, behind the wall, and above the ceiling. A gallery assistant arrives two hours early each day to drain the ink, "de-gas" it (!?), heat it with lamps to between 90 and 95 degrees, and put it back into the system. Anyone who looks at Ink Line can figure out how it works—yet the piece is as much a phenomenological event and a mystery as it is a work of formalist sculpture.
good examples of "plug-in" art. (art requiring a power cord.)
high line





jean baudrillard rock star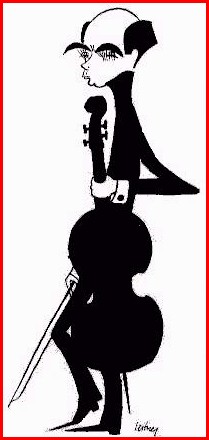 János Starker is one of the 20th century's greatest cellists. Hungarian born, Starker was a child prodigy touring Europe and the United States by the time he was 12 years old. Starker is a perfectionist and his tireless practice sessions are legendary. The man is a genius with his instrument. His technique is brilliant and his playing passionate.

These sessions were recorded in New York in the 1950's for the small label, Period. With no producer on hand, the musicians and engineers collaborated on the sound and mic placement. Starker himself helped in the editing process taking a razor blade to the session tapes. I guess that shows what can be done when you take the marketing people out of the creative process. As LP's these recordings were among those most prized by collectors. Sadly, they have been out of print for over 35 years. This is the first time they are available on CD.

This set is marvelous for its diversity, ranging from Boccherini and Mozart to Bartok and Kodaly is amazing.

I have to say that I usually dislike Bartok, but in Starker's hands Bartok becomes fascinating. If a musician can do that with Bartok, imagine how well the Mozart sounds!

thx edo