tom moody
---
View current page
...more recent posts
---
A quick round of the Chelsea Dead Zone, I mean art district, today. Some people didn't like
Liz Larner's
show at 303, but I kind of enjoyed it. Ribbons, fake hair braids, surgical tubing, TV antenna cable, canvas strips, and other filaments converge from the walls and ceiling of the back gallery into a "vanishing point," consisting of a big suspended gordian knot of all that stuff. In the front room interlocking colored cubes perched cockeyed on plinths--more of her trademark wacky (but quiet) modernism. I'm glad to see she's sticking to her guns after Ronald Jones attacked her in a recent
Artforum
for going soft conceptually. I really don't need to see any more petri dishes in the gallery, thanks.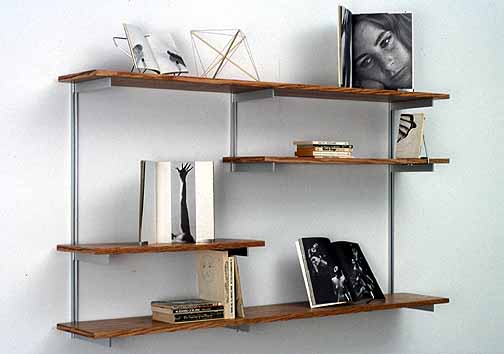 Speaking of modernism, Carol Bove presents another ambiguous tribute to the halcyon days of the late '60s/early '70s, when talk of utopia (social, sexual, artistic) suffused the air. Stacks and shelf-arrangements of period books (Black Rage, I Seem to Be a Verb, People's Park, Solaris, anything by John Lilly) mingle with geometric sculptures and wall drawings of tightly-stretched thread, while wispy inkwash renderings of Twiggy and other bygone beauties stare balefully from white sheets of paper pinned to the wall. The connecting glue is idealism, as reflected in the show's title: "Experiment in Total Freedom." But it's a kind of frozen, museological idealism, in which the Minimalist design trends of the '60s eclipse the wild-in-the-streets, getting naked side of the decade. That's a very fitting metaphor for the way things are right now, with "doin' your own thing" boxed up and, er, shelved by both the p.c. left and the Ashcroft right. (At Team through June 21.)
Larry Clark's show, over at Luhring Augustine, dealt with some of the same themes but might have benefited from Bove's light touch. This is the Shrine-to-River-Phoenix, 45-collecting, total-memorabilia-dump side of the Clark experience, which isn't as strong as his films and photographs. (Bully rules!) Speaking of Total Freedom: the art world allows Larry to do it all, that is, hang out with attractive young people, photograph them, & sleep with them, while oodles of creative people with similar behavioral quirks and yearnings are just going to get crucified in the current climate. I'm not sure where that thought is going so let's just leave it for now.
Lisa Yuskavage tackles polymorphous sexuality from the female perspective in a lovely, rather somber show at Marianne Boesky. What strikes me here is the strange, postmodern dialogue with painting's past--ways of representing women (straight portraiture, in repose, having their hair combed) redolent of Velazquez, Mary Cassatt, Manet, Degas, all mixed up with the Hugh Hefner cartoon, Sex-to-Sexty kitsch sensibility of big-boobed sex kittens. No single painting is either one way or the other. Both in this refusal to pick a period or a tone, and more blatantly, in the women's facial expressions, there's something kind of tortured about the work. Still, a smart show, possibly Yuskavage's best.
Last, a group exhibit at Friedrich Petzel inspired this comment in the gallery guest book: "PAINFUL (IN A BAD WAY)." Perfectly fitting that description are a crude jigsaw-cut crucifixion scene and a tacky multi-armed jackal-headed goddess of stainless steel that probably shouldn't have seen the light of halogen. The spraypainted walls and ceiling by Katharina Grosse had a nice messy graffitioid feel to them, though.

- tom moody 6-11-2003 7:33 am [link] [add a comment]