tom moody
---
View current page
...more recent posts
---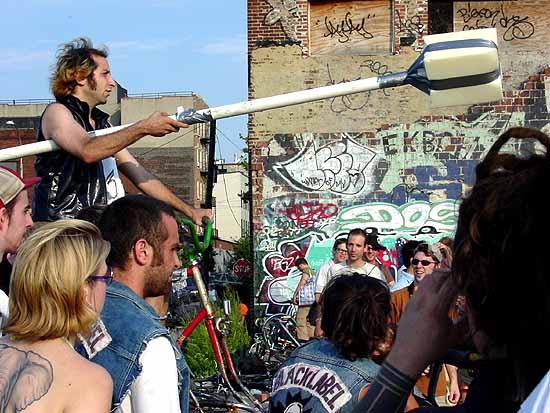 "With this lance of PVC, foam, and duct tape, I challenge you to joust."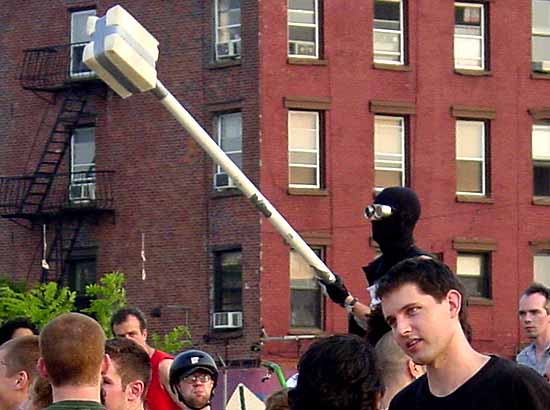 "And with this lance of similar materials, I respond to your challenge." (Guy in foreground: "So, we're thinking about Thai later--are you up for it?")
More pictures from the 2003 Chunkathalon (Saturday, July 26th, 2003, North 7th and Kent, Williamsburg, Brooklyn): "a series of death-defying contests that includes...the 40 lap, powerslide competition, baby rescue, apocalyptic quickfix, the 'help-me-up,' the gauntlet, derby, flaming wall of death, jump, hurl, and spew, as well as the World Chopper and Tallbike Jousting Championships. All chopper, tallbike, etc. bike clubs [were] respectfully commanded to attend."
UPDATE: Other pictures from embedded chunkajournalists are coming to light! James Wagner has a dynamic action shot on his blog of one of the jousts, and bloggy also has great photos. (Still more pics here.) Also, check out this documentation on the C.H.U.N.K. 666 website of the possibly even more frenetic 2002 Chunkathalon, held in Portland.

- tom moody 7-27-2003 10:59 am [link] [9 comments]