tom moody
---
View current page
...more recent posts
---
Below are photographs of the current World Trade Center site, taken from inside a moving PATH train as it enters the temporary station. The PATH is the main commuter subway from New Jersey: one branch goes under the Hudson and terminates at the WTC; another one enters Manhattan in the West Village. Explanatory captions are located under each picture.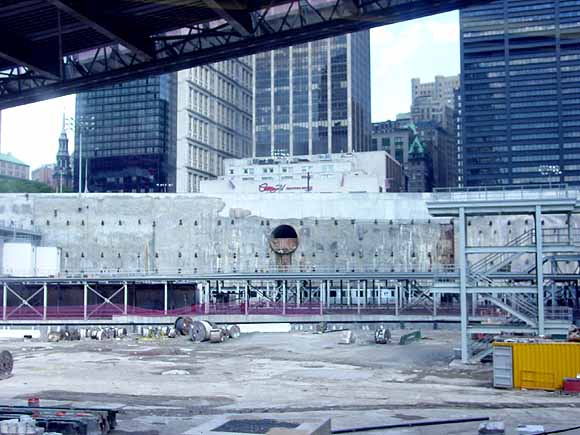 1. Looking east. The large, evenly-dotted concrete wall is the so-called "bathtub," an enormous retaining wall that keeps water out from the surrounding landfill (and survived the catastrophe). Note huge truncated tunnel (water main?) in the center, and directly above it, the sign for Century 21, a thriving designer outlet store located across Church Street.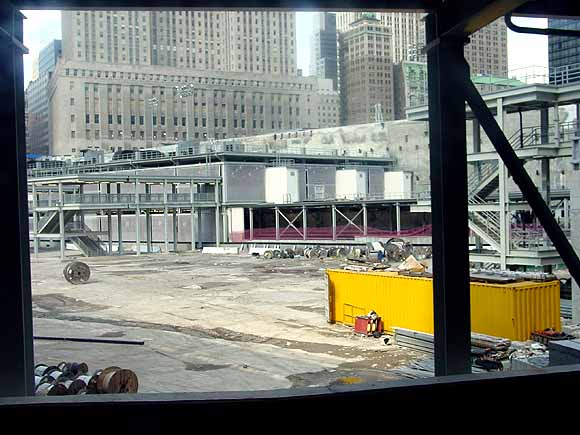 2. Looking northeast. The temporary PATH station is in the center of the photo, butting up against the bathtub. Trains enter the station several floors below street level.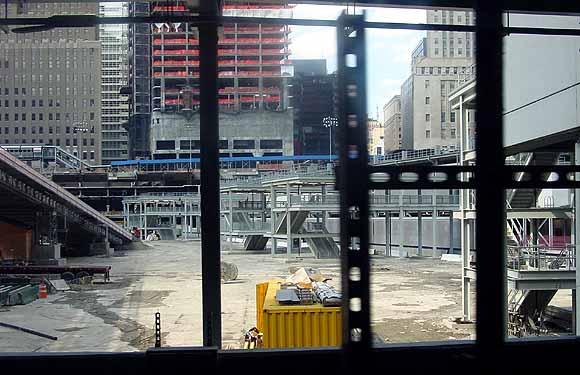 3. Looking north. In the center is the rapidly-rebuilding WTC 7, former home of Mayor Giuliani's "command bunker in the sky." There are conflicting explanations for why the original building (which housed many federal government records and offices in addition to the bunker) was destroyed. (See 9/11 timeline, March 2, 2002) The three theories are: fires burning out of control (official explanation), an explosion of the fuel tanks for the Mayor's bunker (the New York Times' theory), or, according to a 2002 PBS interview statement by WTC owner Larry Silverstein, a deliberate, controlled demolition late in the afternoon on September 11, 2001 (what he called "pulling" the building). The rubble was cleared out quickly and its whereabouts are unknown. Of course, I don't believe anything conspiratorial happened regarding Tower 7.



- tom moody 6-27-2004 2:13 am [link]