tom moody
---
View current page
...more recent posts
---
I purchased jenghizkhan's
SidStation
synth, as we discussed in our
interview
a few posts back, and got it hooked up a couple of nights ago. Here's a preliminary report. First, it remains to be seen whether this quote from Walker Evans, which I found on
Bill Schwarz's page
, will be relevant:
Time and again a man will stand before a hardware store window eyeing the tools arrayed behind the glass; his mouth will water; he will go in and hand over $2.65 for a perfectly beautiful special kind of polished wrench; and probably he will never, never use it for anything.
The SidStation is a beautiful thing, in its simple and modest design, but I mean to use and not just drool over it. It's a bit like programming a cell phone, in that you punch arrow keys to move around within menus on the little green LCD screen. To make sound, you're supposed to control it with something. Most people would use a keyboard but I hate keyboards because I associate them with the past trauma of sixth grade piano lessons, so my goal is to use
notes that I plug into a musical staff
on my downloaded notation program (called Harmony Assistant, or HA).
Wednesday night I successfully got the SS hooked up to speakers and got the MIDI cables hooked up so my computer sends notes to the SS to play. Harmony Assistant appears to only send one MIDI channel to an outside instrument--I haven't figured out yet how to make it control more than one. I had hoped to be able to use the SS as a "lead instrument" in connection with HA rhythm and bass lines playing off the sound card in my computer, but with the SS hooked up to the speakers, I can't hear the other staves playing in HA. I'm going to try running lines out from both the computer and the SS to my mixer, so I can hear and record both sources.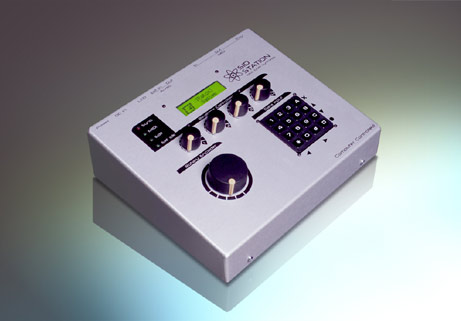 The SS is built around an actual, vintage Commodore sound chip from the '80s so it's limited in certain ways. It only produces sawtooth, square, and triangle waves--there are no smooth mellifluous sine tones, and everything sounds scratchy and buzzy and, well, like an old computer. jenghizkhan thoughtfully loaded the SS with preset "patches" from the SS website, which I haven't yet learned to modify, so I may still find a way to make a smooth sound. Some of the patches are single notes but most are loops of a handful of notes, so when you press an "A" note you hear a broken chord or prerecorded melody beginning with that note, "B" gets you the same sequence beginning with "B," etc. I want to start off working with single note melodies that
I
write (after first modifying the texture of the notes), so I already know there are lot of patches I won't be touching for a while. I clicked through all 90 or so patches and listened to them, using the real time editing knobs just below the green screen to alter them, and heard many cool sounds (and some obnoxious ones). I'm acclimated to my ancient Macintosh's array of lo-fi sounds so this still feels like an alien environment.