tom moody
---
View current page
...more recent posts
---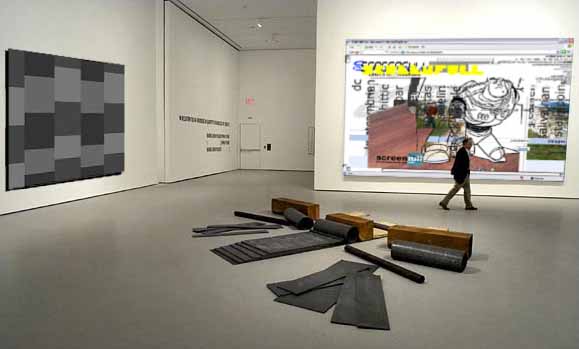 Haven't been to the rehung MOMA yet. On principal, this page worships Alfred Barr and believes his successors are "grocery clerks," to use Colonel Kurtz's phrase. Once it became apparent the museum would never be the dynamic collection Barr originally envisioned, shedding older works as it acquired newer ones, it should have left well enough alone and enshrined his gripping narrative as whole generations saw and remember it. Anyone not as smart and perceptive as he perhaps ought not presume to tamper with what worked--as in, sold the world on a particular (ostensibly too linear, politically unbalanced) vision of artistic change
at a particular moment in history
. Whatever one thinks of Cezanne's position as the cornerstone of pictorial Modernism, the current staffers' substitution of that corny
Paul Signac
in his place at the entrance is just lame.
Dress the decision up as they will,
as signifying the importance of proto-Pop or what have you, it was evidently a flattering-the-donors move, as the Signac is pledged to the museum by David Rockefeller. Above, left to right: Christopher Ashley, Robert Morris Serra, Abe Linkoln. Picture courtesy
Screenfull
&
Look, See
.