tom moody
---
View current page
...more recent posts
---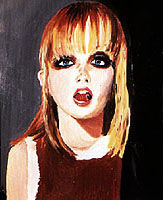 Karen Kilimnik: So much better than Elizabeth Peyton it's not even funny
Here are some quotes from a silly
New York Times
article today about the disparity in auction prices between male and female artists (thanks again, Bill):
One more example. Since three emerging figurative painters - Luc Tuymans of Belgium and the Americans John Currin and Elizabeth Peyton - were exhibited together at the Museum of Modern Art in 1997, they, too, have come to seem almost like classmates, all heralded as leading figures in painting's contemporary resurgence. [What resurgence? Painting left the art market for about two years in the mid-70s, it hasn't gone away since.] The two men's canvases have sold for more than $1 million. Meanwhile, Ms. Peyton's 1996 oil portrait of a languorous John Lennon is estimated by Christie's at $200,000 to $300,000. And even that is a lot more than the current record price for her work: $136,000, set in June 2002.
This is great news. Perhaps there is a (benign, de-gendered) God, after all. Peyton's work is tepid and blandly illustrational: rather than languorous the paintings would be better described as fey, or wan, and
that's all she does,
fey and wan, over and over and over. Stupid looking people all with the same cherry red lips--how about some other colors for those? Karen Kilimnik's good bad paintings ca. 1997 would have been a better choice for that particular (overrated) MOMA show.
Art defies head-on comparison. Forget apples and oranges; how does one judge the value of [Rachel] Whiteread's cast fiberglass and rubber mattress relative to Mr. Hirst's deteriorating shark? Or of Maurizio Cattelan's sculpture of a taxidermied ostrich compared with [Agnes] Martin's canvas with the faintest of graphite grids on it? The contemporary art market has at least one frustratingly simple answer: price. And from that perspective, the comparison is unmistakable: art made by women is regarded less highly than art made by men.
This argument is tautological: the art world chooses men over women in the competition for higher prices; choices can't be easily made; the only criteria for choosing is price. Art doesn't actually "defy comparison," people do it all the time, and usually not as ludicrously as above. You compare artist to artist, rather than arbitrarily chosen artwork to arbitrarily chosen artwork.
In all of the following comparisons (originally posed in the article), the former artist is protean, energetic, and innovative and the latter is refined, narrow-ranged, building on and deepening existing ideas, and sorry, we tend to value one more than the other: Philip Guston vs Joan Mitchell, Damien Hirst vs Rachel Whiteread, and (if you must compare these two) Mauricio Catellan vs Agnes Martin. Guerrilla Girl repellent: "Women can make art as well as men can. Many of the artists mentioned in the article
are
undervalued and the market will eventually correct for that, but on the basis of scholarship and consensus, not nitwitty
New York Times
articles that refuse to make meaningful comparisons."