tom moody
---
View current page
...more recent posts
---
(Edited slightly).
Thanks to everyone who came to the opening of
ART)@*!(WORK
. The group show takes place in an office cube farm on the 16th floor of a building at 520 8th Avenue (between 36th and 37th). I carried out
my plan
which was to sit in a cubicle drawing pictures on the computer and shooting the shit with people. Neither the cube ambience nor the business casual attire was particularly ironic in my case--it's pretty much how I dress and live, now, but especially in 1995-2000, the time period in my working life I was "channeling" in the performance by using an old computer, Windows 98, and MSPaintbrush as my main drawing tool. I did a rendering of Chloe Sevigny based on an
artnet photo
by
Nancy Smith
I downloaded earlier in the day (at home), got panicky that the drawing looked like garbage, saved it and started making spheres. About a half hour later I booted it back up and found it was a passable likeness! so I kept it on the screen. The picture still needs work but I have 42 more hours to sit in the space, so this shouldn't be a problem. Expect also some photos and commentary on some other artists' work in the coming weeks.
(Another slight update: I'm the only artist in the show treating this like a residency and working in the space full time after the opening. A few others are popping in for a bit of a temp work.)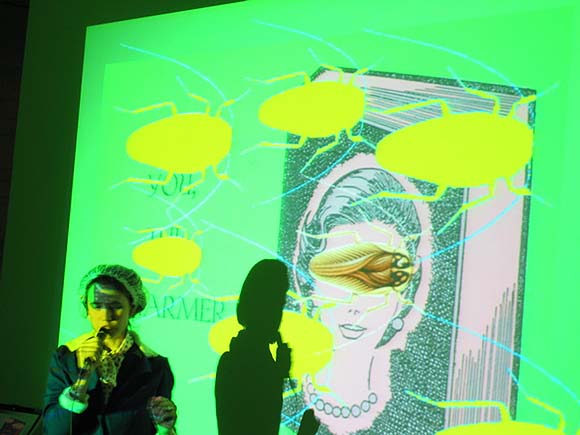 Around 8:00 pm
Irene Moon
did a live performance on the theme of social and antisocial insects (more specifically the scientific paper "Building Web-Based Interactive Keys to the Hymenopteran Families and Superfamilies" from Moon's work life as an entomology grad student) with electronic music, video, shoutouts to E.O. Wilson, and one major costume change from weird Bee-Woman zombie tourguide to southern-accented "Pleasant Planarian." "Fly Me to the Moon" was rendered in a well, drone, interlaced with factoids about insect eating and mating habits. At the end of the gig, everyone in the hive rubbed their forelimbs together and buzzed appreciatively. (Photo of Irene Moon from the
Carbon Records
website.)