tom moody
---
View current page
...more recent posts
---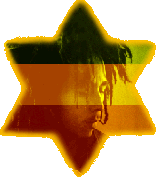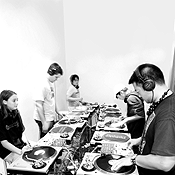 "Reggae Scratchin'" [6.6 MB .mp3 removed--see update below]
Bonus b-side: "Slowsteppin'" [mp3 removed]
(genius "scratch school" photo by anthony pidgeon, east bay express, via google images; bob marley graphic from fill in the blank fan site)
I will probably do a more complex version of "Reggae Scratchin'"; this is the bare bones "street" version, ha ha. Obviously the scratching could be varied more throughout the piece, some more instrumental voices could be added, blah blah good songwriting values blah blah.
Update, March 19, 2008: "Reggaedrome II" [
4.3 MB .mp3
] replaces the "street" version, which I took down.