tom moody
---
View current page
...more recent posts
---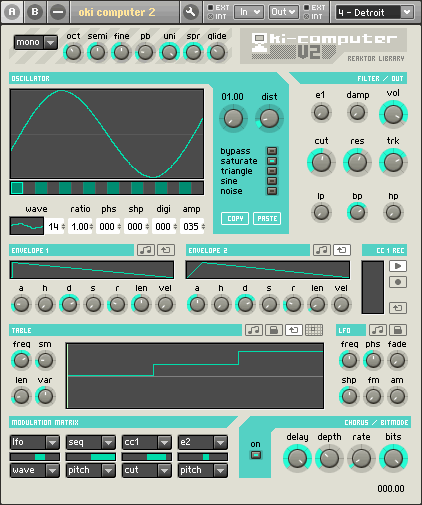 "If you get excited by words such as analog and vintage, look away now. Oki Computer 2 is a compact wavetable synthesizer, a specialist in digital lo-fi sounds that hails back to the 8-bit era of beeps and bleeps... It is also rather capable of creating buzzing leads, rhythmic sequences, and odd tasty bass tones."
Brochure copy for a Reaktor Instrument designed by James Walker-Hall and Timothy Lamb, a kind of softsynth Sidstation with a more up-to-date sound. Music composed (mainly) using the Oki 2 can be heard on the
Reaktions
website. Some beautiful stuff here. This is the digital bleeding edge and the fact that it's commercial, licensed software is offset by the cultish climate of serious producers pushing each other in a critical environment of chatboards, non-commercial websites, etc. The music is very much a collaborative effort by individuals (artists, designers, preset crafters) trying to pull unique sounds out of that everyday, chip-laden plastic box sitting on your lap or under your desk. My favorite piece is "Progression 7819" by spr: one reviewer compares it to the Akira soundtrack, to which I would add it's doomy and Ryuichi Sakamoto-ish, with sputtering human beatbox-style (but still subtly digital) percussion. More on the abstract side but still lyrical are ZooTooK's Brian Enoid "Oki Compis 2," ElektrikZen's "Okiko," and Dongle Doc's "OKOK." I like the slowed-down psy-trance of Jason Wolford's "Systoric," and Damon Vallero's "Oki the Rainbow" has some nice chords reminiscent of Larry Heard sans the house thump. And lest this sound too much like a Native Instruments infomercial, I do find Oki (and Reaktor in general) more convincing as a flavor than a universe unto itself. On many of these pieces one yearns to hear some "bottom," something more "phat," not because the analog purist position is superior but because stronger pieces spring from contrasts and tensions.