tom moody
---
View current page
...more recent posts
---
"Each pattern has the maximum complexity and 'resonance' for the minimum number of frames."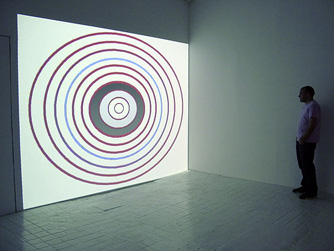 Paddy Johnson is
interviewing me and Michael Bell-Smith
this week about our shows; I hope you'll check it out.
"Geeks in the Gallery" is a three part discussion with artists Michael Bell-Smith and Tom Moody, which will run on Art Fag City from Monday June 12 – Wednesday, June 14, 2006. A recurring theme of the talk is how technology informs artistic production, as both artists have individually exhibited work usually described as New Media, yet also seem somewhat skeptical of "tech art." Moody's "Room Sized Animated GIFs" at artMovingProjects in Brooklyn is comprised of animated GIFs projected or displayed on variable sized CRT monitors/tube televisions, plus a looping movie of the artist performing a computer-fabricated (but realistic-sounding) "guitar solo." The show dates are May 5th – June 25, 2006; it can also be viewed online on the artist's site. Bell-Smith's exhibit "Focused, Forward" closed last week at Foxy Production Gallery and included digital animations steeped in the aesthetics of '80s and '90s video games, a print depicting collaged patterns that create a virtual Tower of Babel, and a game table-like video sculpture with a simulated radar graph of birds circling over the White House. Show dates were April 27 – June 3, 2006; it can be viewed online at foxyproduction.com. [...]
Some thoughful comments were made in response to my
"preview remarks" about the interview
and the general topic of "showing new media art in the gallery." I've replied to a couple of those, in the comment(s) to this post--anyone is welcome to chime in about that ongoing thread or the interview.
L.N.R., reBlogging at Eyebeam, makes the observation about the preview remarks:
"Self indulgent, but interesting questions."