tom moody
---
View current page
...more recent posts
---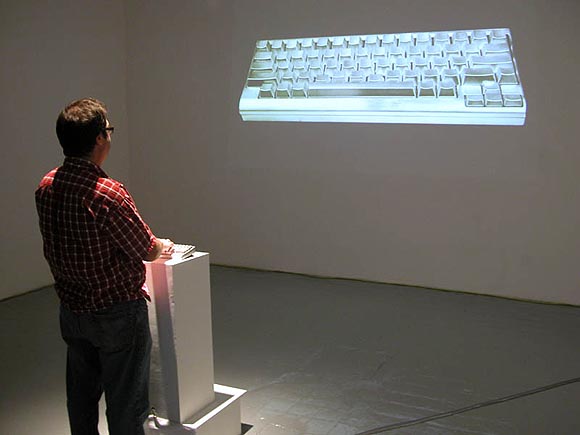 Opening tonight at
artMovingProjects
, 166 N. 12 Street in Williamsburg from 7 to 9 pm, an exhibit by
Marcin Ramocki,
an artist previously discussed
here
. He directed the
8 BIT
movie that is opening next month at the Museum of Modern Art. Aiming to "sabotage and displace the familiar context of the software interface," the exhibit includes
Torcito Portraits
, digital animations based on re-purposing the old Macintosh musical program Virtual Drummer, and
Anti-Pharmakon
, pictured above (photo courtesy artMovingProjects), an interactive installation composed of a treated computer keyboard, CPU and a wall projection. Further explanation will be forthcoming, once I actually see the work.
Also showing in the Project Space is
Jillian McDonald's
Zombie Makeup,
a video documenting the day the artist rode the L train from one end to the other applying George Romero-ish zombie makeup to her face. As the artist says, "Instead of improving my features, like the woman who steadily applies makeup en route to work or play, I become gruesome."
Update:
Anti-Pharmakon
is an interactive sound piece. When you press a key on the actual keyboard, the corresponding key moves on the projected one, and a recorded sound issues from speakers in the gallery. The "sound bites" are single words or phrases uttered by popular or historical figures, listed
here
(scroll down)--for example, "significant progress" (Dick Cheney); "Arabs and Israelis" (Anwar Sadat); "the white men" (Malcolm X); and "life" (George W. Bush). The sounds overlap when multiple keys are pressed, created intermittent cacophony in the gallery, depending on how many are clicked at once.