tom moody
---
View current page
...more recent posts
---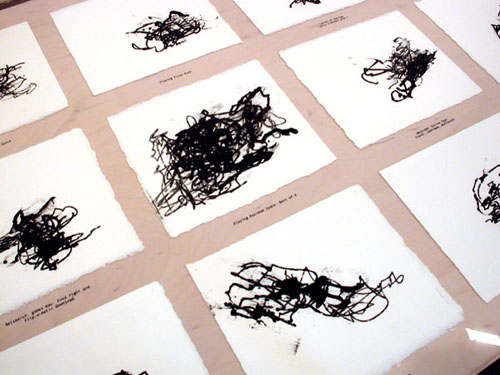 A
previous post
dealt with several incarnations of the "mousepad drawing"--by Kristin Lucas (1999--photo above), the Eyebeam Open Lab (2006), and Joseph DeLappe (1999-2002). To recap, Lucas inked a mouseball and let it make drawings while she played games, answered email, etc.; the Eyebeam project is a recently-invented "double mouse" that allows anyone to make abstract marks on one screen while doing routine things on another; and the DeLappe is a mouse with various physical pencil and brush extensions that also make mock-gestural drawings. I can't really compare the drawings because I've only seen the Lucas firsthand (they were nice, with an organic Cy Twombly-ish feel belied by the banal origins). However, I'm intrigued by her expressed intentions behind the work in a way I'm not with the other projects. The presence or absence of an underlying rationale goes a long way towards defining whether something is art in the humanist, Western Civ tradition or just an extension of tech practice. Here's what Lucas says about her series:
"At the time, I was making work about the influence of programmed environments on my behaviorial patterns (mental and physical). So [in the case of the mousepad drawings] an influence of the virtual recorded in the physical realm. I found the inked mouse drawings looked psychological--their motion cramped, frustrated, oscillating between resisting control by external forces and controlling oneself (like being trapped in an argument with oneself). My drawings are never shown with the tool so they are more about the discovery of what they are and enjoying the irony or sincerity of what the task was. Also factoring in was the scale of a world wide experience reduced to a tiny sheet of paper.
By contrast, DeLappe (photos immediately below) seems to be making a broad critique of the pseudoscientific forebears (or cousins) of modern art such as graphology, Freudian analysis, and/or mediumistic "automatic writing" (one supposes--the statements I found on his website don't really explain why he is doing it) by presenting entire suites of work each of which is supposedly influenced by a specific activity such as preparing income taxes, or surfing Museum websites. These sources of anti-inspiration or non-inspiration are exhaustively detailed in the finished display, down to noting the URLs and characteristic colors of art world sites. Unlike Lucas, he presents the mouse as a sculptural object related to the drawings and even lists the brand of the mouse in the description.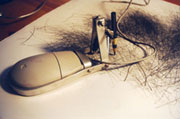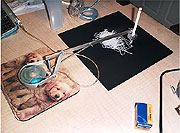 By the time we get to the Eyebeam Open Lab's "9 to 5 Paintings," the idea has been mainstreamed and popularized down to the level of an executive toy, with breezy description to match:
Create art while you work! If you find yourself spending more and more time answering email, and less and less time making art then why not do them both at the same time? Turn your emails, internet browsing, and report writing into digital paintings. 9 to 5 paintings are a visual representation of your daily computing routines.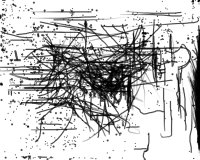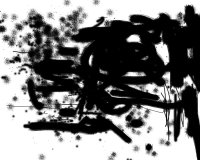 Here it's mainly about the gear, and BAW (bored at work) fun. The introspection and societal critique of Lucas' project has been decanted away, leaving only the absurdity.
Related:
techy takes on Pollock
.