tom moody
---
View current page
...more recent posts
---
If you write a so-called realistic novel in America--whether it's about the mores of upper-middle-class Connecticut WASPs or growing up in the 'hood in Detroit--your book will be marketed as "fiction" or "literature" and it will never have to "transcend genre." If your aim is satirical allegory, depicting present reality through the distorting lens of the fantastic, you will likely be consigned to the "horror" or "science fiction" fields, literary ghettos that are hard to escape. Gradually the writings of authors such as Philip Dick and J. G. Ballard, which endured years of "peeled eyeball" covers and incomprehension by would-be escapists and lit profs alike, are coming to be recognized as some of the most important writing of the last century. Their books aren't just about "people," in the old 18th Century novel sense, but how a technologically-transformed environment is changing people. Not every writer is lucky enough to get out of the pulp graveyard, however. Doris Piserchia's writing of the '70s and early '80s took a hard look at life in America during that period, just as Dick's did in the '50s and '60s, and reflected it back disguised as "harmless fantasy." Some of her books were more escapist than others--at least four of them seem squarely aimed at brainy teenage girls--but that was a necessity of working in the marketplace, and even those books are full of weird, subversive elements.
As someone who wants to see Piserchia's work survive and be discussed seriously, then, it's with some trepidation that I present the latest additions the The Doris Piserchia Website: the book cover gallery for 1973-77 and the book cover gallery for 1978-83. Here's a slice of marketing from the Great American kitsch factory guaranteed to send Connecticut WASP-fanciers screaming for the exits. But despite their potentially marginalizing influence, there's a lot to be said for these dumb covers--particularly the ones painted by H. R. Van Dongen, whose old school/modern sensibility is strangely matched to Piserchia's. The other (mostly-unknown) artists who labored to find some visual equivalent to her oddball visions should be saluted, too, as torrid and dated as their efforts often are. The only truly bad covers are the later ones by Kelly Freas, which commit the unforgivable crime of making Piserchia look cornball.

- tom moody 11-28-2001 5:09 pm [link]


---
This blurb appears in the November 19, 2001 issue of
New York
magazine:
For his latest series, "Domestic Landscapes," German photographer Thomas Wrede placed a newspaper ad to find German houses wallpapered with those kitschy '60s and '70s-style photomurals of mountain lakes, forests, and beach scenes that make the Today show's autumn vistas look downright gray. Those who never availed themselves of the trend may want to join the current revival after seeing Wrede's large, colorful photographs of living rooms, dens, home offices, and bathrooms (pictured, Toilet by the Lake, 2000-2001). At Cristinerose Gallery, 529 West 20th Street; through December 22.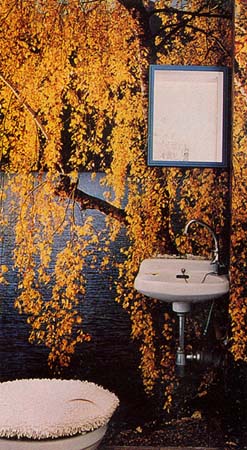 Now here's the press release for the show, which was ghostwritten by yours truly. It's interesting how the New York writer put a "hip" spin on it:
In "Domestic Landscapes," German artist Thomas Wrede combines still-life and landscape photography in detailed views of home interiors adorned with panoramic, photographic wallpaper. Taking out an advertisement in a German newspaper, the artist found dozens of houses decorated with these full-color murals, most of them dating back to the '60s and '70s. The super-enlarged photos depict mountain lakes, beach scenes, and cityscapes (including a New York skyline with the World Trade Center), that bring an illusion of spaciousness and "elsewhere" into a closed home environment--a trend that is currently enjoying a resurgence.
Setting up his photo equipment inside the houses, Wrede captured finely-wrought glimpses of domestic settings, all with huge, calendar-art vistas looming behind them. Real furnishings such as throw pillows, knickknack shelves, and bathroom fixtures merge with the artificial backgrounds into a kind of seamless, hybrid space. Shot in sumptuous, saturated color, the photos wryly document lifestyles where homeowners "have it all"--enjoying the outdoors without abandoning creature comforts. They are poignant and personal images of utopia.

- tom moody 11-21-2001 3:25 am [link]


---
Below is an image from the
Killer List of Video Games
website, which maintains a comprehensive database of arcade games. I was surprised to learn that this particular game, "Computer Space," was the first, preceding Pong by a year (CS was 1971, Pong was '72). The biomorphic Fiberglas body got me thinking about sculptures from the late '60s/early '70s that had a similar look or feel, which led me to put together a
one-page picture story
on connections between video games and contemporary sculpture. I've paired "Computer Space" with an untitled work from 1969 by Canadian sculptor Walter Redinger, and then contrasted another game from the KLOV website, the sublimely-named Xevious (xenophobic and devious?), with an image of Rita McBride's recent sculptures based on arcade game designs. The discussion of the games is interwoven with a critique of the artworks.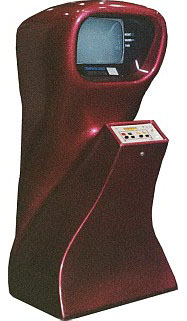 ---
Below, left:
Michael Jackson
Invincible
CD cover, 2001
Below, right:
Tom Moody, La Femme Nikita (detail)
MSPaintbrush drawing, 1999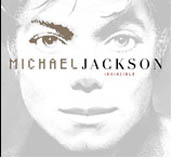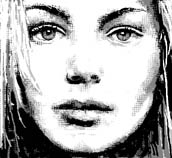 ---
My article "Palo Alto Dreamin': Towards a New Digital Expression(ism)" appears in this month's
Art Papers
magazine--the Nov/Dec 2001 issue, celebrating the Atlanta-based art journal's 25th anniversary. To visit the
AP
website (which doesn't include the text of the article),
click here
; for the full text of the article (with additional images),
click here
. Three of the artists discussed favorably in the essay--Matt Chansky, Claire Corey, and Marsha Cottrell--have been previously featured on this weblog: to view a slightly expanded slide show of their work,
click here
. With respect to the three artists discussed not-so-favorably, it should be mentioned that Jeremy Blake has a show up right now at
Feigen Contemporary
in Manhattan. Is the work an improvement? In some ways. The video-abstractions aren't as yoked to the Mondrian/Ellsworth Kelly grid--now they're more organic, resolving into occasionally striking, mandala-like images. Yet while freely riffing on the comparatively looser, bouncier oeuvres of Morris Louis and Paul Feeley, they still have that cut-and-dried, predictable feel of a software demo, and the ominous, David Lynchian pink noise is getting very tiresome. Some videotaped photographic images spliced into the abstractions (a burning castle, a girl spinning in a room full of snowflakes or feathers) make the work a bit more eclectic and varied, but also break the psycho-hypnotic mood.
For an earlier-published discussion of Blake, and some of the issues in the "Palo Alto" essay, please see my May 2001 review of the "Compression" exhibit at Feigen.