tom moody
---
View current page
...more recent posts
---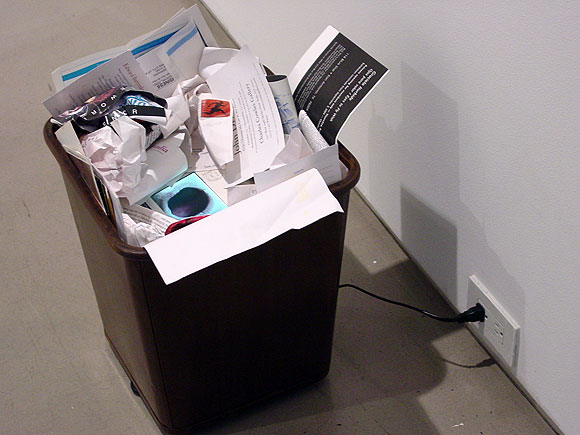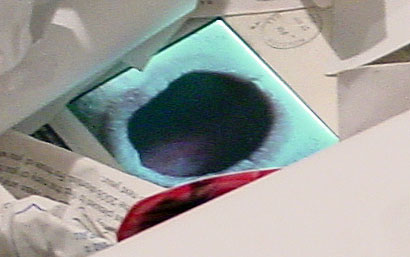 The Art Guys,
Waste Stream (Video Trashcan),
2004. Currently on view in the group show "Ready-Made" at the Yvon Lambert Project Space, NY. The mouth in the trashcan strains to maintain its gaping rictus in the jittery video loop; the effect of looking down into the trash-lined "bunghole" is obscene in the best Bataillean sense. The show contains few actual ready-mades; this is an art gallery after all, and people want to see craft. Cady Noland, for example, is represented by one of her late fabricated aluminum cutout pieces and not her early found junk.
---
"Grow a Brain 2" [mp3 removed -- a remixed version of this track is now on
Bandcamp
]
Some nasty drum and bass for a nice summer's day.
Update: A couple of minor tweaks designed to take even more advantage of the (extremely) basic melodic content!
---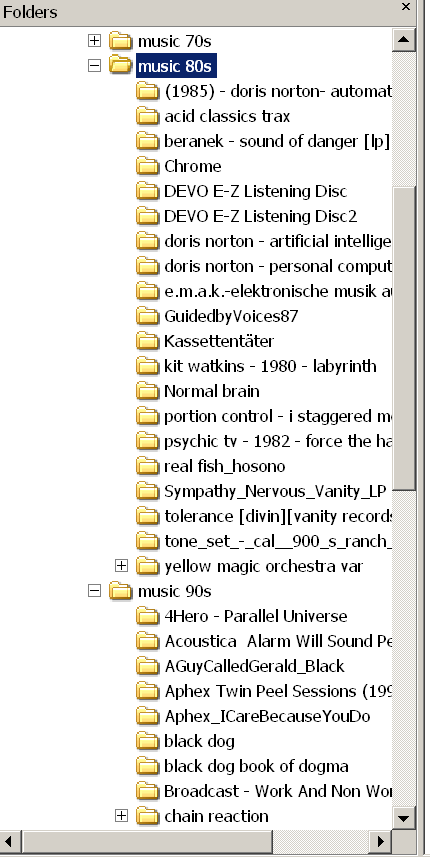 After one of my occasional anti-iTunes rants a friend asked me what I did for a content management system. He thinks one of the benefits of iTunes is that it organizes your soundfiles and you can search and create playlists within this data. Myself, I don't keep any permanent playlists (except a master file of music I wrote). For recreational listening I assemble temporary playlists piecemeal, picking and choosing songs from folders I've created on my hard drive. I use Winamp to find and play the files and save the playlists. Unlike iTunes, Winamp will stream them from anywhere on your PC (maybe iTunes has changed, but you used to have to resave all your music to a special iTunes folder).
My folders are organized roughly chronologically (by decade) and alphabetically within each decade. Thus I can visualize the entire collection and also think about relationships within it (once a rock critic always a rock critic--pity me). This scheme makes me less reliant on someone else's bad metadata from the individual tunes--a real problem with iTunes in my opinion. I do a fair amount of pruning--whereas I had a hard time deaccessioning CDs and vinyl I'm pretty merciless with mp3s. If it's not floating my boat it's not taking up space on my hard drive. As the collection gets larger I'll start breaking the decades down into years. Oh, and the folders also contain jpegs of covers and other info. The entire schmear is backed up on a separate hard drive.
Excuse this nerdy indulgence but I wanted to put forward a model different from the one Steve Jobs expects you to use as part of his entertainment colonization scheme.
Also, as I mentioned I don't use a portable mp3 player (headphones bug my ears) but if I did I would just move songs out of these folders and wipe them from the player when I was tired of listening to them. DIY, baby, DIY.