PALO ALTO DREAMIN'
Page Four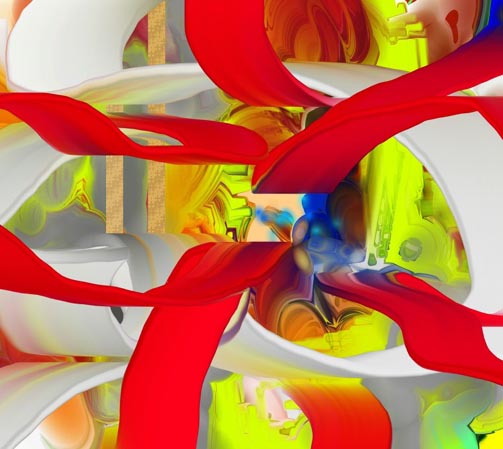 Claire Corey, 6c1a3b, 1999, ink on paper, 50" X 56"

Claire Corey's digital paintings also play with our neurotic need to know what we're staring at. Printed on heavy paper stock with Iris technology, they look like watercolors, or perhaps thinned-down acrylics, except that they completely disregard the physical limitations of those media. Arcs and loops that appear hand painted are subtly intertwined with hard-edged geometry, then further distorted, layered, and refracted using effects that could only come from computer menus: imagine Abstract Expressionist-style painting with the added ability to filter, wave, clone, and "spherize." Corey avoids the cliches of imaging software (and AbEx) through obsessive, over-the-top reworking of imagery--her paintings are staggeringly complex, nesting details within details like the recursive worlds in Mandelbrot sets. She uses several different programs, moving motifs back and forth among them, discovering new effects through the computer's almost infinite ability to recombine imagery.
Like Chansky's "static" piece, her 1d4o, printed on canvas, contrasts the grid with organic surroundings, so violently they appear to be at war. A woven pattern from a digital clip art file is altered, color by color, into a new arrangement of hues, then tilted at a perspectivally steep angle and immersed in a field of vaporous, high-key color. Diaphanous veils of chartreuse and magenta--more like negative overlays in photography than painting glazes--surge up from the bottom of the piece and crash against the grid like waves assaulting a battleship. Miniature black holes emerge from the vitriolic swirls to envelop and "eat" the grid, while fragmented clones of the plaid hover around the periphery like fourth dimensional flotsam and jetsam. Despite the sci-fi metaphors, the piece isn't a modernist "challenge to our everyday perceptions" so much as it is an honest reflection of them: a torqued-up hybrid of cinematic tropes, cyber-effects, and upscale painting conventions.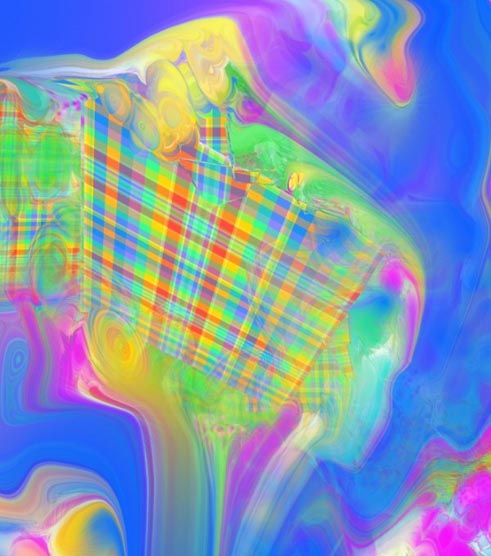 Claire Corey, 1d4o, 2001, pigment on canvas, 56" X 50"
In his "BitStreams" review, New York Times critic Michael Kimmelman questioned the long-term viability of digital work, fretting that "today's hardware and operating systems, the digital equipment artists use, will be replaced shortly by a new generation of equipment." In the work of Cottrell, Chansky, and Corey, that's not really an issue. Kimmelman fails to mention that imaging software hasn't changed fundamentally since the early '80s, when Apple added MacPaint to the desktop interface developed by Xerox PARC (Palo Alto Research Center). Nowadays, programs are pixel-based (Adobe Photoshop) or vector-based (Adobe Illustrator), they involve either layering (Photoshop again) or mapping textures onto polygonal armatures (a la Pixar and Industrial Light & Magic), but you still have the same combination of drawing board, tool menus, and spectrum bar you did twenty years ago. Programmers and engineers have refined these basics, added more depth and memory, improved printing and screen technology, but haven't radically rethought how images are made. Until that happens, resolution remains largely a matter of taste, which the best artists know how to use proactively.
Critics have also accused artists of just following steps in these programs, creating high-tech paint-by-numbers. Whether true or not, that certainly comes to mind looking at Jeremy Blake's photos and DVDs, which are as robotic as architecture-program renderings. But the expressionistic mode favored by Cottrell, et al--heavy on revision and erasure, moving back and forth between programs, importing "foreign" material, actively exploiting breakdown and error--is about as far removed from factory settings as you can get. That mode may be the most interesting place for visual artists to work in computers right now, because it is counterintuitive (as opposed to the Ellsworth Kelly-style grid, which conforms easily to the computer's right-angled design scheme); because it's closer to the impure, inclusive spirit of hiphop; and because its open-endedness thwarts soundbite explanations.
The biggest challenge for artists isn't keeping up with technology, it's navigating what's already there. (*) The range of artistic choices in existing programs, good and bad, is mind-boggling: millions of colors, line weights, effects, filters, orientations, and layers, as well as combinations, and combinations of combinations, of the above--and that's before the first scan is even imported. Just as hiphop producers and graphic artists don't need expensive upgrades (or grant-friendly rationales) to do their work, neither do Chansky, Cottrell, and Corey; they're deconstructing at ground level, so to speak. Perhaps in the next round of "computer shows," their influence--and the expressionistic turn in digital painting--will be more strongly felt.
*Some programmers claim that you have to be able to write code to be original, but as artist John F. Simon (who writes code) has said, "I believe artists who work from a strong personal vision will make interesting art with Photoshop or anything else they find necessary to realize their ideas." He adds: "That said, using a software tool by just following the demos and the menus is going to produce very similar results." "Decoding Digital Art," interview with John F. Simon at mediachannel.org.
To view previous pages, click buttons below.
Back to criticism / weblog.