Little help? I have to watch "the" football game tonight with someone. Is there only one? Who is playing? What can I know to make me seem not 100% clueless about football?


---
its monday night football now on espn not abc. just make a lot of dandy don meredith references.

*its houston (texans not oilers) against, your team, the patriots. they are two of the top three teams in the afc along with denver so this is a possible playoff matchup.

*patriots quarterback tom brady just had a kid with his supermodel wife, giselle bundchen (sp?) so when he looks sluggish be sure to reference 3 am feedings. also, he is the spokesmodel for uggs which is always good for a pun when he throws an errant pass.

*they are the top two scoring offenses in the nfl but houstons defense is better.

*houston has the best record in the nfl but noone really thinks that they are exceptional. whereas new england has been in the superbowl 5 out of the last 11 or 12 seasons.

*new englands wide receivers and tight ends are banged up or injured and they rely heavily on passing so thats probably a big factor for the game.

*the houston texans dont deserve to win because their name is stupid.

* the texans running back is named arian foster, not aryan foster so no master race jokes.

pats owner, bob kraft (owns gillette) went viral last summer when a video he made with his girlfriend (his wife died within the preceding year) got leaked on the internet. his lawyers seemed to have whack a moled it out of existence but here is a clip from kimmel shot off the tv.
Thanks Dave. Personal shopper, sports fan coach, podcast cognoscenti.... Is there nothing you can't do?

But not that I really needed the help. Is Earl Campbell still their running back?

"Is there nothing you can't do?"

make wise investments.

oh, and, concussions are a big issue now as you probably know so football is somewhat in crisis as they have to act concerned about the safety of players in a sport which is inherently violent.

also within the past two weeks a player on kansas city killed his girlfriend/ babymama then drove to the practice facility, thanked his coaches before blowing his brains out (i assume) right in front of them. his team played (and won) the next day.

then this weekend a dallas cowboy linebacker drunk drove his way into a manslaughter charge as he killed of one of his teammates although one that was only on the practice squad, hence expendable. they also played just days later and also won. so ritual sacrifice is alive and well in the 21st century. take that, mayans!

just a pinch....
kraft seems like a decent guy but if you want to judge a man by the company he keeps, this is who he invited into the owners box at the superbowl last year which his team lost to the giants.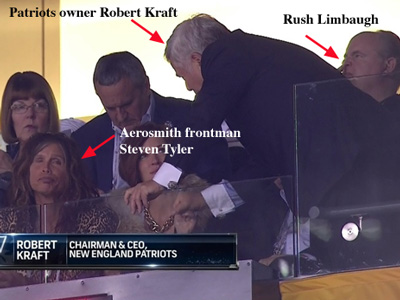 If you pretend to understand, you will be implicated. Just tell them what it was.