fucking germans. this cant be said often enough.
---
amazing goal, bummer for me, but the best team usually wins
#MundialTelemundo ˇMilagro! Marcos Rojo apareció en el área y le está dando el triunfo a #ARG sobre #NGA . Lo sigues por @Telemundo pic.twitter.com/JLQrI0NAwA

— Telemundo Deportes (@TelemundoSports) June 26, 2018
With this in mind, we decided to test the accuracy, or lack thereof, of the referees' stoppage time decision made at each half. Using a stopwatch and a team of patient timekeepers, FiveThirtyEight meticulously tracked and categorized every stoppage during the first 32 games played of the World Cup — a total of 3194 stoppages in all, or one every 58 seconds.
knockout round begins with a good one - france v. argentina. now on fox. france is just a deeper more talented team. expecting them to win unless messi can conjure some magic.
hey. i was right for a change. sports loves to overhype the next big thing but 19 yo french forward mbappé has all the makings. argentina's defenders were far from world class but his combination of speed, strength and touch was impressive nonetheless.
you were almost wrong:>)
belgium vs columbia in the final??
croatia vs france??
what does dave say??
i hadnt looked at the brackets yet. that bottom half is a lot weaker. i think england will beat columbia and face the croatia v spain winner. i think spain will do better in the knockout round as the better teams wont be inclined to sit back and force them to fight through a park the bus style defense. but their defending has been porous too. would be great if it was croatia v england. like argentina i think columbia was better four years ago.
top half, who knows? belgium was my dark horse last time around. they seem pretty confident. both france and brazil are better than they were. like to see the first knockout games play out before i make a guess on who will get through. leaning towards belgium and france.
france and brazil seem like the talent heavy squads that lack cohesion while belgium, spain and croatia are playing better as teams. and england and columbia are doing just enough to keep their heads above water. while japan, mexico, sweden and switzerland are just happy to be there. and russia is russia.

the most spanish of stats.
Update: #ESP in the first 35 minutes against #RUS: Possession: 76% Shots: 0 Goals: 1
spain play with such a lack of urgency. its really frustrating that they never seem to be willing to change their approach.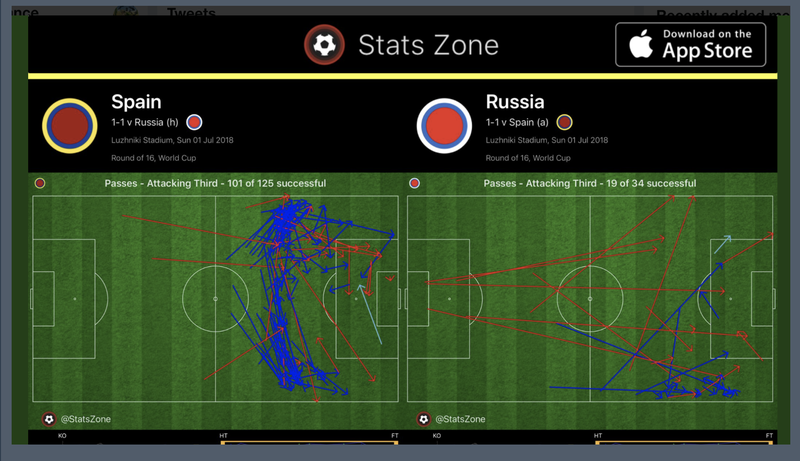 spain most passes in a world cup game since stats kept in 1966. but almost none towards goal.
like i said russia is russia. always find a way.
its was crazy to watch!! but i am not a sergio ramos fan so glad they lost......yes the top group is stronger.......good for the bottom group winner, least they get to the final, only 12 countries have, w/ 8 winners (4 are out already, 4 other winners in it)
https://upload.wikimedia.org/wikipedia/commons/f/f7/World_cup_winners.png
nobody outside of madrid is a sergio ramos fan.

brazil arent better than either france or belgium but their b-squad is good enough to win the other bracket.
post mortem on spain. their 2010 cup winning team scored 8 goals in 7 matches. so they stubbornly live and die by their tactics. one unfortunate handball did them in this time.
i already had france v brazil after the first half of the belgium game. swearzies.
i just said that to motivate the belgians. waffles for everyone!
Belgium France ++++ Croatia England

[url=http://devays.ru/]devays.ru[/url]

[url=http://vipvozduh.ru/]vipvozduh.ru[/url]

[url=http://androidusers.ru/]androidusers.ru[/url]

. . . , . [url=http://xozyaika.com]xozyaika.com[/url]

[url=http://cakeblog.su/]cakeblog.su[/url]

[url=http://dicask.ru/]dicask.ru[/url]

, ., [url=http://dom-lady.ru]dom-lady.ru[/url]

. , , , . [url=http://ladysarafan.ru]ladysarafan.ru[/url]


[url=http://nalatty.com/recipes/ovoshhi-na-grile-luchshie-recepty-v-domashnix-usloviyax/]http://nalatty.com/recipes/ovoshhi-na-grile-luchshie-recepty-v-domashnix-usloviyax/[/url]


[url=http://blitz-remont.ru/arxitektura-i-dizajn/kriterii-vybora-karnizov-dlya-shtor-na-dachu.html]http://blitz-remont.ru/arxitektura-i-dizajn/kriterii-vybora-karnizov-dlya-shtor-na-dachu.html[/url]

[url=http://griskomed.ru/]griskomed.ru[/url]

[url=http://zdorovaya-life.ru/]zdorovaya-life.ru[/url]

[url=http://distroy.ru/]distroy.ru[/url]

[url=http://mybiysk.ru/]mybiysk.ru[/url]

[url=http://kfaktiv.ru/]kfaktiv.ru[/url]

[url=http://delodom.com/]delodom.com[/url]