world cup starts in earnest today. wont go into all the qatar bullshit. heres the 538 odds. us plays wales at 2pm est. we will see if rooting for them mimics a knicks/jets fandom aka deathly dull and disappointing.
---
No beer!
they spent 200 billion to burnish their image and now everybody knows who they are and hates them except the people they bribed to get the tournament and i think some of those people were disgraced if not jailed. so money well spent! i saw saudi arabia is now on the short list for 2030 so the more things change though i think we have the next ones and last time i looked we are not the paragons of virtue but at least we would have shitty overpriced beer in abundance.
The minor league BB stadium in Allentown (go iron pigs) had some great IPA's. Didn't they upgrade food and drink across all sports concessions?

yeah but i just imagined that whomever got the exclusive world cup rights would dominate the taps. the three or four major beer conglomerates have a much broader array of beers than they used to though. in bev has the rights. still pretty weak.
https://www.ab-inbev.com/our-brands/
We call that industrial beer, like Stella. Dreadful.

How often do you go to minor league games in Allentown?

https://www.theguardian.com/commentisfree/2022/nov/21/qatar-world-cup-british-double-standards-anger-gifts-property-arms-deals

Infrequently

haha. the replay technology is getting more sophisticated but guess which player in this image is offsides? as it happens this denied a team a penalty kick opportunity which was pretty fucking soft so karma was restored but still.
group stage over. down to the final 16 in the knock round.
some potential epic match ups looming barring upsets.
england v france the winner of which could take on the winner of spain v portugal.
then on the other side of the draw without spoilers it could end up as a brazil v argentina semifinal.
lots of intrigue for some historic rivals.
usa take on the netherlands tomorrow at 10 am est. not expecting a lot of the us but they finally are playing an attractive style of soccer beyond the grit and grind of the past. still lack some scoring punch in the front and no target on set pieces which will keep them among the second class for the near future but progress... i think.
And a true World Cup it is this year: For the first time ever, teams from all six populated continents are represented in the knockout stage, including two teams from Africa and two teams from Asia.

france, brazil, spain and england seem like the top four teams with argentina and netherlands just below. half rung below is portugal with croatia the worst of the likely final eight. odds on final four though with two games still to play (brazil looks like they will crush skorea today) is brazil v argentina though argentina though netherlands is equal to the task against argentina while brazil should make quick work of croatia and france and spain in the other half though england is no walkover against france and portugal won the euro 2020 tournament. so anything is possible but brazil seem to have the easiest road to the finals.
had to be an upset, right, and spain is gonna spain. meaning they will pass you to death without taking risks going over the top or even crossing out of the corner which increases the chaos around the goal. they want to find little quick passing forays through the center and hope a cutter can exploit their talent or a missed assignment but morocco parked the bus and spain until extra time did not change tactics. then they got embarassed in penalty kicks.
this would have been closer to style the us would normally play as they understood how outclassed they were. sit back, take all the pressure and hope you can withstand the barrage while crossing your fingers for a goal on a counter. might not have worked that well since netherlands were so much taller than the us that defending crosses would not have been so easy but spain is not a tall side either so defending them from crosses is a bit easier especially as they rarely make the effort.
spain 1019 passes, 1 shot on goal.
morocco 304 passes, 2 shots on goal.
just wish Japan won so 4 continents in Q's
another big upset. croatia beat brazil in penalty kicks and are first into the final four. cant say they played negatively but were on the defensive for most of the game. brazil goes ahead and then concedes with some lax play with four minutes remaining in stoppage time.
cant say who is favored in the afternoon match up. assume its argentina but netherlands have played well in the lead up to the tournament and europe is more competitive than south america in qualifying. according to the betting sites the money is on argentina with 6/5 odds paying out compared to 11/4 on the netherlands.
Netherlands vs Morocco......you heard it hear first

insanity.
wowowow
Argentina all the way, Messi gives Ronaldo the finger holding the trophy.....you heard it here first

haha. messi v ronaldo final would break the internet. #cliche portugal played better with ronaldo coming off the bench though. cant imagine the pressure there would be to start him. still think england v france winner will get through but portugal looked pretty solid against switzerland. but, switzerland.
m'bappe has looked every bit the best player in the world right now. i wouldnt bet against him but it is so hard to repeat. and they are playing without two of their essential players to boot.
england v argentina: the falklands grudge match. or can morocco knock out the entire iberian peninsula?
im exhausted.
Highly respected soccer writer Grant Wahl mysteriously died in Qatar today. His brother believes he was murdered. This is one of Grant's more recent articles. https://t.co/Rnn2lSo0Vz

— Tommy Vietor (@TVietor08) December 10, 2022
reports that he has been sick for a couple of weeks with respiratory problems. mentioned it while podcasting yesterday. seems more likely his body betrayed him.
COVID times. But the thought of bad guys was there
voices on the right looking to blame it on him being vaccinated. that connection between that and heart attacks. i guess its possible but everyone so ready with to attach their political views. sign of the times.

M&M WC22……..Morocco all the way, Allah agrees, Morocco 2 Argentina 1……you heard it here first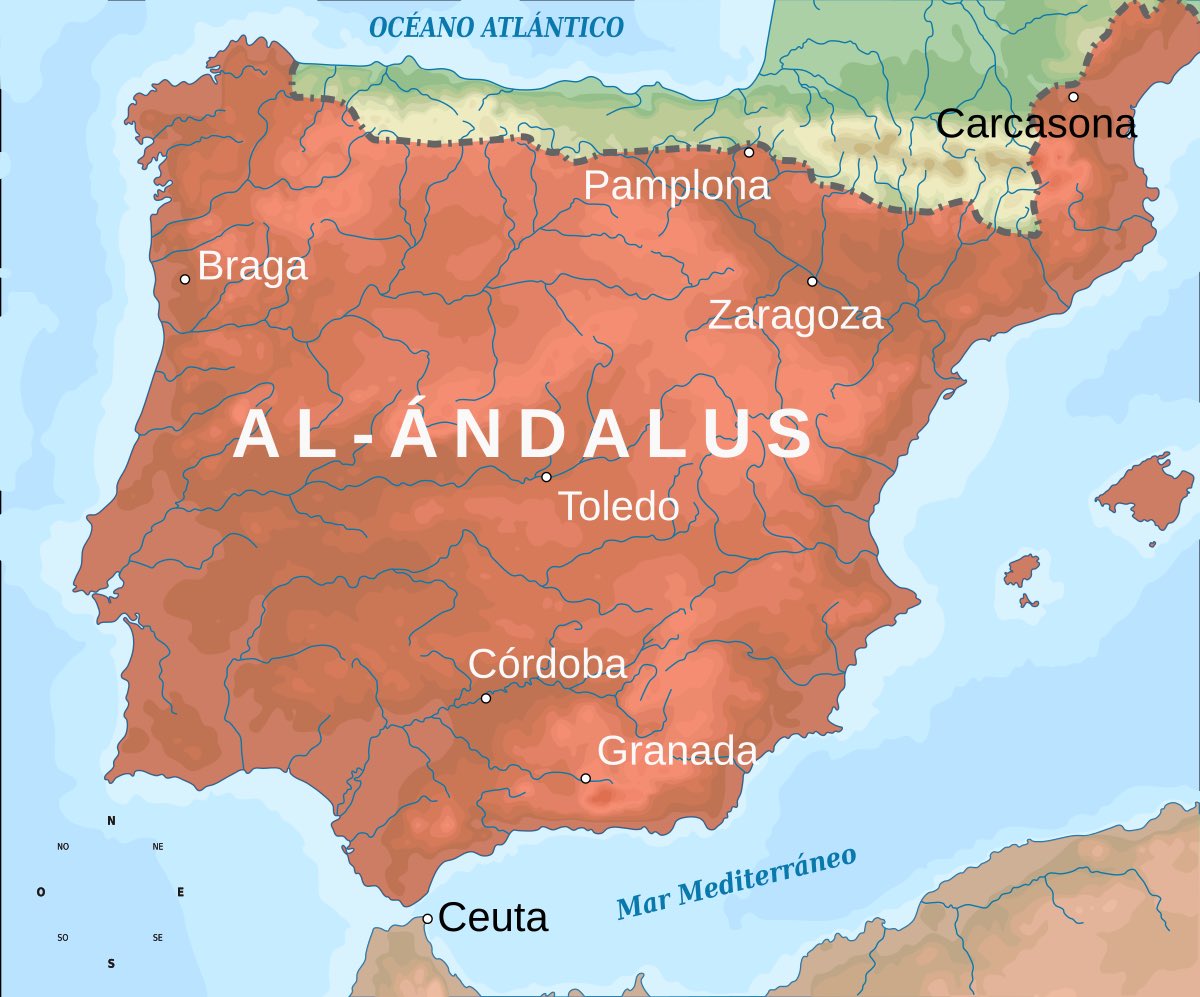 more importantly, really some wretched looking haircuts this go around.

england outplayed france but gotta put the ball in the hole.
if its france vs croatia i am not even watching

i bet the chances it would be a rematch from 4 years ago are/were pretty astronomical. i havent been able to generate any enthusiasm for morocco despite their unlikely run. cant name one player. should at least be able to recall the goalies name after his pk performance. but i guess its a testament overall to my paying less close attention to the sport as i dont know a lot of the younger stars. morocco v croatia would be the least interesting but at least their would be a new world cup winning country. last one was spain in 2010 and then france in 1998. so right on target for every 12 years.
#7 for Morocco is one of my favorite players in the game.......
Long run w/ Ajax, now Chelsea......
Lots of other top players....
So far no losses and only one own goal scored against them.....
Thats said good luck vs France

Hakim Ziyech (Arabic: حكيم زياش; born 19 March 1993) is a professional footballer who plays as an attacking midfielder or winger for Premier League club Chelsea and the Morocco national team. He is nicknamed "The Wizard", a title given to him by Ajax supporters. Ziyech started his professional career at Dutch club Heerenveen in 2012 and signed for fellow Dutch club Twente two years later. In 2016, he signed for Ajax on a five-year deal, with a reported transfer fee of €11m. The 2018–19 season was the most prolific season in Ziyech's career, as he scored 16 goals and provided 13 assists in the Eredivisie. He joined Premier League club Chelsea in the 2020–21 season. Originally eligible to play for the Netherlands or Morocco at international level, he represented Morocco at the 2018 FIFA World Cup, 2019 Africa Cup of Nations and 2022 FIFA World Cup. Ziyech is known for his finishing, dribbling, long passes, technique, and ability from free kicks. In 2019, he was selected as one of the 20 best players in the UEFA Champions League for the 2018–19 season. At the end of the same year, he was ranked 29th in The Guardian's list of "The 100 best footballers in the world".

his 2018-2019 Champions League year is as good as any player ever

other than the goalie he is the only name that i would have recognized but didnt know he played for chelsea. didnt know those americans other than pulisic that played in the premier league. based on their transfer market estimated worth and the quality of clubs they maybe have 5 or so high value players. they are winning with a staunch defense which often can work out in tournament play. i think that has often been the italian model. hunker down and wait for a chance on the counter.
Park The Bus:>)
Two key defenders are Bayern and PSG.
Kid that got yesterdays goal Seville.
all on your link of course
no different from a lot of non-soccer superpowers including us, though maybe a little more stark, only 5 moroccan players were actually born in morocco. though theres more players than this on the squad so....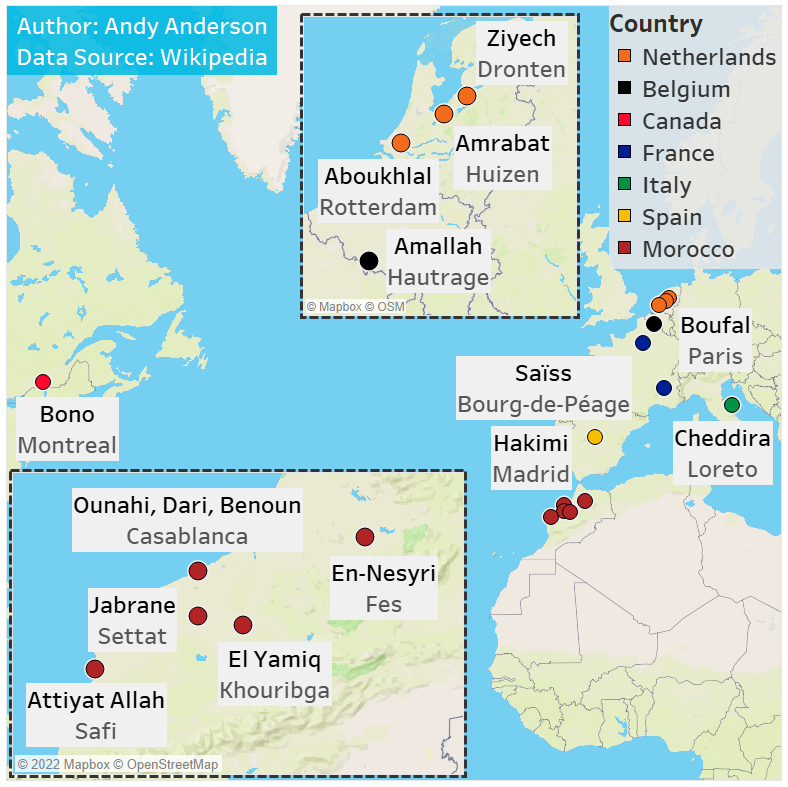 very interesting......

three games to go then its all italian masters all the time and im not talking about Giuseppe Meazza or Paolo Maldini. or maybe i am.
M&M WC22……..Morocco all the way, Allah agrees, Morocco 2 Argentina 1……you heard it here first
- Skinny 12-10-2022 12:09 pm


la albiceleste v les bleus
wheres your messiah now?
You mean my Messi-ah!!

touché

the us team could look like france if soccer was the #1 sport. just an endless stream of 6' 2" stud athletes. ill leave it at that.