View current page
...more recent posts
CALDER monumental sclupture at STORMKING


- bill 5-22-2001 2:18 am [link] [1 ref] [add a comment]


Our friend Chuck Nanney has a show, happydeathangersexdreammachine, opening next Thursday, 5/24, at Debs & Co., another gallery with a domain but no site. They seem to have let their artnet page go, too.
- alex 5-18-2001 11:06 pm [link] [1 ref] [2 comments]


Frank Stella's 20,000 lb. piece of space-junk for The National Gallery.


- bill 5-17-2001 4:20 pm [link] [1 ref] [add a comment]


Missing Chuck Close Discovered

May 10, 2001 (AP)

An important early painting by American photorealist painter Chuck Close, stolen from the artist's studio thirty years ago, was recently discovered in a Westchester County basement. "Harry," measuring 8 feet tall by 6 feet wide and painstakingly rendered in acrylic on canvas, is described by Museum of Modern Art curator Robert Storr as "a striking example of Close's early style." Close himself has authenticated the painting, saying, in a phone interview from his Manhattan loft, "It's Harry, all right. I feel as if I've gotten an old friend back."

Painted in 1970, "Harry" was one of the last purely photorealistic images Close produced, and one of a mere handful done in full color. The subject was Harry Ernesto, a musician and part-time model who lived near Close's studio in Soho. Close never exhibited the painting because he didn't believe the subject was "scruffy enough"; most of his paintings of the period, he says self-mockingly, featured the "bad hair and negligible fashion sense" characteristic of three decades ago. Shortly after the work was completed, it was stolen from Close's loft, in an incident described by the police as a "straightforward break-in."

"I was in the press quite a bit at the time," according to Close, who is considered one of America's most important living painters. "I guess somebody thought they might find something valuable in my studio. 'Harry' was off the stretcher and rolled up--whoever did it came in the window and left with the roll." A year after the theft, Ernesto, the model, died in a plane crash, an incident which investigators determined had no connection to the break-in.

The biggest mystery is how the roll ended up in Port Chester, NY. John McCafferty, the realtor who brought the painting to the attention of authorities, discovered it in the basement of a house that had been on the selling block for several years. "I was poking around down there," said the realtor, "and when I found this, I knew it was something major. I hadn't heard of Close, but a friend of mine told me he's a really big deal." The house has been vacant since 1996, and the last owner of record, Edna Lughner, could not be reached for comment.

Now that Close's painting has been recovered, the artist has changed his mind about the aesthetic merit of the piece. "I think it's fabulous," he said, noting that his gallery, PaceWildenstein, already has a huge list of potential buyers. Looking at it now, he says he is amazed how much it resembles images made today with a computer. "What took me weeks of patient labor can now be produced in a day or two," he says, with a trace of wistfulness. "Times have certainly changed."



"Harry," by Chuck Close

- Tom Moody 5-10-2001 6:25 pm [link] [10 refs] [1 comment]



Dear Friends: American photographs of Men Together, 1840-1918


at the international center for photography; through 6/10


- bill 5-06-2001 1:57 pm [link] [1 ref] [1 comment]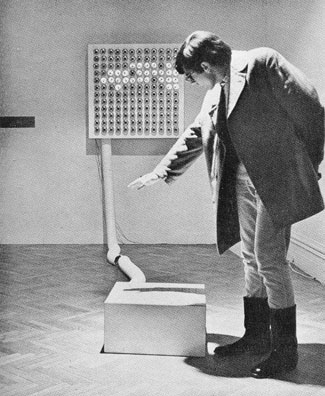 "Bitstreams" Debuts at Whitney Museum
--New York, March 22, 1969 (AP)

In the future, technology will offer new marvels in our day-to-day lives. Liquid lead-filled pencils, hovercars, and wafer-thin TV screens are but a few of the items we will see in coming years. Now, in an exhibit at the Whitney Museum of Art, we can glimpse how science will change the art of the future, today. In "Bitstreams," curated by Lawrence Rinder, artists using computers, electronic cameras, oscillators, and other gadgets offer up a humming, flickering smorgasbord of newfangled art.
"It's fun," says Tommy Rettig, a junior high school student from P.S. 122, working the controls on John Klima's "ecosystm." "I can make the pterodactyls [extinct birdlike dinosaurs] fly up and down and all around." But Klima's work isn't all just fun and games: as the artist explains, it's "an animated representation of real-time global stock market fluctuations, currency volatility, and local weather conditions." Fortunately for Tommy, who justs wants to experience some new art, that brain-bending data can be switched off at the touch of a button!
In an adjacent room, Jim Campbell's pieces not only have great beauty, but they teach you something about optics and physics. In his programmed patterns of lights, figures can be discerned. "The subject can best be seen from straight on," according to the Museum's brochure: "Our eyes fill in 'missing' information between the lights." Other works also teach us about science. In Diana Thater's "Six Color Video Wall," NASA films of the sun, with solar storms and flares boiling like lava, are arbitrarily assigned six different colors.
The exhibit has been drawing record crowds, and director Maxwell Anderson predicts we'll see a lot more technological art. "The show's been very popular. People are genuinely curious to experience the ways science and technology are changing art. We have upcoming exhibits devoted to holography and kinetic art, and even a show of works based entirely on mathematics." Rinder agrees: "This is my first show here, but it's just the beginning of the Whitney's commitment to these exciting new developments in art." Move over, Rembrandt!

"Bitstreams" runs through June 10, 1969. Museum hours are Tuesdays through Sundays, 11:00 - 6:00 pm, with extended hours (til 9:00 pm) on Fridays. Call 1-877-WHITNEY for further information. Photo: "Against Shadows" by Juan Downey and Fred Pitts, 1968.

- Tom Moody 5-02-2001 10:42 pm [link] [8 refs] [1 comment]