---
uhh, they just found 300000 more votes uncounted in az.
wisconsin says all votes are counted.
In Nevada, Biden has a very slight lead ó and all in-person votes have been counted. A count of late-arriving mail ballots and provisional ballots, which tend to be Democratic, is expected tomorrow.
The AZ glitch is troubling. Apparently most uncounted votes are in Maricopa County which is huge - Phoenix-Mesa-Glendale.
just called michigan. with that biden is 17 away.
az 11 is still likely biden along with
nevada 6.
pa 20 is leaning biden.
ga 16 is tossup.
nc 15 is likely trump.
thank jojo
Donald J. Trump Republican 2,427,449 49.8%
Joseph R. Biden Jr. Democrat 2,387,638 49.0%
Jo Jorgensen Libertarian 59,864 1.2%
We also are technically still not out of the woods with perhaps the craziest scenario. Biden could win Georgia and lose Arizona, Nevada and Pennsylvania. In that case, there would be a 269-269 electoral college tie, and the House would decide the presidency for just the third time in American history.
Pretty sure that wouldn't go over well.
my confidence is waning. gonna be so fucking close in all four.
550000 ballots in pa left. biden down 112000.
Do you know if those are primarily absentee and mail-ins?
Nevada's Secretary of State says there are approximately 190,150 ballots left to count, 90% of which are from heavily-Democratic Clark County.

Pennsylvania: Trump currently leads Biden by 108,367 votes here, but that lead has been narrowing as more ballots have been counted. Approximately 340,000 mail-in votes are left to count, and the secretary of state said earlier on CNN that she thought the networks would be able to project a winner here today, but we donít really have a good sense yet of timing: The outstanding votes have been trickling in slowly.

Around 14,000 Pennsylvania votes were just reported by Erie and Philadelphia counties (roughly split between them), and Biden captured more than 80 percent of those ballots. This updated count brought Trumpís lead in Pennsylvania below 100,000 votes to about 98,000 votes

pa down to 81000

Pennsylvaniaís top election official says it may take longer than expected to complete the count there. Her office says about 326,000 mail ballots still need to be counted.
More than 35,000 mail-in ballots in Allegheny County, Pa. (Pittsburgh) will not be reported today, because of state rules and court orders.

Thanks for the updates.

74000

georgia 3635
64000
"There are now about 19,000 votes left to count in Georgia, if Iím doing the math right, and Biden needs to win them by 3,600 votes, or 19 percent, in line with a margin of 60-40 or thereabouts."
az 57000
pa 58000
pa 53000
pa 50000
az 46000
ga 2500
Trumpís lead in Pennsylvania is down to just over 50,000, with at least 250,000 mail ballots left to count in the state.
Maricopa County will post its next report Friday at 11 a.m. ET. Officials there say they have 204,000 more early ballots to process, and a smaller number of provisional and other ballots.
ga 1902
pa 42200
haha. of course alabama elected a former football coach as senator. im sure it was hard for alabama fans to vote for an auburn coach but the only thing worse than a tiger is a democrat.
42,000 ó with at least 208,000 ballots left to count statewide.
With Biden down 1,902 votes (in ga) and about 16,000 left to count, Biden needs to win only 56 percent of what remains in order to take the lead statewide.
pa 27000
ga 1775
So GA must be nearly ready to announce?

i dont know. no idea about the provisional ballots and theres about 1500 mail in ballots with signing issues that have til tomorrow to be claimed and verified. then seems likely there will be a recount but i guess they would call it prior to that.
not watching on tv because i cant stand them but sure they must bring up the contingencies while they are filling airtime between ads. best rating ever, apparently.

pa 24500

pa 22500 There are roughly 175,000 absentee ballots still to count in Pennsylvania, including more than 58,000 in Philadelphia. Major counties like Philadelphia will keep counting through the night.

Biden now ahead in GA.
beat me to it. Joe Biden now leads by 1,096 votes in Georgia.

pa 5000+
Biden has pulled ahead in Pennsylvania, erasing a large Trump lead from Election Day. The remaining ballots to be counted are coming from heavily Democratic areas in the state.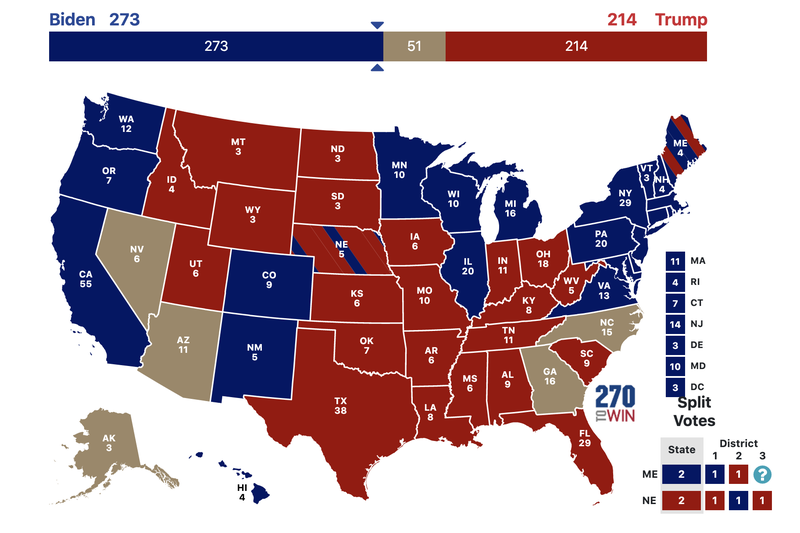 nv 22000
nevada just woke up and added 10000 to bidens total.
Nevadaís Clark County, home to Las Vegas, just delivered big for Biden ó he picked up nearly 20,000 votes, more than double what Trump received in this drop, and moved closer to clinching the state.
Mark Kelly is projected to win Senate seat in Az.