View current page
...more recent posts
oy. what a country. i assume those flags are not props thats just his office. the photo behind him to his right is the cherry on top.
My message to my fellow Americans and friends around the world following this week's attack on the Capitol. pic.twitter.com/blOy35LWJ5

— Arnold (@Schwarzenegger) January 10, 2021
kellyanne conways daughter is the gift that keeps giving.
From Claudia Conway pic.twitter.com/RasyzKNJVR

— Stephanie Boyle (@snboyle) January 10, 2021
sow meet reap
Lindsey Graham is mobbed by Trump supporters at Ronald Reagan Airport in DC pic.twitter.com/Wq6gQPQh3u

— philip lewis (@Phil_Lewis_) January 8, 2021
fun clip.
.@Acosta: "I will tell you, Jake, I talked to a source, a GOP source close to the president who speaks with him regularly, and I take no pleasure in reporting this, but this source tells me that he believes the president is out of his mind." pic.twitter.com/Ld7r2hLnSH

— Aaron Rupar (@atrupar) January 6, 2021
havent been following georgia much. that one dude is 33.
between the hair dye streaming down his face here, the borat near jerk off, the landscaping company photo-op and the hunter biden noise guiliani is impossibly farcical. meanwhile he continues the billable hours (is he actually getting paid though?) so the joke inevitably is on us.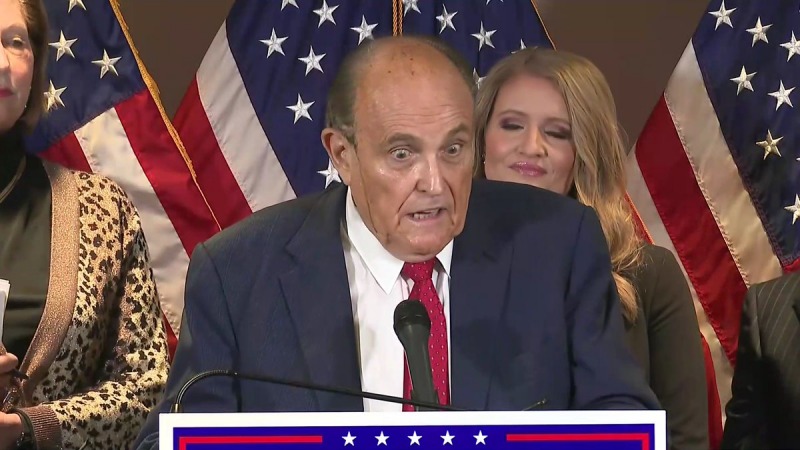 last time dems won georgia and arizona was 1948.
hearing some sustained whooping and honking in the street. guess they just called pennsylvania. also hammering which is unrelated unless you want to blame trump for the covid response.
this ridiculous thing.
14 billion spent on election. twice as much as 2016. 370 million combined to lose to graham, collins & mcconnell.