i was able to recognize 45 of 62. this image was tagged because theres only one black person, lou gossett jr. (answer in comments)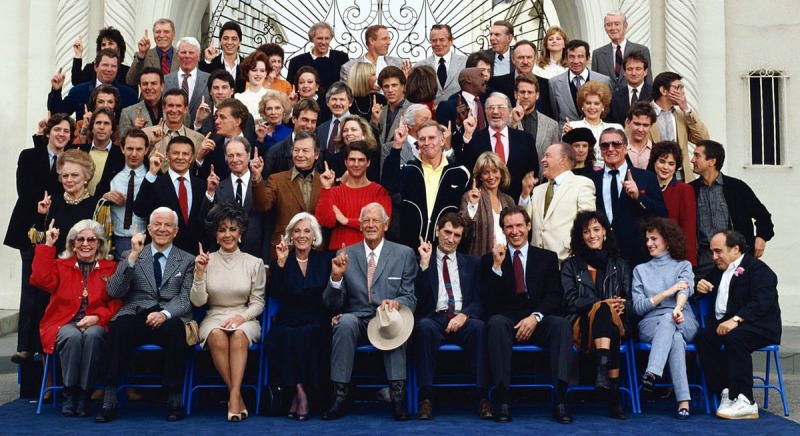 ---

A host of stars attend the Paramount Pictures 75th Anniversary Party in Los Angeles, 1987. From left to right (front row): Martha Raye, Dana Andrews, Elizabeth Taylor, Frances Dee, Joel McCrea, Harry Dean Stanton, Harrison Ford, Jennifer Beals, Marlee Matlin, Danny de Vito. (Second row) Olivia de Havilland, Kevin Costner, Cornel Wilde, Don Ameche, Deforest Kelley, Tom Cruise, Charlton Heston, Penny Marshall, Bob Hope, Victor Mature, Elizabeth McGovern, Robert de Niro. (Third row) Andrew McCarthy, Henry Winkler, Anthony Perkins, Robert Stack, Mark Harmon, Faye Dunaway, Buddy Rogers, Gregory Peck, Debra Winger, Timothy Hutton. (Fourth row) Jane Russell, Mike Connors, John Travolta, Janet Leigh, Charles Bronson, Ted Danson, Lou Gossett Jnr, Ryan O?Neal, Rhonda Fleming, Leonard Nimoy. (Fifth row) William Shatner, Peter Graves, Molly Ringwald, Dorothy Lamour, Olivia Newton-John, Cindy Williams, Matthew Broderick, Gene Hackman, Walter Matthau, Robin Williams. (Back row) Ali MacGraw, Burt Lancaster, Scott Baio, Rhea Perlman, Bruce Dern, James Caan, Glenn Ford, Fred MacMurray, Shelley Long, James Stewart.
My list/guess isn't very good: Henry Winkler, Ted Danson, Danny DiVito, Walter Matthau, Gene Hackman, Robin Williams, Jimmy Stewart, Bruce Dern? Bert Lancaster, Jeff Goldblum, John Travolta, Charles Bronson, Louis Gossett Jr. Christopher Reeve? Tom Cruise, Sylvester Stallone, DeForest Kelly, and it's either Gary Shandling or Wallace Shawn with hair? Of the women I only recognize Elizabeth Taylor and Reah Perlman.
i recognized jennifer beals, rhea perlman, molly ringwald, olivia de havilland, elizabeth mcgovern, shelley long, elizabeth taylor, faye dunaway and penny marshall. should have gotten debra winger and marlee matlin. and martha raye was gettable. cindy williams, olivia-newton john and ali mcgraw probably if they were visible. maybe jane russell too.

most obscure get was probably glenn ford. he was pretty big but i mostly remember him from gilda with rita hayworth.






before tcm the only connection to bygone stars was via tv ads, game shows and the love boat.






at least 13 appeared on the love boat.





Not Gary Shandling or Wallace Shawn, it's William Shatner! I was thinking that was Molly Ringwald but for some reason decided she would have been too old or too young when the picture was taken.
I recognized Olivia de Havilland second row left; she just turned 104.

yup.






made it to 104.

gone with the wind....





i also read eddie murphy who was perhaps paramounts biggest star at the time refused to show up for the shot because of lack of representation.
just a little too young for mannix.
buddy rogers is probably the most obscure, though maybe cornel wilde, rhonda fleming, frances dee. rogers starred in wings which was the first film to win best picture back in 1927.
On June 24, 1937, Rogers became the third husband of silent film actress Mary Pickford. Their romance had begun in 1927, when they co-starred in My Best Girl,[4] but they kept it on ice until Pickford's separation and 1936 divorce from Douglas Fairbanks. The couple adopted two children—Roxanne (born 1944, adopted in 1944) and Ronald Charles (born 1937, adopted in 1943)—and remained married for 42 years until Pickford's death in 1979. Rogers was reportedly bisexual and had an affair with Gene Raymond who was married to Jeanette MacDonald. MacDonald discovered Rogers in bed with Raymond on her honeymoon.