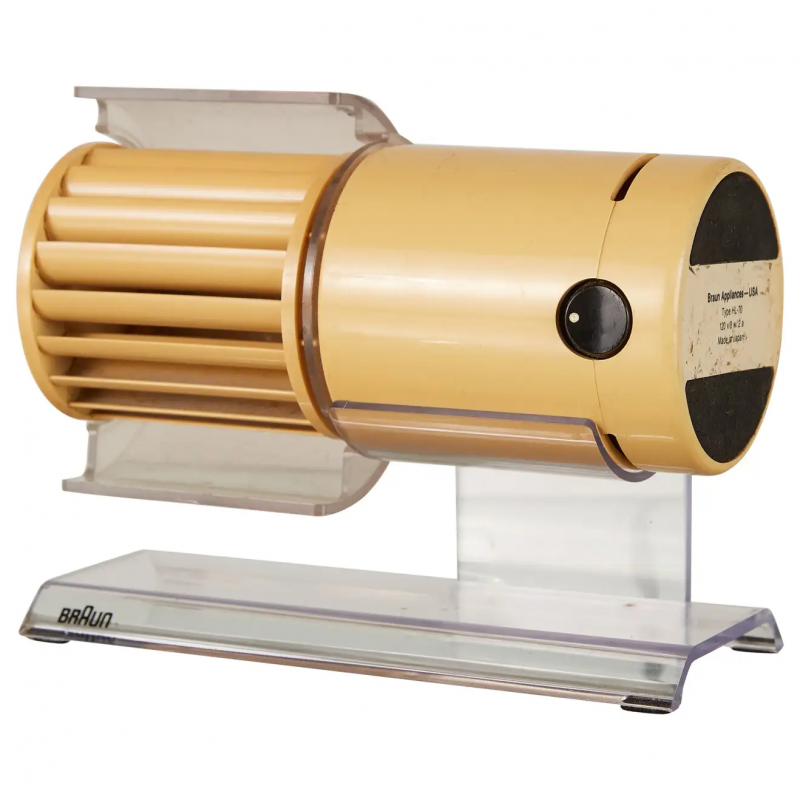 ---
What the hell is it?
Dieter Rams Desk Fan
I remember those from Scandinavian stores in the 60's. So cool! fvvvvvvvvvvv.
HL 1 desk fan
Braun AG
Germany, 1961
plastic, enameled steel, acrylic, chrome-plated steel5 h × 5½ w × 3¼ d in (13 × 14 × 8 cm)
estimate: $200–300
result: $563
own a similar item?
free evaluation
This work was created under the supervision of Dieter Rams who was the head of design at Braun from 1961–1995.
Signed with metal manufacturer's label to underside: [Braun AG Frankfurt a.M. Type: HL1 C No. 331491 115v A-C 60c 0.2 Amp Braun Made in West Germany].
literature: Dieter Rams: As Little Design as Possible, Lovell, pg. 76 Ten Principles for Good Design: Dieter Rams, De Jong, pg. 373
https://www.wright20.com/artists/reinhold-weiss
i had one of these. last seen grinding plant matter for brownies.





https://www.amazon.com/Braun-BNC002-Classic-Travel-Alarm/dp/B004OR12AM

i had one of these.