---



Gif constructed from the paintings in Monica Tap's Six Ways from Sunday (made with the artist's permission). Each painting is 60 x 100 inches.

My review of Six Ways from Sunday is now on Art Fag City.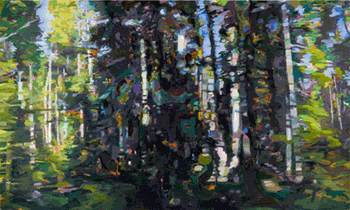 ---
Great Gif! I think I can see figures running through the woods!
I really like Monica's work too.

Thanks LP. I'm writing about this show right now —  there should be something posted online soon. I'll add a note here when it's available.

Fantastic GIF Sally! Really captures the playful, optical pleasure of Monica's work. Looking forward to reading your piece about her show!

OMG that's lovely!

Amazing. The compressed digital source of the image, the gif, and the painting in-between makes for one sexy menage a trois.

This has radically reshaped my thinking re., the potential of GIFs.