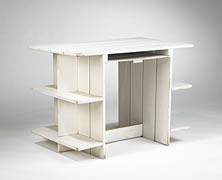 Crate desk
designer:
Gerrit Thomas Rietveld
year: c.1934
manufacturer:
Metz & Co.


Painted pine
39.5"w x 23.5"d x 28"h
". . .a piece of furniture of fine wood, made wholly according to traditional methods, is shipped in a crate to prevent damage and breakage. Someone receiving such a crate at home says, at most: well packed. But it has never been established that such a crate represents a freely rendered method of carpentry aimed straight at its goal. The plain materials of which it is composed make it stronger than its precious contents. . .Therefore, there must finally be someone who chooses the crate instead of the piece of furniture."
Literature:
Complete Reitveld Furniture, Voge, pg. 88-89 fig 136
estimated value: 7000-9000 US$
sale date: 12.07.2003
location: Chicago
lot number: 222
sales title: Modernist 20 Century
[from wright online auction catalog archive]




---
pair of white crate chairs
red spruce crate chair
crate chair
black crate chair
crate desk table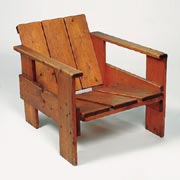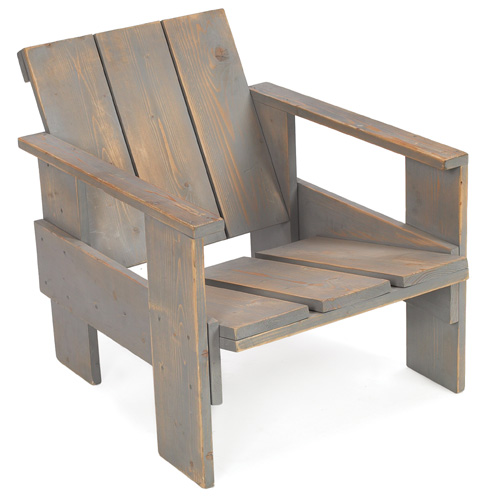 Throughout the 1920s Rietveld worked within the community of avant garde artists like El Lissitzky and Piet Mondrian. He continued to be stylistically inspired by the work of Charles Rennie Mackintosh and Frank Lloyd Wright, but he began to move beyond traditional forms into an exploration of more abstract shapes. Metz & Co. of Amsterdam put out his 1927 molded plywood "Beugel Stool," designed for mass production, in 1930. In 1934 they released a knock down chair made out of raw packing crate wood and designed for assembly at home. These chairs, criticized for their unfinished aesthetic, grew out of Rietveld's observation that "a piece of furniture made of high-grade wood and manufactured completely according to traditional production methods is transported in a crate to avoid damage...no one has ever ascertained that such a chest embodies an improvised, highly purposeful method of carpentry...there must therefore at long last be someone who chooses the crate rather than the piece of furniture."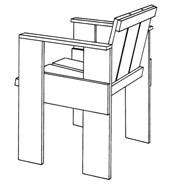 No.B-19
Gerrit T. Rietveld
Crate chair/1934
deal
57x55x77.3cm

Clockwise (click enlarge this image!)

Crate chair
White painted wood
Circa 1934

It is said that this example was made by Rietveld himself, as a present for a good friend, Mrs. Elling-Nijland, after her divorce from her husband the architect Piet Elling. Both were good friends of Rietveld.

Armchair
Wood and laminated wood, painted red
1924

Provenance
Kasper Niehaus

Crate chair and table, the chair has a curved seat and back
Wood
1951

Designed for holiday cottages in Markelo.

End table
Wood and plywood, painted red, blue, yellow, black and white
1923

Provenance
Kasper Niehaus

Armchair, from an authentic design of Rietveld
Wood and laminated wood, ebonised, partly white painted
Circa 1927

Bought on a street-market for Dfl. 25,-.

Military chair
Wood, plywood, painted white
1923

Provenance
Kasper Niehaus

Originally made for the Catholic Military Home in Utrecht.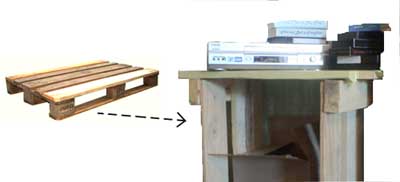 wheres that from sally ? i did a piece for stephany theodore gallery that was just a wooden cable spool (table/bench). something like "after abbey hoffman" (as in steal this spool.) this "how too" book offers plans for a rietveld "crate" bookcase.



Stephanie really liked that piece, as I recall.

hmmm....crates. I am actually a bit obssessed with wooden palettes. Used to have a whole garage full due to getting big runs of my magazine delivered from the printer 4x/year. I made tons of horrible horrible stuff out of them: bad counters top thingies like the one above, display units for book fairs, etc. I'm not very handy with tools, but I am enthusiastic which is a BAD combination if you want something to look nice. Now I've just moved house, and actually brought skids with me in order to make some shelves. So thanks for the plans! We'll see if crates translate to palettes. cable spools are also very nice, though a bit rare.

You must be 18 years or older to play Scratch and Lotto games. You must be 21 years or older to play Video Lottery. Please play responsibly.
Visit australianloto to buy your lucky ticket.

thank you for reminding m me of this great post. now i must kill you with my delete ray.

thread closed due to spam.