Schwarz
---
View current page
...more recent posts
It is in fact Warhol who drew me to Pittsburgh. I was lured here by a Web site launched in May by the Andy Warhol Museum. The site (www.warhol.org/tc21) is itself a form of cultural time travel; it makes the contents of one of Warhol's Time Capsules accessible to Internet users. Largely unknown until the artist's death in 1987, the Time Capsules were the 612 cardboard boxes that he filled with the stuff that he accumulated--the by-products of art, life, and fame. Warhol used to keep a box by his desk and toss things in: correspondence, receipts, newspaper clippings, photographs, and gifts. Some of the things were so minor that anyone else would have simply thrown them away. One capsule, archivist Matthew Wrbican tells me, contained hunks of insect-infested pizza dough. Why? No one knows. Some things were so significant--letters from Mick Jagger, a paint palette used by Salvador Dalí--that anyone else would have put them carefully away, but Warhol dropped his overflow in cardboard boxes that were each taped shut, dated, and placed in storage by an assistant.

proud mary (the recording contract from hell)
"You know, maybe it happens in 'Cinderella,' but it doesn't in real life, where those people buy a company and then turn around and give it away," he said, "even though I am the main inventor of the property that generates all that wealth. I'm the guy that wrote and sang all those songs, and arranged and produced the records. So sometimes there's a lot of irony within my being. It's like, 'Gee, everybody's all excited about something that basically came out of one guy - me!' "
He builds houses out of sand, beer crates, even paper - and he's just been chosen to create the Pompidou's new outpost. Steve Rose meets Shigeru Ban.

Shigeru Ban is not your average architect. You can tell this before you even open the door to his Paris office, because to get to that door, you have to ascend to the top of the Pompidou Centre and out on to the roof terrace. There, Ban is stationed in a sort of elongated covered wagon, which clings to the high-tech structure like a parasite. Inside, the office reveals itself to be the near-opposite of its host building: rather than industrial steel and giant ducts, it is made of synthetic sheeting, timber and cardboard tubes.


"I just asked the president of the Pompidou Centre as a joke if he would lend me the roof terrace for my temporary office," Ban calmly explains. "I needed to rent space somewhere in Paris, and it's good to be close to the client."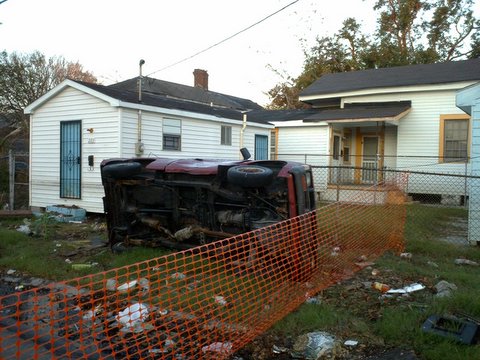 more current emailed image files from jim louis in new orleans's fourth ward



looks familiar yet different







The Pumpkin House
16 Chittenden Ave. at 186th St.
© Douglas Elliman
Differing accounts exist of the origin of this unique three-story brick townhouse, known as the Pumpkin House. The AIA Guide to New York City (3rd ed., p.466) states that it was the guest house of the former Paterno estate. However, according to a New York Times report (12/5/99 Real Estate p.7), the land on which this house stands was in the estate of James Gordon Bennett, the original publisher of the NY Herald. Bennett is said to have sold the tract in 1923 to a Cleveland Walcutt, who had the house designed by Franklin Pagan and Harold Verna. Construction on the house, its the steel-framed base cantilevered far over the Henry Hudson Parkway, finished in 1925. The windows of the west façade, reflecting the orange light of the setting sun, bring to mind a jack-o-lantern. The house offers breathtaking views, from the Manhattan skyline to the south, across the Hudson RIver to the Palisades to the west and the Tappan Zee Bridge to the north.
elmhurst's jamaica savings bank





Samuel H. Gottscho at the old print shop






domus 885

Cover : Photographer and artist Amir Zaki (1974) draws inspiration from the mutations and impurities in the architectural heritage of the city of Los Angeles, such as these houses designed by Richard Neutra in the '60s (p. 32), later disavowed by his descendents
A cool roof, or "white roof" -- as simple as a basic coating of light-colored water sealant – is the roof of the future in New York, says Laurie Kerr, an architect in the Office of Sustainable Design, the eco- conscious division of New York City's Department of Design and Construction. "The city controls maybe one in ten buildings in terms of square footage. Over the next 20 years, all of those buildings should have cool roofs."
designboom

history of rocking chairs

cersaie fair report - 1000 exhibitors from 30 different countries present the latest technologies and aesthetic - new trends in bathroom products ranging from ceramic tiles to sanitary installations and bathroom furnishings.





m-ch micro compact home


via fab-prefab newsletter 11




What would you do if you were asked to build a house on a rocky island with only five pencil drawings to go by? This was the challenge given to Thomas Heinz, AIA, a renowned Frank Lloyd Wright scholar. The house he was asked to model and execute was designed by Wright in 1950 but never built.

What Heinz had to start with were floor plans, three elevations, a section, and a perspective, with no materials, no dimensions — very few notations at all. Unlike Wright's designs for "Usonian" residences, which followed a rectangular or square grid, this house was to be triangular in plan, based on a grid of equilateral triangles five feet (1.5 meters) on a side.

The design incorporated an existing 60-foot long, 12-foot wide, 12-foot high (18 by 4 by 4 meters), whale-shaped rock extending through the center of the house, and the site presented many other technical challenges for the architect and the builders.
It is quite a thrill: zooming from outer space through cloud layers into your continent, country, state, city and neighborhood, finally onto the roof of your very own house, then zooming back out again, twirling the globe and landing at another spot. But after a while, you might want to explore the higher applications of Google Earth - for example, browsing modern and contemporary architecture.

Pointingit (0lll.com/pointingit) started last month with the sole purpose of linking Google Earth (which only Windows users can download at earth.google.com) to 0lll.com (that's a zero and three L's), a Web site that compiles everyday, not-always-glamorous photographs of architecture.

So far, Pointingit, which is quite complicated to use, has posted fewer than a hundred architectural works, mostly in Europe and mostly new. They have been organized into odd categories: five structures designed by Santiago Calatrava; four banks and insurance company headquarters; four Herzog and de Meuron projects under construction; 14 bridges around the world; seven buildings in São Paulo; three egg-shaped structures; seven houses in Heitzing, a residential district of Vienna, plus all the houses within the estate known as the Werkbundsiedlung; and nine past winners of the RIBA Stirling architecture prize.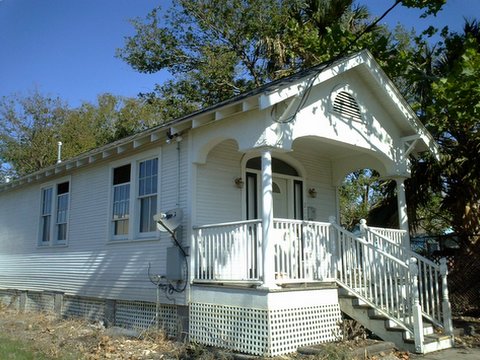 Jiml's house in NO's fourth ward.





just heard from fellow digitalmediatree blogger jim louis calling in via cell phone from new orleans louisiana. he's driven back down from virginia to check in on his small flood damaged house in (i believe) the impoverished fourth ward. he promises to send digital photos as e.mail attachments which i will faithfully post here on this page. keep an eye out for pictures to follow here and new information showing up on his page





10/26/05 kenny g whispers the names of two thousand dead soldiers from the iraq war





ive been assigned an internet research project by my mothers technically challenged cousin. john mcdowell (big charlie's son) asked me to research our ancestor samuel mcdowell's (aka super sam) involvement in the spanish conspiracy.

notes follow in the comments section



civil war era house in washington va





oldest english church in the us at jamestown va





christopher wren building at william and mary