Schwarz
---
View current page
...more recent posts
Graffiti Charges Against Yoshitomo Nara Officially Dropped 08.31.09

Yoshitomo Nara, a multimillionaire pop artist, was arrested in February when cops spotted him drawing a smiley face on the wall of the First Avenue L-train stop with a marker in the wee hours of the morning. The art sensation, whose works of doe-eyed cartoonish children have sold for as much as $1.5 million, was given an adjournment in contemplation after being charged with making graffiti and criminal mischief and spending the night in jail. That meant if he kept his nose clean for six months, the charges would be dropped—which they were yesterday. "This case in now officially over," said his lawyer, Guy Oksenhendler. The incident happened on the eve of the opening for an exhibit of his work at the Marianne Boesky Gallery in Chelsea. The forty-nine-year-old, who lives in Tochigi, Japan, called the arrest "a nice experience in my life," in which he got to meet people he would not otherwise have encountered. "Like in the movies," he told Art in America magazine. The always cash-strapped Metropolitan Transit Authority missed an opportunity to make some money off the incident—their efficient employees wiped the graffiti off the wall. It's been estimated the brick it was on could have been sold for ten thousand dollars.
via vz
Norman E. Borlaug, the plant scientist who did more than anyone else in the 20th century to teach the world to feed itself and whose work was credited with saving hundreds of millions of lives, died Saturday night.
via vz
weird book room

via ree



Ledger Live: Historical Corruption Tour of Jersey City





The horrors of Sept. 11, 2001, are still vivid for many Americans, especially the families of the victims. So it is tragic that on this Sept. 11, when family members, politicians and visitors go to the ceremonies at ground zero, they will be gathering at an unfinished place.

Instead of the two memorial pools designed by the architect Michael Arad, visitors will see their barest outlines. Instead of a circle of skyscrapers, the steel for the tallest tower stretches only five stories high. There are just the first skeletal signs of Santiago Calatrava's magnificent transportation hub.

Why is it taking so long? That is a question that has been asked every Sept. 11. For the first few years, there were too many feuds — the architects Daniel Libeskind versus David Childs, the families versus the designers and builders, the community versus the demolition squads, the developer Larry Silverstein versus the insurance companies. Even now, Mr. Silverstein is locked in arbitration with the Port Authority of New York and New Jersey, the owner of the site, because he wants more of the authority's money to build more office towers.

Mayor Michael Bloomberg, who now supports Mr. Silverstein's excessive demands for public funds, once recognized the hazards of overbuilding office space in the area. In December 2002, a year after the attack, he bluntly acknowledged that "the twin towers' voracious appetite for tenants weakened the entire downtown real estate market" — a possibility that today's real estate experts fear if Mr. Silverstein builds too precipitously.
Maybe the best news about Ground Zero on this September 11th, eight years after the September 11th, is that the world no longer seems to rise and fall on what happens there. That's good, because eight years later, so few of the promises made for the redevelopment of the site have been kept. Yes, the memorial and its related museum are progressing, slowly but surely, at high cost but reasonably close to the original design, and there is even a chance that they will be finished in 2011, in time for the tenth anniversary of the terrorist attacks. And the huge skyscraper that, thankfully, no one any longer seems to call the Freedom Tower is rising, to almost no one's admiration or gratitude. Now named 1 World Trade Center, it is a banal building designed, it would seem, more by security consultants than by its architect, David Childs, of Skidmore, Owings & Merrill. (The fifty-two-story tower across the street from Ground Zero, called 7 World Trade Center and finished in 2006, was also designed by Childs, and is proof that he can do much better when he is left alone.)

As for the rest of the place—the office towers by Fumihiko Maki, Richard Rogers and Norman Foster, the transit hub by Santiago Calatrava, and the performing arts building by Frank Gehry—almost everything is on hold, thanks to a combination of money and political problems. So is another office building by Kohn Pedersen Fox that is to replace the damaged Deutsche Bank building, whose problem-ridden demolition has taken far longer than its construction did in the early nineteen-seventies. (Then again, the whole rebuilding looks like it is going to take at least twice as long as the original World Trade Center took to build.) Nobody can agree on who is going to pay for all these office towers, which in this economy are the last thing Lower Manhattan needs. So the fighting isn't a matter of who is going to profit from these new buildings—the state, the Port Authority, or the developer of the site, Larry Silverstein—as it is a question of who is going to bear the cost of having them empty. That's what all the high-minded ambition for Ground Zero has come to.
fall 09 rago modern auction catalog





hickorees / note the all weather note pads from rite in the rain / lots of old timey good stuff here

thx vz



Among the traditional brick and clapboard structures that line the streets of this sleepy East Texas town, 70 miles north of Houston, a few houses stand out: their roofs are made of license plates, and their windows of crystal platters.

They are the creations of Dan Phillips, 64, who has had an astonishingly varied life, working as an intelligence officer in the Army, a college dance instructor, an antiques dealer and a syndicated cryptogram puzzle maker. About 12 years ago, Mr. Phillips began his latest career: building low-income housing out of trash.
thx vz
janis joplin serigraph / crumb on joplin





the mechanical philosopher

knurled knobs - pronounced with hard k's





wtc crap given away as memorial monuments (ad hoc anthony caros ?)
As the anniversary of the attacks of Sept. 11, 2001, approaches on Friday, pieces of the World Trade Center rubble from that day have never been more accessible. A new campaign is under way to speed up the process and increase the volume of giving away pieces of steel big and small from the debris.

The Port Authority of New York and New Jersey, which owns the steel, will invite police and fire departments and mayors and other leaders of cities and towns throughout the country to ask for pieces for memorials. The Port Authority has filled about 25 requests in the last year, and has about a dozen more pending. In recent weeks, trucks have hauled twisted steel columns that weigh hundreds of pounds to York, Pa., and Westerville, Ohio. A smaller piece was shipped to the Air Defense offices of the United States Air Force in Rome, N.Y.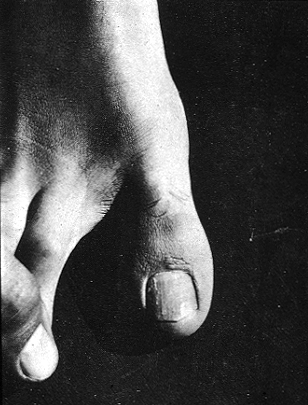 Jacques Andre Boiffard, Untitled, Big Toe series, for Documents, 1929



Attached to the choo-choo train of history the angelic aspect of Pollock's use of line was, for Clem, registered in the flight it could take, the statement it could make against the realm of matter and substance, and thus the sublimation it could perform.

I have been reading Rosalind Krauss' The Optical Unconscious (1993) and enjoying it very much. The above quote (from pg.290) made me laugh. Choo-choo train of history? Ouch! The way she argues with Clement Greenberg is highly charged. She's mean, and I suspect that was one way of getting through to the man, speaking his language. Of course, her arguments are not really addressed to Greenberg. Her goal isn't to convince him (she's not delusional), nor even, ultimately, to taunt him, but to assert her own paradigm for assessing works of modern art. Not only does she dissemble his theoretical positions with cogent argument, but she does so on his rhetorical terms. If one can talk of "owning" when it comes to shared cultural ideas, Greenberg is widely understood to "own" high modernism. But Krauss would beg to differ. Modernism isn't Greenberg, it's an historical era and Krauss has her own compelling version of events.
In the politics of art, she had helped Morris Louis' widow unroll his canvases, enjoyed a collaborative relationship with Kenneth Noland and was championed as an original by Clement Greenberg. Precisely because she worked so intensively and personally on her sculptures, Anne [Truitt] was dismissed by Minimalists such as Donald Judd for being too subjective (and, of course, too female) to create true "specific objects." Anne was deeply respectful of her dealer, Andre Emmerich, who criminally ignored her for a long time, giving her the occasional show, but little practical assistance.

In the studio, Anne was painstaking to a fault, finding the right piece of wood, sanding it for months to the point where it could properly absorb and reflect her chosen color and then applying layer upon layer of paint in order, counterintuitively, to achieve maximum transparency. The tiny bands of color at the base of her sculptures, which were subsequently borrowed by Haim Steinbach for his marvelous series of black paintings, were a clue to their meaning. There are two interpretive elements to Truitt's sculpture, a forbidding armor which blocks out the viewer at first glance and then a slowly revealed intimacy which invites further discovery.
little green men





10 houses made from unorthodox materials

via jbf



remembering dash snow





WHO would have guessed that the quintessential California hot rod, the "stroked-and-bored" Ford with a "competition clutch and four on the floor" canonized by a fast-rising surf band early in the 1960s, was actually the realized dream of a Detroit teenager?

As is the case with so many other icons of popular culture, the legend and the facts surrounding this two-door 1932 Ford are an imperfect match.

This much is certain: The car that became an emblem of Southern California's surf-and-speed culture as the model for the Beach Boys' "Little Deuce Coupe" album cover is comfortably retired in Michigan, restored to period-correct glory and repatriated with the family of its builder.

Seeing the car firsthand is a reminder that record promoters have sometimes been known to take liberties. While the catchy Beach Boys lyrics praised a Ford flathead V-8, the album's cover car was actually powered by an overhead-valve Oldsmobile engine, and its transmission was a three-speed, not the four on the floor of the hit single.
via adman
rip ellie greenwich singular songwriter


obit / archived stream gaylords radio tribute show