---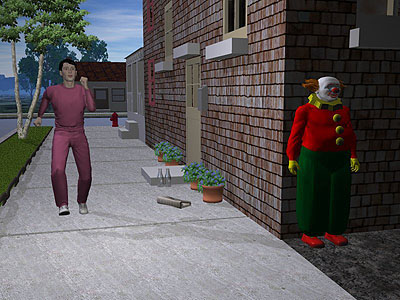 "Creepy Clown" and New Media
I just received a brochure in the mail from Thundergulch, "the new media arts initiative of of the Lower Manhattan Cultural Council." Here are some of the depressing topics from their Spring/Summer 2002 lecture series:
Database Cultures in Collaboration: Panelists discuss the challenges of using databases as the generative engines behind their art work, creating alternative systems that reveal the poetic, metaphoric, critical, and community-building possibilities of manipulating and reconstituting data.

Race in Digital Space: [Panelists] discuss how digital media influences and changes social ideas about race and ethnicity.

Curating New Media--Inside and Outside the Institution: [Panelists] discuss the challenges of organizing, displaying, and distributing new media art...
Fortunately, art gets made and trends emerge at the grassroots level (that is, on the Internet) despite these numbing discussion topics. In this post I discuss two such trends. One is DIY Curating (speaking of databases), and the other is The Stalker Collage.
As William Gibson has said, "We are all curators, in the post-modern world, whether we want to be or not" (for post-modern read "wired"); and anyone with a big enough server can have a library straight out of Borges. As I've mentioned elsewhere, there are bottomless databases of specialized interests, such as this site devoted to "furries," fantasy creatures combining human and animal attributes. Every week of the world, kids and adults upload hundreds of strange, anthropomorphic, sometimes frankly sexual drawings to this site, giving themselves a forum (and perhaps feeding some addictive need on the part of the host?).
Artist Bill Schwarz acts as a curator of curators: his web page, although randomly organized, is a trove of amateur and professional online collections: snowflake photographs, Dymaxion designs, snapshots of trailer homes, audio files of hillbilly "hollers," architect pages, facts about music synthesizers, and more links about shipping containers than anyone would ever need.
The internet fosters other types of collaboration, not in the organized, top-down, intellectual way envisioned by Thundergulch but through the efforts of everyday artists taking an idea and running variations on it. One such genre is what I'm calling the "Stalker Collage." In this "new art form," a character is inserted into all kinds of stock situations using rudimentary paint or imaging programs. One of the funniest is "Creepy Clown" (website).This digitized cousin of John Wayne Gacy lurks behind joggers, picnickers, scuba divers, and young lovers on holiday, usually just standing there like a statue without the other characters being aware of his presence. He is extremely creepy, but also laugh-out-loud funny, and the peculiar genius of the idea is that anyone with a 3-D program can make a successful "Creepy." Just download the character, pick your clip art scenario, and let your own "inner Creepy" guide you to something truly stomach-chilling.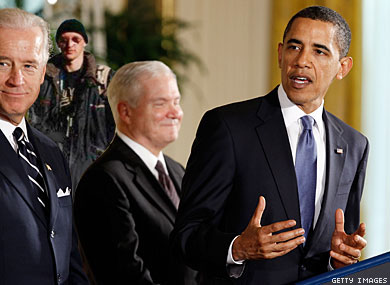 The Tourist Guy (photo added to post in 2010 - the link below is dead)
Another variation of the collective pastiche is the Tourist Guy. This is already pretty dated, but the documentation's worth checking out. The entire project sprang up spontaneously in the aftermath of the World Trade Center disaster, when the image passed from email to email of a tourist posing on the North Tower, oblivious to the airplane zooming in behind him. The image was quickly debunked as a cut-and-pasted fraud, but then people started copying the bland, knit-capped figure of the "Tourist Guy" and dropping him into every imaginable scene, from the assassination of Lincoln to a rooftop in The Matrix. Like Creepy Clown, the Tourist Guy is usually a silent, passive witness to some activity, and the chemistry between his cigar store Indian placidity and rambunctious scenes of murder and violence is often hilarious. And once again, anyone with Photoshop could make a "Tourist Guy" masterpiece. This is real New Media art: "creating alternative systems that reveal the poetic, metaphoric, critical, and community-building possibilities of manipulating and reconstituting data." You aren't likely to hear about Creepy Clown on those panels, though.
UPDATE: More on Creepy here.

UPDATE 2010: Some tourist guys here.

- tom moody 6-06-2002 8:14 am

---
the topic reminds me of Bill Schwarz's call for orange squares. I was quite proud of my contribution, which I'm reposting here.

orange square: 1 / 2 / 3 / 4 / 5 / 6 / 7 / 8

- sally mckay 5-17-2004 4:31 am