---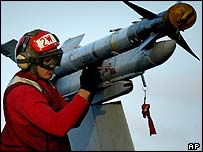 I've been a bit shy about putting pictures of myself on this site, but every once in a while someone takes a photo of me that causes me to say, "People gotta see this." So here it is. Please don't clog the comment board with praise or jealous jeers--I want to be appreciated for my ideas, not just how I look on cam.




---
Primary colors are only for the bold.

Most people end up looking like their ideas, if not their ideals. The little boy and his bombs typify adolescent America. The joyous explosion of energy, the delight in destruction: these stand in for thought. Always we embrace the ck of "fuck you", while the hesitation of fhuh hangs in the air like a bomb not quite fallen.

What about the "you"?.......er, exactly.

Now do you all see why I responded to Bill as I did. Would you want this person sleeping in your upstairs guest room? Especially the guest room with a skylight?

Usually when visiting friends I leave my Stinger in the foyer, just so you know.