---

From a Metropolis magazine review, discussing the "French theoretical architecture show" at the Guggenheim Soho a few years back:

The fascination of French artists and architects with surrealism may explain why they're so often charmed by postmodernity in its more kitsch incarnations. Take, for example, one of the artists featured in "Premises," Bertrand Lavier, who contributes a suite of work called "Walt Disney Productions," life-size replicas of the phony abstract paintings and sculptures in a 1947 comic strip in which Mickey Mouse visits a modern art museum. The catalogue is worth quoting for its summary of the show's own delirious critical stance: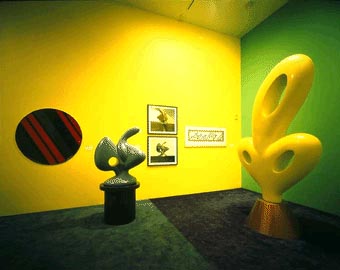 "Rather than making a painting that was a copy of a cartoon (as a number of his contemporaries did), and rather than reclaiming some tired abstract painting under the pretext of simulation, Lavier took directly from the cartoon itself. [Meaning he hired a fabricator to turn the drawings into objects. Not that there's anything wrong with that.] Since the cartoon precisely simulated a body of images prevalent in Modernist art, he simultaneously succeeded in resuscitating abstract painting. Although he did so without theoretical effort and--since his short circuit was photographic--without an excessive quantity of turpentine."

It's hard to know which failure of nerve is greater, that of the artist toying with the simulacra of the simulacra to "resuscitate" abstraction by yoking it to an Arp-like lexicon of cartoon shapes, or the too-clever-for-words tone of the catalogue and its dumb disdain for turpentine and technique. Not only is the art dopey--and this is a show about dopey art if ever there was one--the feeble character of its critique is revealed in its slavish replication of the original image. Disney is simply too much loved by all concerned for this kind of work to pose a threat to the battalions of imagineers who blanket the world with what can only be described as the real thing.
Oh, lighten up. Catalog writer, reviewer, you're both wrong. Lavier's installation isn't meant to "resuscitate abstract painting"--who really believes that?--nor to threaten Disney's "battalions of imagineers." It's a meditation on historicization, to use a rather ugly word: refracting capital-A art through the lens of a pop culture artifact to show how taste and vision change from era to era. The images in the comic strip (and by sly implication, the art referenced) are clearly from the '40s, but it takes a few decades to see that conclusively. What things from our own time that we take to be immutable will seem this "period" in 20X3? (Candidate: Matrix "bullet time" effect.) Lavier tackles the subject with wit and polish, and it's depressing to read such a grave debate surrounding this work.

- tom moody 5-19-2003 11:12 pm

---