---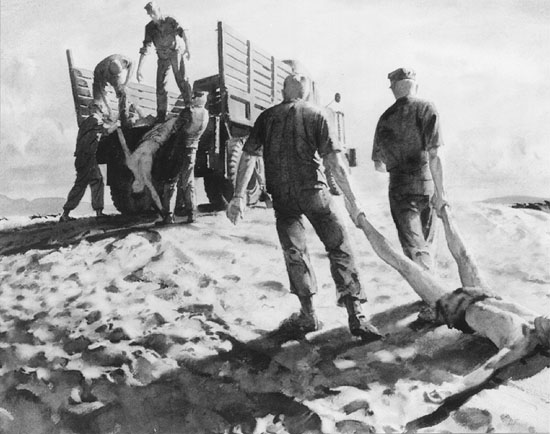 1965 watercolors by Gene Klebe. Above: Clean-Up After Marble Mountain Battle; below: Operation Market Time.


Art worlders, including many in the blogosphere, continue to give salutatory high-fives each time a new series of drawings appears by Steve Mumford, an artist who has been unironically embedded with the troops in Iraq. Carol Kino did it in the New York Times as well, this week. This page has complained (here and later here) that Mumford's a rather ham fisted draftsman and absolutely on the wrong side of the war issue. Bush has a snit because Saddam tried to kill his Daddy, the neocons seek a permanent American "footprint" in the mideast, thousands upon thousands needlessly die from American bombing and the subsequent chaos, and there's Mumford sanitizing the mess. The art world marched to stop this horror but out of friendship (or simple bewilderment) enables Mumford to do his thing.

Commenter Mr. Potts likes Mumford's work, and steers us toward this Dept. of the Navy page of sketches and paintings from the Vietnam era. (The pictures in this post come from there.) These are indeed Mumford's forerunners: official, clunky court room style art that supports the war effort--except the two images here, by Gene Klebe, actually have more punch and clarity than Mumford's washy drawings. But the art world wouldn't fete the artists on the Navy's site and give them shows at White Columns. They'd be seen as "mere illustrators" who wouldn't get past the velvet rope.

In the Times article, Mumford says he went to Iraq convinced it was a mistake (which you would never know from his bland sketches) but now having contact with ordinary Iraqis and seeing their joy at the ending of the horrible Saddam years has him "on the fence." He's more than that, as his writings clearly show--Karl Rove could have ghostwritten the diaries. Reading them gives you a good sense of the mental contortions our troops have to go through to convince themselves they're on the side of the angels. But the unreconstructed colonial, who thinks it's his right to document and help these sweet, misguided people, often shows his face. The latest diary veers between the narcissistic and the maudlin, and sometimes you get the feeling that Mumford is over there as a thrill seeker, playing Army in a country he has no ultimate stake in. Still weighing whether to post excerpts--they make him sound pretty bad, and he's really just politically naive.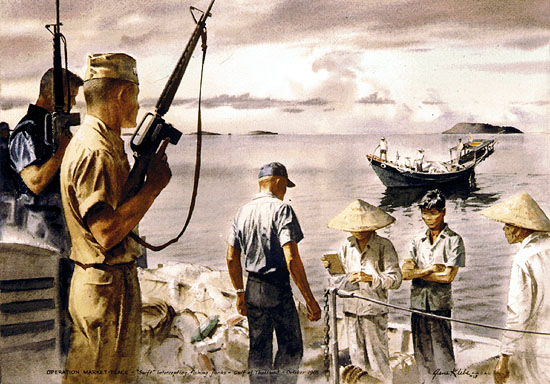 ---
I, too, have been surprised by the amount of ink that Mumford's illustrations have garnered. There appears to be great attraction to the novelty of an "embedded" artist. I would rather have something far more novel: reporters who have access beyond the confines of Baghdad that are able to tell us what is really going on! Wouldn't this be better for the art world and everybody else than a bunch of Mumford's pretty war pictures?