---
Two Videos:


"Exit Maurice" (Quicktime video) [10.5 MB .mp4]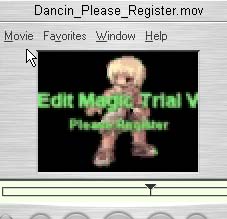 "Dancin' (Please Register)" (Quicktime video) [9.5 MB .mp4]

The first one plays as it loads, and the second one loads first, then plays, at least on my browser. Because of different software companies? (You could also right-click or option-click and save.)




---
Right now, both links are going to "Exit Maurice" - which, BTW is fantastic.

yeah, those are both great.

Thanks to both of you (link fixed now). That's very encouraging. I made them both a few weeks ago.

nice! (I like the dots one best)

How do you see "Dancin' (Please Register)" in relation to these kinds of things?

http://gprime.net/flash.php/elvislivesinflash

[link]
(maybe I'll watermark all my videos from now on with "Made by Michael Bell-Smith Trial Version - Please Register"......)


Here are some earlier notes on "Dancin' (Please Register)." In addition to the dancing GIF links you posted, there's this one, which Cory A. spotted a while back. (Which is superb-- Rob Manuel has good eye.) I don't think mine is any different, really, from the other ones in this genre, except possibly it's more slacker in its lack of ambition and refusal to bowl anyone over.


Also mine is an outgrowth of the "curated" selections of animated GIFs I've been doing, FWIW.