---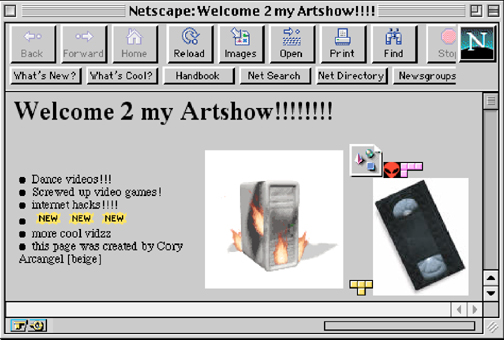 Cory Arcangel's show "Welcome 2 my Homepage Artshow" opens Thursday night, Jan. 13, at Team gallery.
The show includes a number of new hacked Nintendo game cartridges - the work that Arcangel has become known for - and a number of new works in the medium of video. In the former group are a fully interactive Ipod® programmed for the Nintendo® system and an absurdly slowed down version of Tetris®. In the latter group are Sans Simon, a video of Simon and Garfunkel in which the artist uses his hand to hide Simon's presence, and Geto Boys/Beach Boys in which videos by the two eponymous bands are played side by side creating an oddly harmonic synchronicity.

[...] Arcangel is interested in keeping the possibilities of collaboration open, as well as in continuing to reach out to other cultural fields for inspiration, fusing autonomous artworks with temporary and net-based actions. The show at Team, for example, marks the launch of dooogle.com, a search engine which only yields results about Doogie Howser, M.D. Also available is a new piece of software called T.A.C. (Total Asshole Compression), a program which increases the size of any file passed through it.
UPDATE: Jan. 13 is the opening date, not Jan. 11 as I originally posted.



---
JUNE 13!!!!!

this got reblogged too so the misinformation is spreading... :)

man, i'm a stoner, i wrote JUNE 13 in my earlier comment.

it should have been:

JANUARY 13!!!!

:)

Thanks for pointing it out. Eyebeam fixed it more or less instantly after I emailed.