---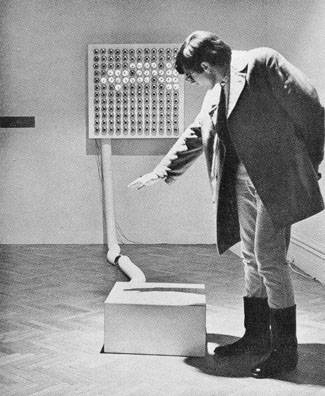 Juan Downey and Fred Pitts, Against Shadows, 1968, plywood, Formica, and electronic parts (photo by Shunk-Kender from Frank J. Malina's Kinetic Art: Theory and Practice, 1974). It's as simple as it looks: a grid of photocells on the formica cube responds to shadows and mimics them in reverse on the wall screen. The klutziness of it (e.g., that huge conduit) is, I believe, intentional. Downey's conceptualist-style statement for the work is still refreshing:

"If the choice were given to me, I would pick complete inaction for my entire life. Nevertheless, I persist in the activity of building electronic sculptures because:
Their existence or destruction is irrelevant to the life of them.
They cause people to play.
They make people aware of the vast number of different kinds of energy in the universe.
They are ephemeral. This is part of a new development in the history of art: to create works that are not supposed to last for a long time.
They pose a problem for the collectors of art objects.
They create the illusion that the public can participate in the work of art. Actually we are still spectators mystified by the order that makes the world grow and move, although, we pretend we are determining what happens to us.
It is fun to talk with friends about them.
They imitate aspects of movement in life. Art is more concerned with thinking about what people experience than with producing objects.
They make people aware of lively relations between different kinds of things.
Children like them.
Sometimes they produce a reversal of natural phenomena, for example, as demonstrated by the sculpture Against Shadows."
Such a contrast with the Whitney's "BitStreams" show, where all the art had to have a purpose, and/or the curator killed it with pedantic overexplanation.



---
can u tell a little more about what it does (if anything)? curious.

Some info on the piece added.

I just went to Jim Campbell's opening in San Francisco last week. Similar "world as dots strategy", and equally as compelling (only without the interactive part).