---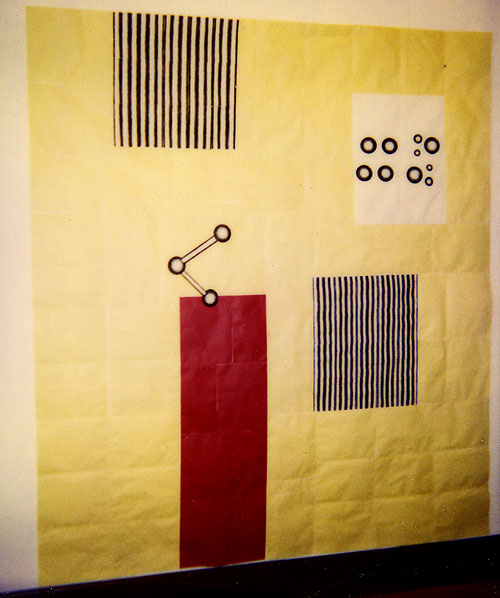 Scan of polaroid. Untitled artwork circa 1996, photocopies and linen tape, 88" x 78". Made when I was living in a closet (practically) in Tribeca. Too obvious a Peter Halley reference to show at the time, I always liked it, even though few others did. Ten years later, it seems more in step with the current videogame-as-potholder discourse. Wait, did I just coin something? (See comments.) Eventually I'll get this old work out of my system.



---
keep keep showing it.

What's the game-as-potholder discourse refering to?

What I've elsewhere called Komputer Krafts, practiced or supported by artists such as the BEIGE crew and Cat Mazza's microRevolt as well as legions of "outsiders" on the Internet--the interest in merging digital or game imagery with needlepoints, Perler beads, quilts, and the like. I guess I should be helpful and like, link to something. Give me a few minutes.

Actually, the Jacquard loom, developed in France in the early 1800's, was the basis for the first computers so the affinity makes sense.

Some of this was discussed in my interview with Cory (scroll down), also the "Fuzzy Logic" show we talked about in the interview.