---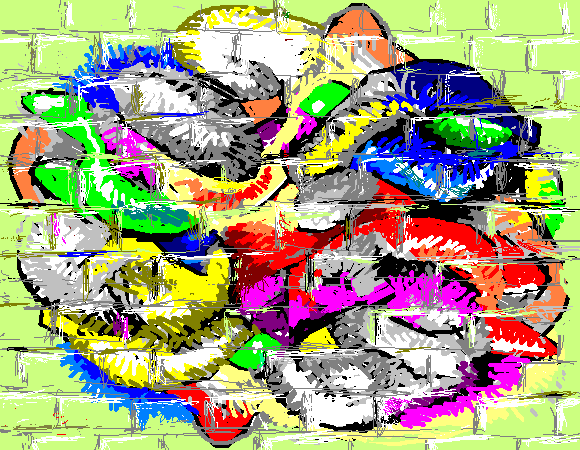 ---
Takin' it to the streets! I like the 80's feel of this piece.
Is this a printout collage or does it only live on the screen?


Thanks. I was pleasantly surprised by what the bricks did to my standard wormy abstraction.
It's screen-only, drawn at 580 X 450, wet into wet as the painters say, no layering, enlargement, reduction, etc.
I could print it out--probably will, but I'm leery of things printed "straight" without further collaging, overprinting, etc.
I think the print would be "documentation of monitor-based art."

electric boogaloo! cool

awesome

I like how the colors of the brick lines interact with the graffiti. They kind of act as drips here and there. The choice of primary colors is very intense. I wonder how this would look really big?

Thanks. I'm afraid, even on a big scale, the print wouldn't look as good as the image does on a monitor. Possibly if it were put on Duratrans and set in a big light box it might have impact--but then it might be mistaken for an advertisement for something.

Durtrans? Wheat pasted dude.
Cooler and cheaper and when it fades it looks even better.

JOE

When I have assistants to go around unsticking wheat pasted art work from gallery walls I will "go wheat paste."
I have done many pieces (and a few shows) with work like this printed out tiled, then taped together with gummed cloth tape on the back.
People have complained that the grid and the rumpled paper is distracting, as in "I wanted to see it slicker."
With these bricks the grid might be more "integrally associated with the materiality of the work," but I'm pretty fuckin' sure I won't do a piece like that.


I hear you.

As you can see, I still get overwrought about presentation issues.

I can definitely relate to the aprehensive feeling of transforming something from it's inceptive (is that even a word?) material. When someone says "make it big" there is always the wince. My sense is though with this piece that something can really happen if it is worked/explored to it's extreme here. Less about appeasement and more about pulling something off of the screen, out of the box and into a new world of the 'real'. It's the challenge that should intrigue. Seeing this work, reading your responses has definitely provoked some interesting thoughts that I am sure have been addressed at legnth in some paper or another. Not absorbed in that world [art theory, crit] enough to know at this point. Regardless this image has a place inbetween 'street' and 'info highway(yes... we can wince now)dom because it is more abstract then most graff work and does not fit into the hip design world that 'samples' this genre as a marketing tool.

Thanks for thinking about it, Ilan.
I'm thinking more these days about a virtual career---making images that look like the art I would make, or rather the art I would like to have stand for me. It's not documentation and it's not net art but rather an art that is real in every way except existing, outside of the means of representing it on the Internet
My raisin bran molecule sculpture, for example, doesn't exist per se. I dismantled it as soon as I photographed and posted it.
But it is exactly like I'd like "my art" to look.
Ditto this piece, if I never print it.