---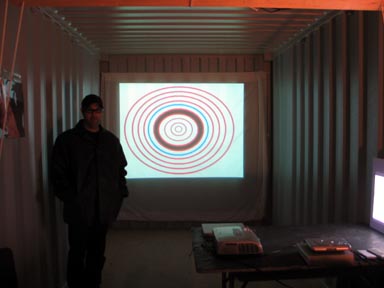 Aron Namenwirth of artMovingProjects, in the gallery's shipping container at the DiVa (Digital and Video Art) Fair this year in Miami. In the background is my DVD OptiDisc.

Update: The photo above is by Paddy Johnson, using Namenwirth's camera. Aron has posted more photos here.



---
so Tom -- how did you like Miami?

Ha ha--I liked it fine after I saw this photo.

I'll put my container-sized animated GIF up against the Borg cube any day of the week.