Tom Moody - Miscellaneous Posts
These posts are either "jump pages" for my weblog or posts-in-process that will eventually appear there. For what it's worth, here's an archive of these random bits. The picture to the left is by a famous comic book artist.



---
View current page
...more recent posts
---
The following is a selection of images culled from Krystal Ishida's
VCL page
. I like them for their simple iconic punch, ability to capture emotion, and formal invention. Her use of color is especially good. She recently upgraded to Paintshop Pro 7, which I'm somewhat ambivalent about, however. All the drawings below except the last one feature a jagged, pixelated line (a byproduct of scanning the original drawing) that isn't so "professional" but contrasts nicely with her shading. One of the problems with computer drawings in general is a kind of smooth saminess of texture: that "airbrushed look." The pixelated line brings a kind of crackle to all that sameness--like spicing up bland food. In the artists's most recent drawings (see "Krystal as Capricorn"), the new software gives a smoother line, making the drawings more professional and seamless, but perhaps at the expense of the crackle. I say perhaps because I'm waiting to see where she goes with it. In "Krystal as Capricorn," the clip art flowers provide a certain amount of that needed contrast.
Majora Prowling
Kib Walking (animation)
Mystica Fighting
After the Battle
Power Furs
Dark Cocomon/Aisha
Mystica at Night
Mulonica in the Sunshine
Patch and Jock
Krystal as Capricorn
Addendum: My concerns about the line quality were misplaced. In her most recent drawings she's really getting it down, using two or three shades in the outlines. Also, she's been posting some pencil drawings on non-VCL pages that are just great. I'm completely envious of her confident hand. Most artists who draw so precisely are a bit cold and unemotional in their content, but not so with Krystal. These drawings brim with energy and good humor. I have more to say about this work and will put up some more links soon.
Addendum 1/5/03 Some new pencil drawings by Krystal Ishida have been uploaded here (may load slowly). This is some of my favorite work of hers, because you can see the line before it gets computerized (even though it's scanned, of course). She's really good at groupings of characters, where they're all interacting in some way. "Link hit with frying pan" (hyperlink removed) is also a grabber. Here's a detail of his hands: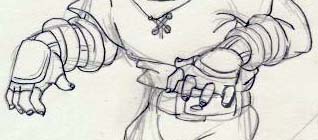 And a couple of good dragon paintings are here and here.

- tom moody 8-05-2002 8:06 pm [link] [2 refs] [add a comment]