Tom Moody - Miscellaneous Posts
These posts are either "jump pages" for my weblog or posts-in-process that will eventually appear there. For what it's worth, here's an archive of these random bits. The picture to the left is by a famous comic book artist.



---
View current page
...more recent posts
---
He Found a Following, and Then Lost His Way
By NEIL STRAUSS
SAN DIEGO, April 6 — In 1977, a 24-year-old musician from Endicott, N.Y., released a wonderful, odd album called "You Think You Really Know Me." Combining elements of pop, proto new wave, jazz, avant-garde composition and electronic music, Gary Wilson delivered sincere lyrics, alternately sweet and angst ridden, about the women in his life and his fantasies, most notably in the pleading, quixotically titled "6.4 = Make-Out."
The album, which he released himself, quickly found a cult following, which over the years included the punk band Husker Du, the avant-garde group the Residents and the "Simpsons" cartoonist Matt Groening. It earned the status of a favored vanity-label obscurity among record collectors, and Beck, in his single "Where It's At," even sang about how Mr. Wilson "rocks the most." As the reputation of the album grew, fans naturally sought out its creator. But they soon discovered that Mr. Wilson was nowhere to be found. Evidently he disappeared after the album was released (though he said that was not his intention).
Adrian Milan, who runs the record label Motel with Christina Bates, spoke of the day that Ross Harris of the band Sukia first played him the record. Mr. Milan said he was blown away by the music and wanted to find the man behind it.
"Ross said he'd been looking for this guy for six years and would be really surprised if we could find him," Mr. Milan said. "I said, `I tracked down master tapes in some guy's closet in India to do our album "Bombay the Hard Way," so if this guy's alive I'm going to find him.' We worked 14-hour days and got a private investigator involved, but he couldn't find him."
Eventually Ms. Bates found one of his former band mates, Vince Rossi, who helped to put her in touch with Mr. Wilson, who lives in a small apartment here without a telephone.
On April 16, Motel Records will reissue "You Think You Really Know Me." Mr. Wilson will then make his first trip to New York in 23 years, for a performance at Joe's Pub on May 15.
On Saturday night, I arrived at Mr. Wilson's house to conduct his first interview for publication since the late 1970's. For the last 17 years, it seems, Mr. Wilson, 48, has played keyboards in a lounge act whose members and audience are not familiar with his original music. (Mr. Wilson's father was a jazz bassist who often played hotel lounges.) At midnight he reports to a pornography bookstore and peep show, where he works behind two layers of bullet-proof glass, handling cash and dispensing tokens.
Mr. Wilson — short, pale and with his hair pulled back from his forehead into a ponytail — conducted a tour of his small apartment. Shy and friendly, he pointed out the dusty Teac reel-to-reel four-track on which he recorded "You Think You Really Know Me" 25 years ago in his father's basement; he opened the balcony door to display the Farfisa organ he used on the record. In a corner of the room were dozens of reel-to-reel recordings, most of music he recorded decades ago but never released.
He said he no longer had any original copies of his album. "I used to break and smash my records onstage," he said. "Just snap them in half and throw them. And then one day I realized I didn't have anymore."
Mr. Wilson was known for outrageous, improvised performances. He used to dump pounds of flour on himself until at a radio station benefit in Seattle, he got some in his eye and it itched for weeks. He said he was not sure what he would be doing to surprise New York audiences at his comeback show in May.
"A lot of the performances were spontaneous," he said. "But I'm going to be out of my territory in New York. In a hotel room, there are not a lot of props to grab. There are things all over the place in a household. Maybe I can pull a bedsheet off of a bed."
His girlfriend of more than 20 years, Bernadette Allen, arrived shortly. Her paintings fill the apartment, her photography is represented in Mr. Wilson's CD reissue, and her videos often accompanied his performances. The pair displayed a photo album with an image of them taken 20 years ago at Max's Kansas City; next to it they placed an image of Charles Bukowski and his girlfriend because the resemblance was uncanny.
After the house tour, Mr. Wilson left for the Rancho Bernadino Inn in an affluent suburb nearby, where his lounge band has a monthly gig. The band crooned "The Girl From Ipanema" and "Sitting on the Dock of the Bay" to the dozen or so patrons, most of whom were elderly. Using two keyboards, Mr. Wilson, one of the only band members playing by ear instead of with sheet music, executed the bass parts of the songs with his left hand and the rhythm parts with his right, occasionally adding a solo.
"I had no idea at all that he had this whole other side to him," Kyle Martin, the band's guitarist, said when he was told that Mr. Wilson was a cult hero.
During a break in the set, Mr. Wilson talked about his background. He said he had not seen his father since he left the East Coast 24 years ago, though he said he was considering returning to live in the basement where he recorded pop freakout jams like "Loneliness" and "Groovy Girls Make Love at the Beach."
He was born in 1953 in upstate New York, and quickly displayed a knack for playing just about any instrument. A fan of Dion and the Belmonts, he was once attacked by boys who tried to cut off his curly pompadour. In 1965 he saw the Beatles play Shea Stadium, and soon after joined his first band, Lord Fuzz, many of whose members would stay with him throughout his career. Before high school, Lord Fuzz had already released a single and opened for the 1910 Fruitgum Company, the bubble-gum pop group.
His taste soon took a turn for the avant-garde, and he sent John Cage some of his compositions. Mr. Cage was impressed enough to invite Mr. Wilson, who was only 16, to his home to discuss the work. Now performing as Dr. Zork and the Warts, Mr. Wilson's concerts began to incorporate poetry and performance art.
Mr. Wilson moved to New York City with Mr. Rossi. They soon ran out of money and found themselves sleeping in Washington Square Park and underneath a building in New Jersey before hitchhiking home after a few days, covered in dew, on the New Jersey Turnpike.
"She stopped at McDonald's and picked up hamburgers," he said of the driver, "but I couldn't eat mine because it had a pickle on it. I like things plain. I'm a plain guy."
Back at home, Mr. Wilson holed up for seven years, recording an unreleased jazz instrumental album "Another Galaxy," an unreleased disco-era single, and, finally, "You Think You Know Me."
"I didn't put it out to make a million dollars or anything," said Mr. Wilson. "It was deeper, and I was trying to find myself. It was almost creating a piece of art, something I wanted to hear and then whatever would follow is fine."
Of course that doesn't mean that Mr. Wilson didn't have any ambitions. He talked about sneaking past security guards at the offices of Columbia Records to try to get executives to release the album. "They didn't quite know where to put me or what it was," he said of the labels he approached. "That's why it's funny that things kind of switched around in 25 years. I guess times have changed a little bit."
Most of the songs on the album are about real girls, like Cindy and Karen, who was not only a crush in his life but also the name of a mannequin he used to drive around town. Today Mr. Wilson said that he had a whole album's worth of new songs ready; some are about old flames."A lot of my new songs are about Linda," he said. "I was just dreaming about her, for the first time in 30 or 40 years. She was one of my first girlfriends, from eighth grade."
In 1978, Mr. Wilson and his band moved to San Diego and tried to find work in Los Angeles. After a few seven-inch singles and performances, including a return to New York to play CBGB, the band called it quits.
When Mr. Wilson finished musing on his past, he returned to the bandstand to complete his set. After the show, the musicians split a few meager dollars of tip money, and Mr. Wilson headed to his midnight shift at the bookstore and peep show. "I like working there best after 2 a.m., because it gets quiet," he said. "I always wanted to work in a place where other people weren't around."
Does he see himself as a recluse? "I really am, actually," he said. "I'm pretty private, but, you know, that's just the way I am."
As he arrived at work, Mr. Wilson shared a few horror stories about walking in on some odd goings-on in some of the private rooms and let himself into his bullet-proof cage. His fellow employees and the security guard, who say they have no idea that he ever recorded an album, paid him no mind, as if he were invisible.
---
Blade 2
is worth checking out since it's directed by Mexican gothic maestro Guillermo del Toro, who made the offbeat and spooky films
Cronos,
Mimic,
and
The Devil's Backbone.
Great shots of vampires swinging from rafters in night-combat/ninja attire, and the transformation sequence of a new breed of "vampire-killing vampire" (depicted in my sketches below) is pretty wild. Each vampire has a seam running from its lower lip to the base of its throat, which splits open to reveal a toothed-vaginal maw with neurotoxin-secreting tentacle-tongues. Kind of
Predator
meets the face-splitting husky from John Carpenter's
The Thing.
The effect isn't quite so scary after they've shown it to you eight times, though.
Caution: R-rated drawings below.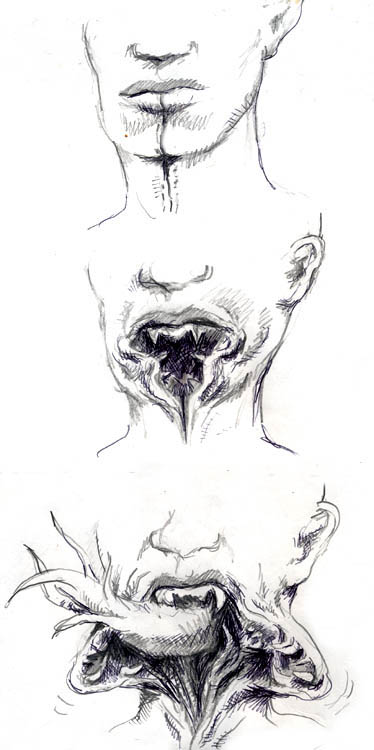 back to weblog / cinefiles / animation log




---
March 2, 2002
Burning Diesel Is Cited in Fall of 3rd Tower
By JAMES GLANZ and ERIC LIPTON
Massive structural beams that functioned as a sort of bridge to hold up the 47-story skyscraper known as 7 World Trade Center were compromised in a disastrous blaze fed by diesel fuel, leading to the building's collapse on Sept. 11, investigators have concluded in a preliminary report.

The tower was set on fire by debris from the twin towers and burned for about seven hours before collapsing in the late afternoon under previously unexplained circumstances. The analysis of its collapse is one of the first detailed findings by a team of engineers organized by the Federal Emergency Management Agency and the American Society of Civil Engineers to understand the fate of all the buildings around the site.

As much as 42,000 gallons of diesel fuel was stored near ground level in the tower and ran in pipes up to smaller tanks and emergency generators for Mayor Rudolph W. Giuliani's command center, the Secret Service's office and other tenants.

Investigators have determined that the burning fuel apparently undermined what is known as a transfer truss. The trusses, a series of steel beams that allowed the skyscraper to be built atop multistory electricity transformers, were critical to the structural integrity of the building and ran near the smaller diesel tanks.

A failure of the same type of structural bridge contributed to the collapse of the Alfred P. Murrah Federal Building in Oklahoma City when it was bombed in 1995. Federal guidelines for public buildings, created in 1996, warned of the dangers of such trusses in terrorist attacks.

"It's certainly right in the vicinity where the columns go into this transfer system," said a person knowledgeable about the investigators' draft report on the World Trade Center. "The rest of the building is built on top of the bridge."

While 7 World Trade Center, which stood across Vesey Street just to the north of the twin towers, was not formally a federal building, it did house crucial government offices that included the city's nerve center for emergency response.

The investigators said that their conclusions, combined with other findings about the failure and collapse of 5 World Trade Center, could prompt serious changes in the codes used in building construction.

The findings are in a draft report that has already been circulated among government agencies, and are based on videos made on Sept. 11, witnesses' reports, interviews with firefighters, evidence from the debris pile and structural analysis. Team members, who described many of the findings, cautioned that the conclusions on the collapse of 7 World Trade Center could still be modified as reviews proceed.

But Irwin Cantor, one of the building's original structural engineers, who is now a consulting engineer and member of the City Planning Commission, said the diesel-related failure of transfer trusses was a reasonable explanation for the collapse.

He said he believed that diesel tanks were not envisioned in the original design of the building. "It ended up with tenants who had diesels," Mr. Cantor said. "I know none of that was planned at the beginning."

According to floor plans submitted to the Port Authority of New York and New Jersey, which owns the land on which 7 World Trade sat, the building complied with city fire codes, said Frank Lombardi, the authority's chief engineer. Those codes permit no more than one fuel tank with a capacity of 275 gallons or less on above-ground floors, he said.

Jerome M. Hauer, who was the director of Mayor Giuliani's Office of Emergency Management at the time the command center was opened at 7 World Trade, said several teams of engineers reviewed plans to open the office there. But no one ever mentioned any hazard associated with placing fuel tanks above ground, near a transfer truss, he said.

"There were a host of people who looked at this," said Mr. Hauer, who is now a managing director of the crisis and consequence group at Kroll Worldwide, a security consulting company based in New York. "We relied on their judgment."

Fire officials did at one point question the storage of large amounts of fuel well above the ground level, saying that one large tank for the mayor's command center, if ever compromised, might fuel a fire that would threaten the building.

The Sept. 11 draft report also has photographs and a description of debris collected from a previously undisclosed, multistory collapse within 5 World Trade Center, a nine-story office building that also burned on Sept. 11 but largely remained standing. The team has found that one specific type of bolted connection, called a column tree connection, that joined floor-support beams, failed in the heat of the fires, causing the four- story collapse in the part of 5 World Trade at the corner of Vesey and Church Streets.

Although no one died as a result of the collapses in 5 and 7 World Trade Centers, since both stood long enough to be evacuated, the team's findings are likely to lead to recommended changes in the way public and government buildings are constructed, much the way similar studies did after the Northridge earthquake near Los Angeles in 1994 and the Oklahoma City bombing.

The team is still deliberating on how tightly it can pin down the precise train of events that led to the collapse of the twin towers themselves. But until now, the collapse of 7 World Trade has stood as one of the outstanding mysteries of the Sept. 11 attack, since before then, no modern, steel-reinforced high-rise in the United States had ever collapsed in a fire.

High-rise buildings are designed to be able to survive a fire, even if the fire has to burn itself out. The strategy is to ensure that the steel support structures are strong enough or protected well enough from fire that they do not give way in the time it takes for everything inside an office building, like furniture, to burn.

In major high-rise fires elsewhere in the country, such as the 1 Meridian Plaza fire in Philadelphia in 1991 and the First Interstate Bank fire in Los Angeles in 1988, this approach has worked. The 1 Meridian fire burned for 19 hours, leaping from floor to floor and burning out as combustible materials were used up. But the fires at 7 World Trade Center raged mainly on lower floors and never burned out, and in the chaos of Sept. 11, the Fire Department eventually decided to stop fighting the blazes.
"What the hell would burn so fiercely for seven hours that the Fire Department would be afraid to fight it?" said one member of the investigating team.

According to the Port Authority floor plans, 275-gallon diesel tanks sat on the fifth, seventh and eighth floors and were fed through pipes from the larger tanks near ground level. The team member said that while the diesel fuel remains the most likely candidate for feeding the fires, it was still unknown whether there could have been other sources of fuel in the building, kept there by tenants like the Secret Service that have disclosed little of what their spaces contained.

The huge steel transfer trusses ran mostly through the fifth, sixth and seventh floors where the fires burned. The purpose of the trusses, which included zigzagging and horizontal members and were concentrated around the building's core, was to allow 7 World Trade to be built over two Consolidated Edison substations that already existed on that spot when the building went up in the late 1980's. Together the stations held 10 transformers, each about 35 feet high and 40 feet wide.

Using the trusses to avoid having vertical structural columns pierce the transformers, the building was constructed around them like a hen sitting on a giant egg.

"We had to do design tricks to accommodate the existing Con Ed facility," said Mr. Cantor, the structural engineer. "This building had an awful lot of transfers."

Transfer trusses are a well-tested technique and are used in countless high-rise buildings, as well as in bridges around the world. Engineers say that transfer trusses, for most buildings, present no extraordinary hazard. But if there is an explosion, earthquake or long-burning fire, they can present a problem.

In Oklahoma City, during the 1995 bombing of the Federal Building, a large transfer girder on the building's third floor gave way, helping to precipitate a progressive collapse that later analysis showed was responsible for most of the 168 deaths. After this attack, federal guidelines for buildings that would hold government agencies were changed, recommending that buildings be designed so that single-point failures did not cause a catastrophic collapse.

Videos of the 5:28 p.m. collapse of 7 World Trade lend vivid support to the truss-failure theory. Roughly 30 seconds before the building goes down, a rooftop mechanical room starts to disappear, falling into the building's core. Then a second larger rooftop room sinks. The building then quickly collapses.

Both rooms were above sections of the building held up by the trusses. Other video evidence shows fire concentrated in the floors containing the trusses and the fuel tanks.

Dr. John D. Osteraas, director of civil engineering practice, Exponent Failure Analysis Associates, in Menlo Park, Calif., reviewed videos of the collapse, discussed it with other engineers and came to a similar conclusion; the fuel, the trusses and the fire brought 7 World Trade down. "The pieces have come together," he said. "Without the fuel, I think the building would have done fine."