Tom Moody - Miscellaneous Posts
These posts are either "jump pages" for my weblog or posts-in-process that will eventually appear there. For what it's worth, here's an archive of these random bits. The picture to the left is by a famous comic book artist.



---
View current page
...more recent posts
---
The Whitney Biennial, 2002
by Scott Speh
What could I possibly say about the Biennial that Saltz, Smith, and Schjeldahl (respectively the Village Voice, NY Times, and the New Yorker) haven't already said? Not that I put myself in their league but I concur with their consensus that it's boring and bland. The Biennial is always the show everyone loves to hate except that this year no one hates it. They all feel sad for it. This line of criticism is more damning than an expletive-laden rant for at least a show that inspires an expletive-laden rant is inspiring on some level. The current Biennial inspires merely a shrug. There's some nice stuff but (shrug), there's some bad stuff but (shrug). This show is ridiculously difficult for me to review for I operate on the rave-and-rant system. Since I'm beholden to no larger public like Saltz et al, I'm free to choose who and what to critique on my obscure website and I opt for the extremes, so damn that Pedro Velez for making me review this infernal show.
Where to start - good or bad? Let's go bad first and then try to end on a positive note. Again nothing is so terribly bad as to engender some withering bon mot, unlike Julian Schnabel's current unbelievably horrific show at the Go-Go-Gagosian, who, although he's the biggest easy target in the art world, continues to prove he is the world's worst painter, possibly the worst painter of all time. In the uber-kunsthalle that is the Chelsea Gagosian, Schnabel is showing ten elephantine canvases all with the same ugly, ham-fisted image - a portrait of a young, honey-haired girl with a violent band of purple obscuring her eyes. Not only is the image offensive, the paint handling is even more offensive. Who the fuck is going to buy these things? What a waste of canvas and paint! We could build a modest refugee village with the materials with the materials in this show. But anyway, I digress. The worst stuff in the Biennial is the Destroy All Monsters paintings about Detroit. DAM is a band started by Mike Kelley, Jim Shaw and a couple of lesser lights that came of age in late-'60s Detroit. These larger banner paintings, painted in Social Realist mural style, are populated with period Detroit icons like Iggy and the Stooges, Alice Cooper, the MC5 etc and the sum total of the works seem to say, "Detroit was really cool. Seriously dude, it was cool!" Seems like boosterism or worse, anthropology and there's too much anthropology in this show and it ain't interesting: Janice Gordon photos of white males in a mosh pit - we've been seeing these kind of photos in Spin for 10 years now, who fucking cares? Ari Marcopolous photos and videos of snowboarders - again Mountain Dew drinkers have seen this kind of shit in scores of Xtreme sports magazines and videos; Sanford Biggers and Jennifer Zackin had a mildly interesting video installation comparing and contrasting their respective middle-class Black and Jewish upbringings, but it's no more enlightening than an article in Harpers or the New Yorker; and finally Chan Choa's photos of Burmese rebels was photojournalism, maybe they would work better in Time or Life? Seriously, why are the above works considered art? I know why - I'm sorry to interject this ages-old argument into this review. But other media outlets do this stuff better - where do artists get the hubris that they can transcend the techniques of other disciplines? Dilettantism at it's worst.
The painting simply sucks. Over the past 10 to 15 years, painting's, especially abstract painting's, resurgence has been ignored in the Whitney Biennials and in most of the international art festivals. Just of the top of my head, I wonder where are Laura Owens, Ingrid Callame, Monique Prieto, Linda Besemer, Steve Charles, Diana Cooper, Jennifer Reeves, James Hyde, Kevin Appel, Tom Moody, Aaron Parazette, Dave Muller, Carl Fudge, Claire Corey, Michelle Grabner, Ryan Humphrey, Caren Goldman, Dennis Hollingsworth, Rebecca Morris, Tad Griffin, Jay Davis, Giles Lyon, Tim Gardner, Julia Fish, Steve DiBenedetto, Steve Hurd, Michael Bevilacqua, Matthew Benedict, Jessica Stockholder, James Siena, Bruce Pearson, George Stoll, Karen Kilimnik, David Reed, Enrique Chagoya, Fred Tomaselli, Kerry James Marshal, Elizabeth Cooper, Chris Finley, Glen Ligon. OK, that wasn't just off the top of my head. And maybe some of these artists have been in past biennials and maybe some of them don't need the career boost of the Biennial, but couldn't a couple or three of these types of painters have been included? Museum curators and international art festival curator's antipathy towards painting must be addressed. Galleries, critics, collectors, magazines and the viewing public seem to be okay with painting. Why do these dogmatic curators have such a chip on their shoulder? More of the fall-out from the pat acceptance of conceptual art in the academy - these overly ideological motherfuckers have drained the VISUAL from visual arts. And it's just bullshit.
The sucky painters in the Biennial include Outtara Watts "outsider Schnabels," John Zurier's wan Ryman imitations and some other stuff too bland to even remember. Decent paintings include two (only two!) Vija Celmin's spider webs, Arturo Herrera's elegant Robert Morris by way of Disney cut felt wall hanging, Chemi Rosado Seijo's photos of his project where he painted mountain village houses to match the color of the surrounding vegetation and Lauretta Vinciarelli sublime watercolors fronting like photo-real mixtures of architecture and Rothko paintings. The best two sculptors in the show, Rachel Harrison and Evan Holloway, seem to have as much to do with painting as sculpture. I love Harrison's clumsy and winsome conglomerations. She mixes Stockholder, Charles Long, Warhol and John Waters in understated, quirky constructions celebrating abstraction and scandal-ridden celebs like Michael Jackson and Elizabeth Taylor. Modest and evocative. Holloway's handsome twig sculpture mines gray in three dimensions and he paints psychedelic patterns on the underside of an elegant piece of found wood.
What else? Tim Hawkinson, one of my faves, is poorly represented here. The Forcefield installation resembles a Parliament-Funkadelic concert. the Peter Sarkisian video installation is beyond bad. Christian Jankowski's video is long but actually worth it and truly interesting. Jeremy Blake is a striking visualist hampered here by some narrative hoo-ha. Chris Ware's stuff is handsome but probably more effective when sitting in your easy chair at home. The stuff in Central Park was cool if inconsequential: Roxy Paine's aluminum tree is neato and so are Brian Tolle's scattered splashes in the Lake near the bow bridge. I didn't seek out Kiki Smith's stuff because I just don't need that crap in my life but Keith Edmier's memorials to his grandfather were surprisingly moving. I liked Hirsh Perlman's scary-funhouse pinhole photos of his terrifying sculptures and Omar Fast's video installation, Glendive Foley - handsome, understated and funny but inscrutable without reading the wall text.
The single most striking work in the show is Robert Lazzarini's distorted phone booth - an amazing feat of technology (CAD) and labor (he distorted the booth by hand). I've debated with others and myself whether or not this is just a neat gimmick. One thing we all can agree on - you can't believe your eyes. I liken it to Andrew W.K.'s new album "I Get Wet" an album that Rolling Stone's Rob Sheffield remarked "you can't believe your ears!" Loud, fast hook-laden metal that mixes non-aggro metal with ultra-cheesy keyboards played at triple speed and songs concerning partying, killing, fucking and partying. In fact, there are three songs with party in the title. It's so totally AWESOME and exhilarating but leaves you a little empty after the last song, like coming down off not just a caffeine high, but a caffeine, sugar and goofball binge. Lazzarini's sculpture does similar things with your visual sensibilities but I don't find it as effective as Andrew W.K.'s achievement. W.K.'s form and content mesh perfectly (check out the back photo - those jeans have never been washed). Lazzarini can mess with your vision, but ultimately one might ask, "Why a phone booth?" I dunno.
Also - I did not look at any of the internet stuff. I surf at home not in a fucking museum. Interactive art - ugh. And I didn't sit through any of the film program. Experimental film - ugh. And it must be noted that the Whitney is an ugly bunker of a building with ugly galleries with low ceiling. The lighting is dim and unflattering and the organization of the Biennial is piss-poor - claustrophobic and insular. Connections can rarely be made.
--from FGA (click on Apr. 3, '02)

- tom moody 4-24-2002 4:36 am [link] [1 ref] [add a comment]


---
He Found a Following, and Then Lost His Way
By NEIL STRAUSS
SAN DIEGO, April 6 — In 1977, a 24-year-old musician from Endicott, N.Y., released a wonderful, odd album called "You Think You Really Know Me." Combining elements of pop, proto new wave, jazz, avant-garde composition and electronic music, Gary Wilson delivered sincere lyrics, alternately sweet and angst ridden, about the women in his life and his fantasies, most notably in the pleading, quixotically titled "6.4 = Make-Out."
The album, which he released himself, quickly found a cult following, which over the years included the punk band Husker Du, the avant-garde group the Residents and the "Simpsons" cartoonist Matt Groening. It earned the status of a favored vanity-label obscurity among record collectors, and Beck, in his single "Where It's At," even sang about how Mr. Wilson "rocks the most." As the reputation of the album grew, fans naturally sought out its creator. But they soon discovered that Mr. Wilson was nowhere to be found. Evidently he disappeared after the album was released (though he said that was not his intention).
Adrian Milan, who runs the record label Motel with Christina Bates, spoke of the day that Ross Harris of the band Sukia first played him the record. Mr. Milan said he was blown away by the music and wanted to find the man behind it.
"Ross said he'd been looking for this guy for six years and would be really surprised if we could find him," Mr. Milan said. "I said, `I tracked down master tapes in some guy's closet in India to do our album "Bombay the Hard Way," so if this guy's alive I'm going to find him.' We worked 14-hour days and got a private investigator involved, but he couldn't find him."
Eventually Ms. Bates found one of his former band mates, Vince Rossi, who helped to put her in touch with Mr. Wilson, who lives in a small apartment here without a telephone.
On April 16, Motel Records will reissue "You Think You Really Know Me." Mr. Wilson will then make his first trip to New York in 23 years, for a performance at Joe's Pub on May 15.
On Saturday night, I arrived at Mr. Wilson's house to conduct his first interview for publication since the late 1970's. For the last 17 years, it seems, Mr. Wilson, 48, has played keyboards in a lounge act whose members and audience are not familiar with his original music. (Mr. Wilson's father was a jazz bassist who often played hotel lounges.) At midnight he reports to a pornography bookstore and peep show, where he works behind two layers of bullet-proof glass, handling cash and dispensing tokens.
Mr. Wilson — short, pale and with his hair pulled back from his forehead into a ponytail — conducted a tour of his small apartment. Shy and friendly, he pointed out the dusty Teac reel-to-reel four-track on which he recorded "You Think You Really Know Me" 25 years ago in his father's basement; he opened the balcony door to display the Farfisa organ he used on the record. In a corner of the room were dozens of reel-to-reel recordings, most of music he recorded decades ago but never released.
He said he no longer had any original copies of his album. "I used to break and smash my records onstage," he said. "Just snap them in half and throw them. And then one day I realized I didn't have anymore."
Mr. Wilson was known for outrageous, improvised performances. He used to dump pounds of flour on himself until at a radio station benefit in Seattle, he got some in his eye and it itched for weeks. He said he was not sure what he would be doing to surprise New York audiences at his comeback show in May.
"A lot of the performances were spontaneous," he said. "But I'm going to be out of my territory in New York. In a hotel room, there are not a lot of props to grab. There are things all over the place in a household. Maybe I can pull a bedsheet off of a bed."
His girlfriend of more than 20 years, Bernadette Allen, arrived shortly. Her paintings fill the apartment, her photography is represented in Mr. Wilson's CD reissue, and her videos often accompanied his performances. The pair displayed a photo album with an image of them taken 20 years ago at Max's Kansas City; next to it they placed an image of Charles Bukowski and his girlfriend because the resemblance was uncanny.
After the house tour, Mr. Wilson left for the Rancho Bernadino Inn in an affluent suburb nearby, where his lounge band has a monthly gig. The band crooned "The Girl From Ipanema" and "Sitting on the Dock of the Bay" to the dozen or so patrons, most of whom were elderly. Using two keyboards, Mr. Wilson, one of the only band members playing by ear instead of with sheet music, executed the bass parts of the songs with his left hand and the rhythm parts with his right, occasionally adding a solo.
"I had no idea at all that he had this whole other side to him," Kyle Martin, the band's guitarist, said when he was told that Mr. Wilson was a cult hero.
During a break in the set, Mr. Wilson talked about his background. He said he had not seen his father since he left the East Coast 24 years ago, though he said he was considering returning to live in the basement where he recorded pop freakout jams like "Loneliness" and "Groovy Girls Make Love at the Beach."
He was born in 1953 in upstate New York, and quickly displayed a knack for playing just about any instrument. A fan of Dion and the Belmonts, he was once attacked by boys who tried to cut off his curly pompadour. In 1965 he saw the Beatles play Shea Stadium, and soon after joined his first band, Lord Fuzz, many of whose members would stay with him throughout his career. Before high school, Lord Fuzz had already released a single and opened for the 1910 Fruitgum Company, the bubble-gum pop group.
His taste soon took a turn for the avant-garde, and he sent John Cage some of his compositions. Mr. Cage was impressed enough to invite Mr. Wilson, who was only 16, to his home to discuss the work. Now performing as Dr. Zork and the Warts, Mr. Wilson's concerts began to incorporate poetry and performance art.
Mr. Wilson moved to New York City with Mr. Rossi. They soon ran out of money and found themselves sleeping in Washington Square Park and underneath a building in New Jersey before hitchhiking home after a few days, covered in dew, on the New Jersey Turnpike.
"She stopped at McDonald's and picked up hamburgers," he said of the driver, "but I couldn't eat mine because it had a pickle on it. I like things plain. I'm a plain guy."
Back at home, Mr. Wilson holed up for seven years, recording an unreleased jazz instrumental album "Another Galaxy," an unreleased disco-era single, and, finally, "You Think You Know Me."
"I didn't put it out to make a million dollars or anything," said Mr. Wilson. "It was deeper, and I was trying to find myself. It was almost creating a piece of art, something I wanted to hear and then whatever would follow is fine."
Of course that doesn't mean that Mr. Wilson didn't have any ambitions. He talked about sneaking past security guards at the offices of Columbia Records to try to get executives to release the album. "They didn't quite know where to put me or what it was," he said of the labels he approached. "That's why it's funny that things kind of switched around in 25 years. I guess times have changed a little bit."
Most of the songs on the album are about real girls, like Cindy and Karen, who was not only a crush in his life but also the name of a mannequin he used to drive around town. Today Mr. Wilson said that he had a whole album's worth of new songs ready; some are about old flames."A lot of my new songs are about Linda," he said. "I was just dreaming about her, for the first time in 30 or 40 years. She was one of my first girlfriends, from eighth grade."
In 1978, Mr. Wilson and his band moved to San Diego and tried to find work in Los Angeles. After a few seven-inch singles and performances, including a return to New York to play CBGB, the band called it quits.
When Mr. Wilson finished musing on his past, he returned to the bandstand to complete his set. After the show, the musicians split a few meager dollars of tip money, and Mr. Wilson headed to his midnight shift at the bookstore and peep show. "I like working there best after 2 a.m., because it gets quiet," he said. "I always wanted to work in a place where other people weren't around."
Does he see himself as a recluse? "I really am, actually," he said. "I'm pretty private, but, you know, that's just the way I am."
As he arrived at work, Mr. Wilson shared a few horror stories about walking in on some odd goings-on in some of the private rooms and let himself into his bullet-proof cage. His fellow employees and the security guard, who say they have no idea that he ever recorded an album, paid him no mind, as if he were invisible.
---
Blade 2
is worth checking out since it's directed by Mexican gothic maestro Guillermo del Toro, who made the offbeat and spooky films
Cronos,
Mimic,
and
The Devil's Backbone.
Great shots of vampires swinging from rafters in night-combat/ninja attire, and the transformation sequence of a new breed of "vampire-killing vampire" (depicted in my sketches below) is pretty wild. Each vampire has a seam running from its lower lip to the base of its throat, which splits open to reveal a toothed-vaginal maw with neurotoxin-secreting tentacle-tongues. Kind of
Predator
meets the face-splitting husky from John Carpenter's
The Thing.
The effect isn't quite so scary after they've shown it to you eight times, though.
Caution: R-rated drawings below.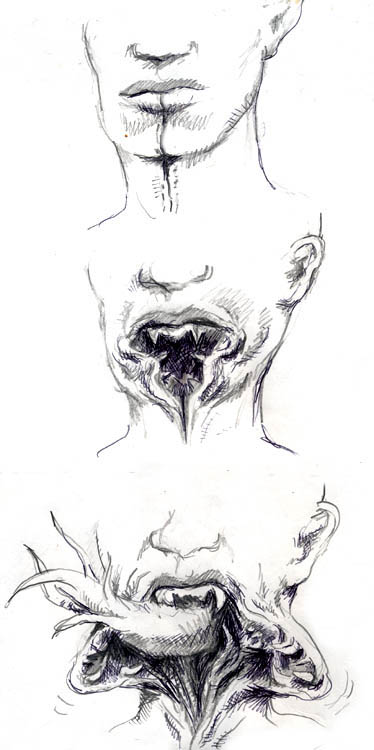 back to weblog / cinefiles / animation log